"Grizzled, furrow-browed, full-lipped, toothy, sensual, goofy; laser-eyed and softly observing. Empathetic, angry, insane, proud, humble, stupid, intelligent; sexy, uniquely handsome and sometimes ugly, but ugly in a way that made him more beautiful. A face with history and innocence; future and failure. A face with dreams but a face that knows dreams are often just that—ridiculous bullshit. A face that's honest at once, mysterious the next." That's Kim Morgan (obviously) describing the visage of Warren Oates (but of course), saluting the actor as only she can. Her text comes from a video she prepared for Criterion's set of Monte Hellman westerns, which also comes with a fine appreciation from Michael Atkinson. ("The Shooting and Ride in the Whirlwind could hardly be more mythic in their gritty, elliptical unmythness. That is to say, as with all myth materials that matter, the films' mysterious sense of doomed ritual and palpable anxiety about landscape are as physically real and familiar to us as the wind of an approaching storm.")
Speaking of surprising Westerns, Philippe Garnier finds more to love in The Wonderful Country than director Robert Parrish or source novelist Tom Lea ever did.
And let's end our mini-fest of the genre with Tommy Lee Jones talking to Roslyn Sulcas about The Homesman, and picking for her five essays in the genre that have "personal significance," including entries from Will Rogers, Ben Johnson, and Kurosawa.
The two latest posts at Kristin Thompson and David Bordwell's blog offer a charming, perhaps unintentional contrast in scale. Bordwell shows how much information can be conveyed or suggested by filmmakers' smallest gestures ("They train us to notice niceties"), using an elegant one-shot by Endfield and some smart decisions about filming phone calls from Fleischer and Negulesco. While Thompson reveals how empty even the biggest campaigns can be shredding the ever-expanding coverage of Oscar buzz, a hollow endeavor that's gone past merely wasting critics' time ("It's presumably a lot cheaper to run such stories than to have a reporter spending a lot of time tracking down information for a hard-news item about business trends in the industry") to drawing film festivals into the sound and fury.
Lacking a biographical resource on the life of Shirley Clarke (a project long overdue), Richard Brody sketches in what he can of a tyrannical father and a powerful but impulsive artistic sensibility from the memoir of Clarke's sister Elaine Dundy.
"'Your energy is good,' the director says, retreating behind the soundboard again. 'But make it more American.'" Mac McClelland goes behind the scenes with the translators and actors that dub foreign-language films into French, finding a venerable system under attack from all the familiar new villains: impatient moneymen, nervous producers who have to throw their worthless two cents in, and Netflix. Via Longform.
"The notion of the theatrical two-hour experience is a 20th-century model they came up with about a hundred years ago for economic reasons. [At that time] people thought that movies were a projected image in a dark room in front of an audience. Maybe that's what movies were, but they aren't anymore." Paul Schrader continues to offer up a view of film's current state so matter-of-factly radical it's hard to tell whether he's proselytizing or surrendering. Tristan Kneschke offers some highlights from a recent Schrader lecture at the Made in NY Media Center.
"I don't really know anything about surfing, but I imagine surfers interact with something that's constantly changing, that feels like it's alive. I'm after that experience. I've been fortunate to work with directors who seem to enjoy that experience as well. I don't have much ego when it comes to work now." That ultimate "now" is the key to Joaquin Phoenix's quote, who claims a new maturity discussing a childhood lived on the fringes of a cult, the fallout from his I'm Still Here hoax, and the kind of work that stimulates him—while demonstrating his thoughts on privacy by pointedly not talking about the death of River—with Stephen Rebello.
"When I was twenty-one years old, I edited something together, the first pieces of footage I ever touched, using Media 100 in a production class. It was good and everyone asked, "How did you do that?" I told them I didn't really know. Today, I know it's partly just because I want to control the universe." Robert Greene describes to Pamela Cohn his use of documentary—including his celebrated latest, Actress—to explore performance and what he's learned from his stint as the editor of other directors' narrative films. As with the Phoenix chat above, via Movie City News.
"We wanted to make it in Albany. We all lived in New York, the three producers and I and the cast that we wanted. We went up there, and the Teamsters made some very difficult demands. At one point, one of the producers said 'We can't afford that. We're just a little company making a little film. We won't be able to make the movie here unless you give us a break.' And they said 'So don't make the movie.'" Joan Micklin Silver talks with Vadim Rizov about the early career assistance she received from John Cassavetes and the making of Chilly Scenes of Winter, including the generosity of Ann Beattie and the one line Gloria Grahame refused to say.
"I don't think any of my films are good…. Film producers offered me a lot of money, they'd say 'Hey, Jimmy!' and they would offer me one million dollars, which was a lot of money. Shaw only paid me a few hundred dollars each month, and here they are offering me a hundred times more for one movie. Of course, I would take the job. You would, too." Jimmy Wong Yu's never pretended his career was anything more than an athlete-turned-movie-star making business decisions with the hardheaded pragmatism of a competitor, and neither does interviewer Grady Hendrix. But that doesn't mean the man who broke out of the Shaw Brothers stable and maybe saved Jackie Chan's nascent career from gangsters (details are vague—less out of necessity than to improve the telling, I'd wager) lacks a good story or two to share.
"I must view The Lego Movie as I've heard it is a celebration of individuality against herd conformity, and nothing is more Satanic than that." Poking around the Church of Satan website, as you do, Cheryl Eddy spotted among its offerings a list of recommended films put together by Anton LeVey. He's long gone, of course, but Magus Peter H. Gilmore, the Church's High Priest, was gentleman enough to explain the Satanic lessons to be extracted from Treasure of the Sierra Madre and Pennies from Heaven, among others.
"A future you'll probably live to see." The BFI augments two current series with collections of posters for Tati films and '70s sci-fi. The latter's fun, of course, but yes, the former's far more mind-bendingly modernist.
Obituary
Warren Clarke is best known to British audiences as the gruff, hard-drinking cop in the TV series Dalziel and Pascoe but first made his name as the thuggish Dim, one of Malcom Macdowell's droogs, in Stanley Kubrick's A Clockwork Orange (1971). He jumped back and forth between features (O Lucky Man!, 1973, Clint Eastwood's Firefox, 1982, Top Secret!, 1984, Ishtar, 1987), TV (The Jewel in the Crown, 1984, Wish Me Luck, 1988, Bleak House, 2005, Red Riding, 2009), and theater. He passed away this week at the age of 67 after a brief illness. More from Anthony Hayward at The Guardian.
Carol Ann Susi began her 40-year career in TV and movies with a recurring role in the cult TV series Kolchak: The Night Stalker and played dozens of small roles in the movies and on TV before landing her most memorable character: the unseen but eternally haranguing Debbie Wolowitz, the mother of Howard on The Big Bang Theory. Among her big screen appearances: My Blue Heaven (1990), Death Becomes Her (1992), and Cats and Dogs (2001). She died away this week at the age of 62 after a brief battle with cancer. More from the New York Times.
Seattle Screens
The sixth annual Cinema Italian Style continues with screenings through Thursday, November 20 at SIFF Cinema Uptown. Along with the survey of new Italian films is the recent digital restoration of Bernardo Bertolucci's The Conformist (1970), which plays the evening of Saturday, November 15. The complete line-up and schedule at SIFF.net.
Northwest Film Forum brings filmmaker Ben Russell to Seattle to host a screening of his film A Spell to Ward Off Darkness (co-directed with Ben Rivers) and engage in a post-screening Q&A moderated by Seattle film critic Jay Kuehner. Details at NWFF website.
It's part of the NWFF's Visiting Artists program. You can see who is scheduled for upcoming appearances here.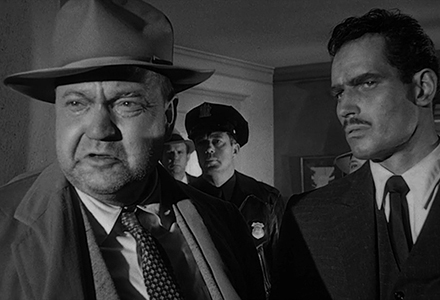 Parallax View editor Sean Axmaker hosts SIFF's third Cinema Dissection, an interactive critical appreciation inspired by Roger Ebert's Cinema Interruptus, on Saturday. November 15. The six-hour event takes a minute-by-minute guided tour through Orson Welles' Touch of Evil (we're watching the 1998 revised version available on DVD and Blu-ray) and participation is not merely encouraged, it is essential to a successful event. It begins at 11am at SIFF Film Center. More details and advance tickets at SIFF.net.
Robert Horton is back with another Magic Lantern presentation at Frye Art Museum on Sunday, November 16. This talk explores "Time as a Character in Contemporary Film." The event begins at 2pm and is free. More details here.
Visit the film review pages at The Seattle Times, Seattle Weekly, and The Stranger for more releases.
View complete screening schedules through IMDb, MSN, Yahoo, or Fandango, pick the interface of your choice.
The weekly links page is compiled and curated by Bruce Reid, with obituaries curated by Sean Axmaker, and other contributions from friends of Parallax View.