"If you men only knew." Adam Nayman defends the films of Stanley Kubrick from charges of misogyny by pointing out these aren't films about women ruining things, but of "male self-absorption, and its dire consequences." Via Mubi.
Kalefa Sanneh's profile of Chris Rock does a good job explaining movie stardom by counter-example, as pretty much everyone's choice for our greatest stand-up comedian explicitly acknowledges his lack of impact on the screen and the changes—in attitude and performance—he's taken to rectify that. Step one being listening to Scott Rudin's advice.
"The climactic shot of Trafic—people with umbrellas crossing a car park—is epic and beautiful and somehow funny, but if you try to pinpoint the source of amusement, you end up with something meaningless like "Everybody's walking in straight lines."" Criterion presents another fine essay on Tati, as David Cairns analyses the structural importance of gags in his films, and Tati's delight in avoiding their expected payoff.
Also at Criterion, Michael Atkinson reviews Samuel Fuller's previously unpublished Brainquake, and more important links to the publisher's excerpt from the novel's first chapter—the opening paragraph of which only needs 86 words to follow one of the most demented sentences you'll ever read with an Emily Dickinson quote and memories of adolescent matricide. So, yeah, essential reading.
Fiction: "Have a heart. Andy probably dreams of cozy chats with young Mary Pickford. And there you were, in that dress, with that hair. The answer to his prayers." "Shows how much you know. He said I reminded him of Vilma Bánky." A world away from Fuller's wild ride, an amusing excerpt from Self-Styled Siren Farran Smith Nehme's first novel Missing Reels details some sniping at an academic dinner party concerning silent films and the appeal of lost movies. I'll definitely be checking this out, though I think I'm on the side of Smith Nehme's villain in the debate. Via David Hudson.
"You still don't understand what you're dealing with, do you? Perfect organism. Its structural perfection is matched only by its hostility." "You admire it." "I admire its purity." Neil Marshall, who knows from scaring people, praises Alien as the horror film that had the most profound effect on him (and gets a side dig in at Prometheus along the way).
Natalie Morris revisits the future of fashion as predicted by various science-fiction films. Hardy Amies's Savile Row stylings for 2001 and Michael Kaplan and Charles Knode's throwback designs for Blade Runner are there, sure, but also some unexpected entries like 1929's High Treason, for which Gordon Conway imagined deco flair projected to the distant 1940s.
"Now I feel as if Say When is part of a canon of films and TV shows that depict women as they really are. There's a backlash, of course—you only have to look at how people react to Lena Dunham to see how polarising these issues are—but that neither surprises nor depresses me. If you tried to please everyone you'd wind up producing something pretty tepid." Lynn Shelton expresses her relief that movies—including, hey, now that you ask, her latest, Laggies (Say When in the UK)—have started to grow up past the phase of requiring female protagonists to always be the adults. Via Kate Erbland.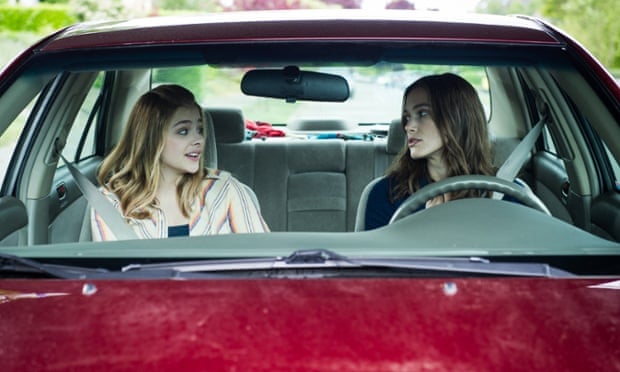 "While trying to ignore my seventieth birthday I was offered an unexpected gift, which was also a challenge: the chance to nominate seventy films that would be shown in orthodox and unorthodox venues across London." Prompted by the excited plans and disappointing results of this unusual celebration, Iain Sinclair takes one of his psychogeographic strolls through London, finding various cinemas that have all the elements you'd want for a successful screening save the necessary: an audience. Via Movie City News.
"I've been feeling old for years and years, and I think the movie business did it to me. At one point I just did movie after movie, and it starts tearing you down physically—emotionally too, if you do one after another. The stress, the emotional exertion of dealing with others. I've worked with really great actors and really difficult actors. The difficult ones are no fun." Whether because he's too tired to keep up the front or she just caught him on a reflective day, John Carpenter drops his patented jocular nonchalance in conversation with Jen Yamato, opening up about his recent health problems and career struggles in a way he seldom does. Well, mostly drops it; his three rules to live by, given at interview's end, are Carpenter at his straight-faced facetious best. (Not discussed, unfortunately, is the news that made every Carpenter fan's day, his forthcoming album.)
"I think that in cinema there can only be love stories. With military films, it's about boys' love for weapons; with gangster films, it's about boys' love for theft… That's cinema, in my opinion. And that's what the New Wave brought that was new: Truffaut, Rivette, me and two or three others, we brought something that didn't exist anymore, maybe, or that had never existed in the history of cinema; we loved cinema before loving women, before loving money, before loving war. Before loving whatever, we loved cinema." Ted Fendt translates Godard's 1983 press conference at the Venice Film Festival for Prénom Carmen, responding to inquiries about casting, financing, and the rise of television with his marvelous, inimitable mix of shattering insight, thought-provoking epigrams, and seat-of-his-pants bullshit. Part of the fun, of course, is sorting which is which. Another find by David Hudson.
"And even more amazing, when people like Ford, Renoir or Fritz Lang created their own companies and were their own producers usually the budgets went down and the films were better. It is amazing but this is always the case. It is true for Renoir, for Lang, for everybody. So, it must have something to do with all this relations, money, social hierarchies, you know? Cinema is a lot about that, I think. Cinema is not like painting or music, cinema cannot avoid reality. A big part of reality is how I can manipulate or destroy you." Pedro Costa, interviewed by Patrick Holzapfel, reaffirms his indebtedness to the old masters; this go-round talking less about their esthetics than the examples they set on the production side.
Apologies for having missed Mark Fertig's list of the 30 best posters for Hitchcock films when it first went up a few weeks back. Never too late to enjoy, however, and Fertig's brief, lucid breakdown of design choices that work (Shadow of a Doubt's slanted, criss-crossing type "quietly [reinforcing] the notion that the lovely Teresa Wright's comfortable suburban world is about to be turned on its ear") and those that don't (Notorious's Claude Rains suffering what Fertig labels "the Edward G. Robinson movie poster treatment—too famous not to be pictured, but floating disembodied in some forgotten corner of the design") remain among the best such you can find.
Seattle Screens
Robert Horton will be at the historic Rose Theater in Port Townsend on Sunday, November 9 for a screening of James Whale's 1931 Frankenstein to speak about the film and the legacy of the story and to sign copies of his book. Details at the Rose Theater website.
SIFF's Cinema Italian Style returns for the sixth annual celebration of the best in current Italian films, opening on Thursday, November 13 at SIFF Cinema Uptown with Francesco Bruni's Noi 4. The director is scheduled to attend.
And advance notice for a SIFF event next week. On Saturday, November 15, Sean Axmaker will be leading the discussion in the "Cinema Dissection" of Orson Welles' Touch of Evil. There are still plenty of seats left (it all takes place in the SIFF Center classroom). Details at SIFF.net.
Visit the film review pages at The Seattle Times, Seattle Weekly, and The Stranger for more releases.
View complete screening schedules through IMDb, MSN, Yahoo, or Fandango, pick the interface of your choice.
The weekly links page is compiled and curated by Bruce Reid, with obituaries curated by Sean Axmaker, and other contributions from friends of Parallax View.