"I met this guy named Ding-Dong. He told me the whole Earth is goin' up in flame. Flames will come out of here and there and they'll just rise up. The mountains are gonna go up in big flames, the water's gonna rise in flames. There's gonna be creatures runnin' every which way, some of them burnt, half of their wings burnin'. People are gonna be screamin' and hollerin' for help." Peter Labuza's new book, Approaching the End, concerns intimations of apocalypse in American films. A fine excerpt on Days of Heaven measures the biblical weight of Malick's fable, and how the film darkens its famously beautiful vistas by situating noir tropes in a land so far from their typical mean streets. Via David Hudson, who further spotted Labuza selecting A Walk Among the Tombstones as the current film he'd most like to include in the collection.
"Whether his higher claims are merely self-justifying or not is ambiguous, since we see him through Lisa's worshipful eyes and through his own. And through these eyes, the one-night-stand they share might be the most sublime one-night-stand in cinema." Imogen Smith is lovely on the tragic illusions at the heart of Letter from an Unknown Women, and how their lack makes an earlier adaptation of the Zweig story, Stahl's Only Yesterday, so unmoored and bathetic, despite such felicities as an admirable feminist sensibility and Margaret Sullavan (in her debut).
"As the men sashay and leap into position, a stagecoach suddenly cuts across the field of play. Wyatt uses the resultant dust cloud to his strategic advantage. Though easy to dismiss as a rudimentary mechanism to build tension, it's also a lovely reminder of the multitudes who remain untroubled by this fateful showdown, another drama playing out on the same turf. Another narrative. Another film." David Jenkins examines the "wide-open," almost anti-genre qualities of My Darling Clementine, and offers the definitive argument for the handshake that was Ford's preferred ending.
Another fragmented anti-narrative, another Godard film, another daunting array of references and quotations to look up. Ted Fendt starts off the heavy lifting with an (admittedly preliminary and incomplete) alphabetical listing of works cited in Adieu au langage, from Alain to Wittgenstein with lifts along the way from Borges, Rilke, and (natch) Howard Hawks.
"I say throw him to the sharks!" The latest issue of Interiors examines the deliberate arrangement of the actors after a crucial moment in Lifeboat. (One quibble—it seems to go against precisely what Hitchcock was arguing to identify every actor except Canada Lee.)
"In the Public Hall, at Barnsley./The children went to view/The animated pictures,/As children love to do." Luke McKernan recalls the horror of the 1908 Barnsley disaster, where 16 children attending a bargain-priced screening were crushed to death when the balcony was closed due to overcrowding. He also has some kind thoughts for George Gresswell, whose reproduced verses commemorating the tragedy might be doggerel, but recreate the events with memorable simplicity, "a quality that connects them with calypso or some reggae lyrics, passing on the stories of the hour in a memorable and shareable form." Via John Wyver.
"It's difficult to imagine any of Wong's characters occupying Tiananmen or Central. They are stuck in ruts, cycles, moments, memories and dead-ends. But they do seem to express, heartbreakingly so, the longstanding anomie and angst that has served to fuel the current student movement." Anthony Kaufman can't quite draw the line between the listless Hong Kong heroes of Wong Kar-wai's early features As Tears Go By and Days of Being Wild and the city's current, brave, vitalized protestors, but consider this the first sketch toward a connection that will seem too obvious to bother mentioning in a few years' time.
Ray Kelly recounts the sad life of Rebecca Welles, estranged daughter of Orson and Rita Hayworth, without pretending insight into whom to blame for the troubled relationship: Parents made rootless and inaccessible by ambition and mental illness, or a daughter who responded to their distance by withdrawing even further from the whole damned thing. Via Movie City News.
Offering inadvertent support to the argument that David Fincher's films present a horrifying portrait of society drowned in and shaped by our electronic/information devices, Nate Jones and Abraham Riesman collect a harder-than-you-might-think quiz of short audio samples to be identified as Trent Reznor/Atticus Ross soundtracks or household appliance. I scored 20 out of 22, having been fooled by a water heater and an air conditioning unit.
In an end run around contractual non-disclosure agreements preventing them from disparaging a film taken out of its director's hands, Paul Schrader, stars Nic Cage and Anton Yelchin, and producer Nicolas Winding Refn have made their own poster for Dying of the Light.
"Some people think of practice as "You do what you're good at, and that's naturally fun." True practice is actually about just doing what you're bad at, and working on it, and that's not fun. Practice is about beating your head against the wall. […] If every single thing is enjoyable, then you're not pushing yourself hard enough, is probably how I feel. But this movie takes it to an extreme that I do not condone. [Laughs.]" Interviewed by Tasha Robinson, Damien Chazelle displays the kind of measured, intelligent self-awareness that suggests his debut feature Whiplash will be far from a one-time fluke. (And also his love of genre if you're wondering how Grand Piano fits into all this.) Chazelle also talks to Interview's Emma Brown, but what you want to read there, however brief, is Brown's talk with J. K. Simmons. ("You think you're on top of the world and they're asking for a 'J.K. Simmons-type' and then, before you know it, they're asking for a 'J.K. Simmons only younger.' The next step is for a 'J.K. Simmons-type… Oh, you mean he's still alive?'")
"What's really laughable is that even if I were to make a film where people are mowing each other down left and right with machine guns, and I had one scene of a leaf falling from a tree, the critics would say it had a delicate feminine gaze and was a very sensitive picture. I think there is this desire to identify only one quality of womanhood and of being feminine as being feminine out of all the things that are being found. That is what's happening with this film, this attempt to find this one female aspect to the film, when in fact everything is female." Discussing her Cannes award-winner The Wonders with Violet Lucca, Alice Rohrwacher is as good talking about the big themes like feminism and a media-saturated society as she is describing how she got around Italian labor laws that would have prevented her from filming with live bees.
"Immediately, Warner Bros. was like, 'How can we use [the Northridge earthquake] for our marketing? To be able to drive around L.A. and get destruction footage, everyone was gleeful about that. But it struck me as very Hollywood." Wes Craven and Heather Langenkamp (quoted above) discuss—separately—with Louis Peitzman the making of and messages behind arguably the most original entry in any genre series, Wes Craven's New Nightmare. Via Matt Singer.
To echo Adrian Curry's comments introducing his gallery of posters for Volker Schlöndorff films, the selection isn't just varied; the quartet of posters for The Lost Honor of Katharina Blum alone could fuel hours of discussion about how designers take in and reflect back a film.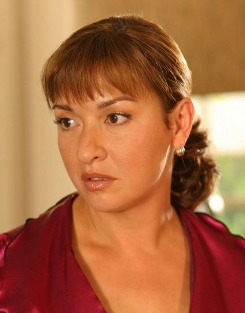 Obituary
Elizabeth Peña passed away this week at the age of 55. The Cuban-American actress had a busy and successful career on both the big and small screens for 30 years, making her breakthrough in the comedy Down and Out in Beverly Hills (1986) and playing the mother of Richie Valens in La Bamba (1987). She co-starred in the short-lived but critically celebrated TV series Shannon's Deal, which was created by John Sayles, and had a recurring role in Modern Family, while on the big screen she appeared in Blue Steel (1989), Jacob's Ladder (1990), Lone Star (1996), Rush Hour (1998), and Tortilla Soup (2001) and voiced the femme fatale of the animated hit The Incredibles (2004). Elizabeth Blair remembers her legacy for NPR.
Stanley Chase, a theater producer who went on to television and feature films, co-produced the first successful American production of Brecht's "The Threepenny Opera" Off Broadway in 1954. In Hollywood he worked largely on television (he was instrumental in developing Peyton Place and The Fugitive) but also produced the features The Hell With Heroes (1968) and Colossus: The Forbin Project (1970). David Colker at Los Angeles Times.
Czech actor and political dissident Pavel Landovsky mostly worked in theater, often with playwright and future Czechoslovak president Vaclav Havel, but he also appeared on television and in films, most notably Jiri Menzel's Closely Watched Trains (1966), The Unbearable Lightness of Being (1988), which he made while in exile in Vienna, and Jan Sverak's Empties (2007). He returned to the Czech Republic in 1990 and remained there until his death this week at the age of 87. More from William Yardley at The New York Times.
American actress Misty Upham made her debut in Chris Eyre's Skins (2002) and co-starred opposite Melissa Leo in Frozen River (2008), for which she received an Independent Spirit Award nomination. The Native American actress also appeared on the TV series Big Love and the features Django Unchained (2012), Jimmy P. (2013), and August: Osage Country (2013) and was active in speaking out about Native American issues. She was reported missing earlier this month and was found dead this week at the age of 32. More from Entertainment Weekly.
Seattle Screens
SIFF Cinema presents a Robert Altman festival in conjunction with the debut of Ron Mann's documentary Altman. Films screening at the Egyptian this week include M*A*S*H, McCabe and Mrs. Miller, Nashville, Popeye, The Player, Short Cuts, and Gosford Park. Details on the series here.
Not a film event per se, but film critic Tom Keogh is also a Sherlock Holmes expert and will present the final presentation of his talk "Dr. Doyle and Mr. Holmes: The Cultural Staying Power of Sherlock Holmes" at the Shoreline Library at 7pm on October 23. The event is free. More details here.
Visit the film review pages at The Seattle Times, Seattle Weekly, and The Stranger for more releases.
View complete screening schedules through IMDb, MSN, Yahoo, or Fandango, pick the interface of your choice.
The weekly links page is compiled and curated by Bruce Reid, with obituaries curated by Sean Axmaker, and other contributions from friends of Parallax View.