"His apartment, which he rented for 10 dollars a month, was described by friends as "beat up" and by him as "terrific." He survived on two meals a day, mostly combinations of steak, eggs, and orange juice, and he eschewed nightclubs, instead spending his spare time reading Chekov, classic works of history and economics, and Aristotle, whom he praised for his belief in happiness, or the "gentle art of the soul." When he wasn't reading or exhausting himself in preparation for a part, he liked to go to the local night court and attend high-profile court cases just to watch the humanity on display." Anne Helen Petersen relates the fastidious privacy and long public crack-up of Montgomery Clift. Don't miss the photo gallery that's appended, a marvelous collection of intimate portraits and wild west vistas snapped by Clift. Via Movie City News.
A search through the archives rewrites history once again, as MoMA prepares to screen an unfinished 1913 film from Biograph pictures that not only stars the great Bert Williams but is believed to be the oldest surviving feature with a black cast. Via Phil Campbell. No, not that Phil Campbell, the other one.
As Reverse Shot's writers work their way through the films of Martin Scorsese, the results are obviously hit-or-miss. But, just to cite Kristi Mitsuda's frustration with Boxcar Bertha's misogynistic reduction of its supposed heroine to a "starry-eyed simpleton" or Ashley Clark's oversimplified but intriguing critique of Taxi Driver's racial politics, at least they're not as blandly hagiographic as, say, the documentaries Scorsese has directed.
When it comes to most directors, hunting down obscure titles means maybe searching for an out-of-print television episode or two. For Takashi Miike visits are required to war shrines and neighborhood museums. Grady Hendrix, with the help of Miike biographer Tom Mes, runs down the rarities.
Staying at Film Comment, more obscurities, as David Gregory Lawson revisits two of Linklater's least commented upon films, his microbudget debut It's Impossible to Learn to Plow by Reading Books and his first, unfairly overlooked step into the big leagues, The Newton Boys. ("Learn to Plow has less dialogue than any given two minutes of a later Linklater film, but it already shows his confidence and precision in compressing a remarkable depth of social observation and feeling into gestures, body language, the gaps between what is said and what is withheld or can't be articulated.")
Throughout Darren Hughes and Michael Leary's discussion on Claire Denis—the first two of an announced four parts of which are up now (Part II here)—they keep raising ideas of what the director is up to and then shyly fold them away like gamblers unable to string out their bluff. ("Now that I'm on the spot, I don't know if I can describe it well, in general"; "Having said that out loud, I'm not totally sure I believe it.") Color this as Denis's own ineffable mysteriousness taking over the conversation and the exchange becomes much more enjoyable.
As the producers of Dying of the Light step in and justify their re-edit of the film as still "80%" the vision of the director, Scott Foundas catches us up on the latest installment in the ongoing saga of Paul Schrader vs. The Moneymen. Via Katie Rife.
"So, let's not define documentary success by how many theater tickets we sell on a Friday evening as we compete with comic book heroes and inane sequels, because in order to compete with these kinds of film, by definition, documentary filmmakers will be forced to only use humor and entertainment and choose "popular subjects," forcing all documentarians in the same creative and editorial box." In a battle of the manifestos, Indiewire has Joe Berlinger's don't-fence-me-in response to the 13-point plan for documentary (or whatever you wind up calling them) filmmakers Michael Moore recently delivered at the Toronto Film Festival.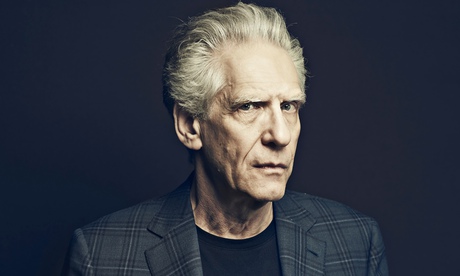 "My imagination is not full of horrors at all. This is the misunderstanding of what my movies are. First of all, I think all my movies are funny. Not everything in them is funny, but they are full of humour. And second, it's not really my imagination. Anybody looking at the news on the internet or in a newspaper, there's horror there every day—compared with that, my imagination is a wonderful playground!" For the Guardian, David Cronenberg gives typically recondite answers to questions sent in by readers and celebrities like Rosanna Arquette (who sets him up for a great behind-the-scenes story from Crash) and Viggo Mortensen (who, I suspect rather po-facedly, asks about the origins of the universe).
"I told Stanley about the uprising in Paris and he sent me a memo back that said: 'Don't forget, you're there to take photographs of things from two-hundred years ago, not of things that are happening today.'" Interviewed by Justin Bozung, Andrew Birkin recalls his efforts snapping research photographs throughout France for Kubrick's unrealized Napoleon project. Kudos to Bozung for asking whether Kubrick stipulated he wanted shots of the emperor's bathroom. (He did.)
Fiction: "And with her Aimee—that was her name, not Rachel or Raquel—brought several pages of her grandmother's notes for the film, notes suggesting that it was not nearly complete, and that its ending would involve an apocalypse the likes of which had never been rendered on screen before." An excerpt from Nicholas Rombes's novel The Absolution of Roberto Acestes Laing spices up the literary trope of lost film by having the narrator describe the final (and, it must be said, atypical) work of Maya Deren. Via Longform.
For the latest captivating, mercurial swerve in a career delightfully full of them, John Malkovich steps in front of Sandro Miller's camera to recreate iconic portraits, from dust bowl mothers to Arbus twins, with a heap of spot on celebrity impressions to boot. (His Bette Davis is particularly striking.) Also spotted by Movie City News.
There is sometimes an unexpected shock when you discover that a favorite illustrator sketched out erotic nudes. And then there's learning that, oh, Fellini did some? Makes sense. Via Mubi.
"… I was told, it was exhibited in Seoul's counter-revolutionary museum, and its author introduced as a "Marxist dog". I didn't mind. Since Snoopy, the word "dog" has ceased to be an insult in my cats-ruled world." And at Mubi itself, a collection of photographs taken in North Korea in 1957 by the cinema's great traveler, Chris Marker, and a wise, humorous essay he wrote about the visit in 2009.
Video: If you're wondering why Matt Zoller Seitz's fine video essay on the editing of All That Jazz is only available on the web, not the recent blu-ray (and why its narration sits more thickly on the soundtrack than his previous efforts), he's got the answer for you.
Obituary
Actress and singer Polly Bergen starred opposite Gregory Peck in the original 1963 Cape Fear and Joan Crawford in The Caretakers (1963) and played the first female American President in the comedy Kissed for My President (1964). On television she earned an Emmy for starring in the 1957 Playhouse 90 production of "The Helen Morgan Story" and Emmy nominations for the mini-series The Winds of War (1983) and War and Remembrance (1988) and as guest actress on Desperate Housewives (2004), and earned a Tony nomination while appearing in the 2001 revival of "Follies." She passed away this week at the age of 84. Robert Berkvist remembers her career as actress, singer, and entrepreneur for The New York Times.
Dutch filmmaker George Sluizer, who directed the original The Vanishing (1988) and the Hollywood remake with Jeff Bridges and Kiefer Sutherland, passed away this week at the age of 82. He had been in ill health since 2007, during which time he completed the unfinished Dark Blood, which was shut down when its star, River Phoenix, died in the middle of production. More from Xan Brooks at The Guardian.
Filmmaker and film historian Peter von Bagh directed some 50 documentaries and books, co-founded the Midnight Sun Film Festival (with Akil and Mika Kaurismaki), and was artistic director of Il Cinema Ritrovato in Bologna. He died at the age of 71 this week. Reported by David Hudson at Keyframe Daily.
Seattle Screens
Northwest Film Forum's annual Local Sightings is on and plays through the week. Get the schedule here.
Visit the film review pages at The Seattle Times, Seattle Weekly, and The Stranger for more releases.
View complete screening schedules through IMDb, MSN, Yahoo, or Fandango, pick the interface of your choice.
The weekly links page is compiled and curated by Bruce Reid, with obituaries curated by Sean Axmaker, and other contributions from friends of Parallax View.