As the title indicates, Arabian Nights—Miguel Gomes's follow-up to Tabu—doesn't seem to lack for ambition. Featuring real news stories (researched for the director by a trio of journalists) filtered through the telling by a modern Scheherazade, it looks another dazzling intermingling of Portuguese history and fanciful imagination. Rachel Donadio has a set visit, complete with a colorful photo gallery.
"Noir was in part an expression of disillusionment on the left, as the populist anger and idealism of the Depression years gave way to the Cold War demonization of communism. […] The most subversive aspect of noir is its profound distrust of ambition. Whenever someone in a noir film dreams of a better life, or says, "I just want to be somebody," you can write his or her epitaph right then and there." Imogen Sara Smith spins off of a pair of film series to run through a two-part history of noir and the blacklist (part 2 here), particularly the screenwriters who were silenced or forced to work behind fronts for decades. An offense that deserved the witty revenge of Polonsky's refusal to identify his pseudonymous work, letting history assume the blacklisted writers wrote all the good scripts and none of the bad ones.
"This is a very strange love affair." "Why?" "Maybe the fact that you don't love me." Adrian Martin does a fine job exploring the "extraordinary open[ness]" of Notorious, the way narrative, editing, and mise-en-scène render "the question of point of view…complex, and constantly unsettled by the film itself." Via Adam Cook.
"Ladies and gentlemen, let me lay on you a so-so entertainer, not much of a humanitarian, and this cat was never nobody's friend." Hilton Als locates the compelling uniqueness of Bob Fosse's filmmaking—All That Jazz in particular—in his dancer's interest with the body, finding "the drama…in a step, a look, a gesture."
"Though the film was funded to be a celebration of Liverpool on the occasion of the city's status as the European Capital of Culture for 2008, Davies ended up making both a personal film and an occasionally sharp-tongued social critique that didn't honor a city's legacy so much as excavate its ghosts, focusing mostly on its working poor." In an excerpt from his new book on Terence Davies, Michael Koresky looks at how the director's first "documentary" Of Time and the City refashions a Liverpool unique to Davies's memories and imagining, "mindscape more than landscape." Via David Hudson.
David Bordwell adduces several reasons not to take seriously any zeitgeist ruminations of Where We Are Now from the messages playing on movie screens—the most persuasive of which is, considering the many individuals who work on a film and the multitudes who go see it each for their own reasons, what is meant by "we" in the first place?
Chats with Jim Jarmusch, managers who delivered lectures against employee theft then absconded with bags full of laserdiscs, fungal growth in the porn room the size and shape of Alien's pods. Bedford and Bowery's Kate Beaudoin, Nicole Disser, Daniel Maurer, and Kirsten O'Regan interview former employees and customers to compile an oral history of Kim's Video that make it seem equally a you-had-to-be-there wonderland and at one time the thickest infestation of hipsters to be found throughout the five boroughs. Via Movie City News.
"I know only me, so if I project these things onto a fictional character, of course it's fictional but of course it's also me. When I'm shooting a film suddenly nothing can forbid me, even shame or shyness, to do what I think is beautiful and ambiguous and has a feeling of humanity. But sometimes when I see my films once they're finished, I think: 'Oh, how can I have done that?'" As Catherine Breillat discusses Abuse of Weakness with David Gregory Larson, it's clear that the stroke that inspired the film didn't temper one of our most provocative filmmakers one jot. You'd expect no less from a woman who wanted her orthopedic shoes designed in the vein of Cronenberg's Crash.
"Cable television is the new arthouse, so it's there, but it's not the big screen. If people have a big screen at home, great sound, and they turn the lights down and turn their phones off, they can get into the world and have an experience. But most people don't watch films that way anymore." Eight years after his last film, David Lynch continues to talk up his other endeavors in a way that only highlights our loss, chatting with Marlow Stern about Transcendental Meditation, Kanye West, and taking a smoke break with Louis C.K. While his interview with Hilarie M. Sheets focuses on his first American museum exhibition, back where it all started for him at the Pennsylvania Academy of the Fine Arts. ("All of Philadelphia had a kind of coal-dust patina and a mood that was just spectacular. There was violence and fear and corruption, insanity, despair, sadness, just in the atmosphere in that city. I loved the people there. All these things, whatever way it was, was my biggest influence.")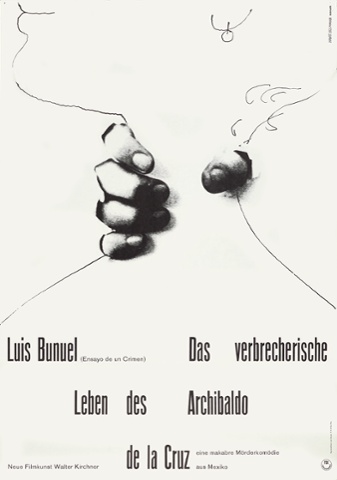 "And the landscape itself, I mean, when I saw the film, after it was finished, it suddenly struck me: this is something new. That is, no one has ever shot landscapes in a film and then held and, as it were, caressed them. As if they were precisely characters." "I think every landscape is a woman, really, but…" "Yes, for you." A typically heady 1981 interview with Huillet and Straub (no points guessing who's who in the quotes above) concerning Too Early, Too Late, has been freshly translated by Ben Brewster. Another item spotted by Adam Cook.
With the great German poster artist Hans Hilmann the subject of a London exhibit, The Guardian offers a gallery of his work. All of which you've seen before, but none that gets old however many times you encounter it.
Video: Art of the Title compiles some of their favorite credit sequences showing off the "inner workings," whether mechanical (gears and cogs clanking together in heavy, ponderous lockstep—or occasionally with entrancing, airy grace) or organic (brains, amniotic fluid, and the magnificent, microscopic view of an ice cube that opens Dante's Innerspace).
Video: For years Stan Brakhage hosted private screenings and discussions of both his films and others in his collection. But invite-only hardly jibed with his demotic, utopian spirit, and beginning in 1993 the weekly salons were made open to the public. Filmmaker and friend Phil Solomon taped Brakhage's lectures, and as Seventh Art noticed, has been posting excerpts to his Vimeo page. A chance to hear a master discourse and also to encounter the man whom Solomon affectionately calls "our Stan of Boulder, the relaxed, funny, gregarious, loving and generous holder of a shared court."
Obituary
Documentary filmmaker and producer William Greaves made films for the National Film Board of Canada, the United Nations, the United States Information Agency, and PBS, and directed the theatrical feature The Fighters (1974), about the 1971 Muhammad Ali-Joe Frazier fight, and he created and hosted the PBS newsmagazine Black Journal in 1968 (he left in 1970 and it became Tony Brown's Journal). But today he is curiously enough best known for an experimental feature that he made in 1968 but was effectively unseen for over 20 years. After a few festival screenings, Symbiopsychotaxiplasm: Take One finally received a theatrical release in 2005 and was released on disc by Criterion in 2006 along with its sequel, Symbiopsychotaxiplasm: Take 2 ½ (2005). He died at age 87. Mel Watkins remembers his life and legacy at The New York Times.
British actor / director Richard Attenborough, whose screen career spanned over 60 years, passed away this week at the age of 90. He was a young soldier in the David Lean/Noel Coward collaboration In Which We Serve (1942) but made his first splash as the psychopathic gangster Pinky in the 1947 Brighton Rock and was launched internationally as part of the cast of The Great Escape (1963), which led to numerous roles in American and international productions, from The Sand Pebbles (1966) to Satyajit Ray's The Chess Players (1977). Attenborough directed his first film, Oh! What a Lovely War, in 1969 and directed a dozen films in his career, including the epic A Bridge Too Far (1977), Cry Freedom (1987), Chaplin (1992), Shadowlands (1993), and his biggest success, Gandhi (1982), which became an international hit and earned eight Academy Awards, including Best Actor for the then-unknown Ben Kingsley, Best Director and Best Picture. He appeared onscreen less frequently after Gandhi but became familiar to a new generation of filmgoers with Jurassic Park (1993) and Miracle on 34th Street (1994). More from Ronald Bergan and Peter Bradshaw, both writing for The Guardian.
South Africa-born actor Bill Kerr had a lively career on stage and screen in Britain (The Dam Busters, 1955) and in Australia, where he grew up and then returned to live in the final decades of his life, appearing in Gallipoli (1981), The Year of Living Dangerously (1982), and The Lighthorsemen (1986) among others. He died this week at the age of 92. More from The West Australian.
Japanese director Chusei Sone apprenticed with Seijun Suzuki and wrote the cult gangster film Branded to Kill (1967) before launching his own directing career, where he became one of the leading directors in the erotic Roman Porno industry, helming the notorious Angel Guts: High School Coed (1978) and Angel Guts: Red Classroom (1979) among the dozens of films he turned out. He passed away at the age of 76. Reported by jiji.com, but no English language obituaries yet.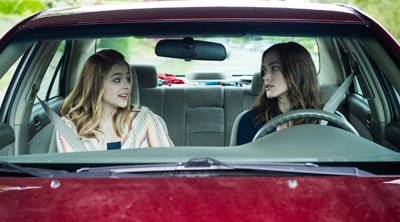 Seattle Screens
SIFF has just announced the line-up for the 2014 Women in Cinema festival, opening on Thursday, September 18 at the Egyptian with the Seattle premiere of Laggies, the last Seattle-shot film from local filmmaker Lynn Shelton, and continuing through September 21 at SIFF Cinema Uptown. Tickets now on sale at the SIFF website, where you can also see the complete schedule.
Visit the film review pages at The Seattle Times, Seattle Weekly, and The Stranger for more releases.
View complete screening schedules through IMDb, MSN, Yahoo, or Fandango, pick the interface of your choice.
The weekly links page is compiled and curated by Bruce Reid, with obituaries curated by Sean Axmaker, and other contributions from friends of Parallax View.