"My brother and I have always been fans of B movies. Agustiín would kill to make a women-in-prison film, pack it to the gills with girls of all races, each more deviant than the next. We'd follow the line of Jonathan Demme's Caged Heat, or the line of films made by Linda Blair after she developed physically. Lots of skin, a large helping of irreverent humor, and very little money, of course." At Criterion, Pedro Almodóvar relates the inspiration—strictly financial, a cheerfully admitted Cormanesque gambit to reuse an expensive set—behind Tie Me Up! Tie Me Down! While Kent Jones and Wes Anderson carry on a conversation about Almodo?var's "one ongoing movie." ("Desire rules. Like in Andre? Te?chine?'s movies, which are very different in many ways, although they both love melodrama and Hollywood cinema. Their films are neither heterosexual nor homosexual, they're just sexual.")
Mark Asch gives close reading to two disparate scenes—Veidt and Hobson tied up in the basement lair in Contraband, and 35 Shots of Rum's rapturous bar dance to "Nightshift"—to show how filmmakers (with their respective editing partners John Seabourne and Guy Lecorne) tackle the pure cinema challenge of constructing action to music and wind up with something quintessentially tight and contained (Powell-Pressburger) or diaphanous and unreadable (Denis).
Also at Fandor: Why does Kiva Reardon style her perceptive comments on the fearless eroticism of Trouble Every Day as a schoolchild's alphabetical primer? If only to get away with C is for Cunnilingus, that's good enough for me.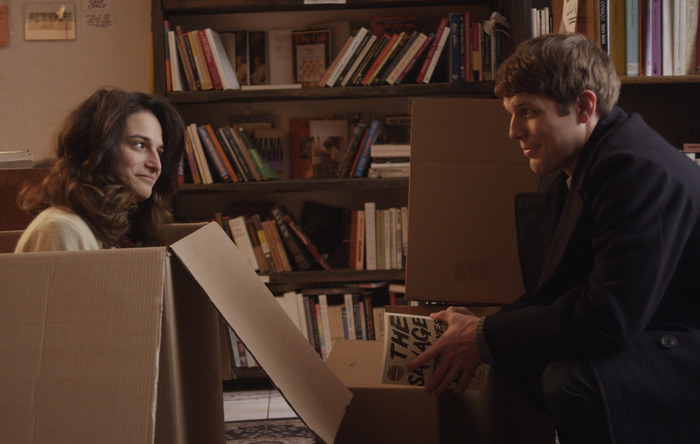 Also from Reardon: the editor of cléo has a new issue out, devoted to the subject of labor. Including Sophie Mayer on the feminist notions of work and time that convincingly unite the surprising trio of Potter's Rage, Hyde's 52 Tuesdays, and Kopple's Harlan County USA; Julia Cooper on the promising, amusingly subversive setup and fizzed-out, status-quo ending of Reitman's Junior; a roundtable on the relatability of Obvious Child; and an interview with Selfish Giant's Clio Barnard. ("That's why it was very important to me to keep this connection to Victorian fairy tale. How can it be a fairy tale, a fable, but also be authentic? There's a gap.")
"On the surface the tone of these speeches doesn't seem much different from the platitudes found in Cantonese films of the 1950s, which tended to promote social consciousness more than their luxurious, big-budgeted Mandarin counterparts. But unlike the straightforward, PSA-like melodramas of filmmakers like Ch'un Kim (a Hong Kong film industry veteran who served as Lung's mentor), the action preceding these sermons is riddled with so many dissonances, that there's no way for us to feel any sense of complacency or self-satisfaction." Comparing Patrick Lung Kong to Stanley Kramer is hardly the way to get cinephiles interested; but Andrew Chan goes on to suggest that, at least in his early, influential portraits of disaffected youth and later films dealing with plague and the legacy of Hiroshima that make no effort to contain their hysteria, it's a short oeuvre well worth exploring. Via Criterion.
James Gray, who's stayed small but whose films increasingly suggest he knows from dreaming big, has nothing but praise for the necessary excesses of Coppola's Apocalypse Now. Via Adam Cook.
"Methot was a short and curvy woman who could convincingly play a worn-out, maternal tart at the age of 28. […] Onscreen, she ran the gamut from quivering affront to sodden resignation—poise didn't seem part of her repertoire." Phoebe Green and David Cairns steal a few moments from the Lauren Bacall memorials to salute Mayo Methot, her tempestuous predecessor at Bogart's side and, opposite Carole Lombard in Virtue, "in the pantheon of pre-Code sisterhood, along with Stanwyck and Blondell in Night Nurse."
So, are David Thomson's ruminations on left-handedness sincere, a straight-faced putdown of political correctness strangling critics' ability to discuss actors' physical characteristics, or another excuse to rhapsodize over Nicole Kidman? Even as a southpaw who'll admit we look cramped and awkward writing, I'm guessing a little bit of each.
David Bordwell's attempts to identify a poster hanging at The Magnificent Amberson's Bijou, the false lead of a Pathé short leading to tentative certainty it's actually a stage production, involves the type of deep scrutiny only truly trivial matters deserve.
"But the kids I know, I love them, but they're not mad the way we used to be. They like their parents. They have plenty of money. They seem so unafraid and so un-angry. It makes them very nice people. It doesn't make for great art. I ask them all the time: 'Aren't you mad at anything?' They look at me like I'm off my rocker." If there's every a serious push to get Kelly Reichardt into the mainstream, it seems the biggest resistance would come from the director herself, based on her interview with Xan Brooks.
"John heard what I was working on, and he said, 'Bo, I want you to do this on piano.' I said, 'John, I don't play piano.' He said, 'So learn piano.' So that's what I did. Within a week, I had a main theme and a second theme and all that kind of stuff written. And I was terrified. But he liked what it sounded like—like a guy who didn't know how to play the piano." John Cassavetes may be the only filmmaker under whom one could have been nudged along from assistant editor to composer, without having proved oneself along the way. As Bo Harwood describes it to Sam Wasson, it was an exhilarating experience, albeit nerve-wracking every step of the way.
"The part of the job that I love the most is being on set. Thanks to the 50 unlucky people that work with me all the time, they make my joy. When I start shooting I am surrounded by these technicians and actors who do nothing but to make me happy and to share my dream. What can I want more?" The Talks releases a 2009 interview with Claude Chabrol that suggests the key to a long, uniformly fine career is doing a job you love; that, and understanding your targets.
Forget the meager box office or right-wingers claiming it as their own; the most distressing news out of The Giver is that Jeff Bridges's Widelux camera has begun to break down. Could this be the last set of his paradoxically intimate and panoramic set photos?
Adrian Curry gets revenge for the career-long sidelining of his first Hollywood love, cropping a few dozen movie posters to offer only a series of illustrations of Lauren Bacall. You can click through to the full images, if for some reason that's not enough for you.
Obituary
Actor turned director Brian G. Hutton directed two of the biggest action films of the late 1960s, both set in World War II and starring Clint Eastwood: Where Eagles Date (1968), with Eastwood playing sidekick to Richard Burton in a non-stop military thriller from an original Alistair MacLean screenplay, and Kelly's Heroes (1970), a military heist film with a sprawling cast under the command of Eastwood. He was an actor before stepping behind the camera and he turned his back on both professions after directing the last his nine features, the Frank Sinatra cop drama The First Deadly Sin (1980) and the adventure throwback High Road to China (1983) with Tom Selleck. He was believed to 79 when he passed away this week. Mike Barnes at The Hollywood Reporter.
Don Pardo, who was the voice of Saturday Night Live for 38 seasons and the announcer on the original incarnations of the game shows The Price is Right and Jeopardy!, passed away on Monday at the age of 96. He was inducted into the Academy of Television Arts and Sciences Hall of Fame in 2010. Neal Genzlinger remembers his career for The New York Times.
The weekly links page is compiled and curated by Bruce Reid, with obituaries curated by Sean Axmaker, and other contributions from friends of Parallax View.