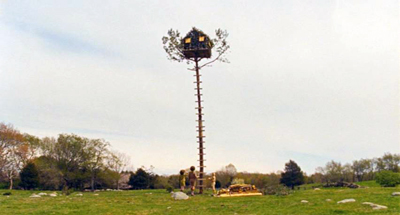 Noting there's nothing all that wrong about auteurs making themselves a known brand, David Bordwell breaks down the impeccable Wes-Andersonness of Moonrise Kingdom, finding some unremarked subtleties amidst the fussiness, including a looping chronology that can slip by you the first time through and a drift away from his trademark center-frame shot-reverse-shot that marks the emotional highpoint of the film, "[a violation of] the film's intrinsic norm by bringing in a common technique—which now gains a force it doesn't customarily have."
For a first look at potential brandname auteurs of the future, Filmmaker Magazine's annual list of 25 New Faces arrives. One intriguing development: the inclusion of film critics specializing in visual essays, such as Gina Telaroli and ::kogonada. Via Criterion.
"Philip took vivid stock of everything, all the time. It was painful and exhausting work, and probably in the end his undoing. The world was too bright for him to handle. He had to screw up his eyes or be dazzled to death. Like Chatterton, he went seven times round the moon to your one, and every time he set off, you were never sure he'd come back….' John le Carré, who knows from observing behavior, offers a fine appreciation of Philip Seymour Hoffman.
"One inevitably develops an appreciation for Siskel, Ebert, and Roeper as actors, able to remain in-character despite flubs and technical snafus, and to read the teleprompter and then improvise an argument in the same voice. I never master these skills, because I am the wrong man for the job." Of the many Ebert tributes inspired by Steve James's Life Itself, by far the best—generous but clear-eyed about what thumbs-up, thumbs-down wrought—is Ignatiy Vishnevetsky's account of his brief turn as co-host of Ebert Presents: At The Movies.
"'Nothing special about him,' reads the stage direction describing the T-1000's entrance in T2's shooting script, which Cameron wrote with his friend William Wisher. 'Certainly not built like a Terminator.'" Chris Klimek finds the heart of Terminator 2's potent metaphor in the alien cruelty hiding under Robert Patrick's Protect and Serve façade.
"To a network, probably, we're all commodities. To me? You are not a commodity. What you are is important." On The Insider's 15th anniversary, Scout Tafoya traces its lineage back to the western—specifically, Hawks's grand studies of professionals in love that conveniently pretended to be westerns, what with the horses and the funny hats.
"Tell Bob, tell Dean, we are all ready for a sequel. I still have my costume!" Sigourney Weaver's not the only participant in Jordan Hoffman's oral history on Galaxy Quest itching to suit up again. Also revealed: Tim Allen's always a wise-ass, Alan Rickman has great respect for writers, and even on a one-day set visit Steven Spielberg can toss out ideas that change the direction of a film (and doesn't mind fetching water for an actor). Via Matt Singer.
"…all these moving scenes are still there for us today rendered more beautiful still by the waters of sorrow which have passed over them and by the rich incrustations of time." Luke McKernan shuffles through the allusions to Ulysses (and to other artworks making their own references to the novel) that render the Linklater Before… trilogy "more subtly and rewardingly Joycean than any literal transcription of his work to the screen."
"The trauma of my father's death was such that it prevented us from grieving. Yet grief that is not felt or acknowledged does not dissipate; it goes underground, where it flourishes, like some evil plant, in secret and debilitating ways. Sometimes it sickens the mind, sometimes the body. Occasionally, it infects both." Hunting down a reference made by Film Studies for Free's Catherine Grant, Adrian Martin found a remarkable excerpt from Madelon Sprengnether's "Crying at the Movies," a personal essay about her lack of reaction to her father's death and the movies that set her tears flowing.
Hadley Hall Meares provides an interesting tour of Santa Monica's Gold Coast, still dotted with homes built in the '20s for Hollywood's elite—including Thalberg, who soundproofed his beach house so as not to be disturbed by the surf. Via Matthew Dessem.
In the shortest entry we've ever linked, Ashley Clark uses the 25th anniversary of Do the Right Thing to remind us the BFI's one-sentence plot description is singularly (deliberately?) inept.
"'Maverick' is a label put on somebody—I've been called maverick—that means you're not with the crowd. They're just not in the super mainstream. Someone like Terry Gilliam is pretty mainstream, but he's not in the super mainstream." Jeremy Thomas, who's earned the title of maverick producer as much as anyone, talks with Oscar Rickett about Bertolucci, Ballard, and how he finds the "oxygen" in Europe more congenial than the high-pressure system of Hollywood.
"That was very purposeful on our parts to make those transitions as seamless as possible and not make a big deal out of the characters' aging. I think that's part of the beauty of the film: you're experiencing these things the same way you are in your life. You don't notice when and how you grow up; you don't say 'Now my hair looks different' or 'Now my voice sounds different.' It's more of a cumulative effect so that when you look back, you really go, 'Oh my God, from this age to that age, it's a huge change!'" Sandra Adair, who's edited all of Richard Linklater's films since Dazed and Confused, talks with Ethan Alter about the unique challenges presented by Boyhood's 12-year journey.
"I don't really understand why I still have some street cred, because I've sold out a couple of times…. I've made some commercial movies. It's not like I'm loyal to the indie world, I've done, whatever, Charlie's Angels." Sam Rockwell's early life was brushed by his mother's madness and his childhood, he admits, had him growing up to soon. All the more reason, perhaps, one of our flashiest actors comes off the perfectly modest professional discussing his career with Ian Parker. Via Movie City News.
In addition to painting, photography, music, nightclubs, and coffee, David Lynch now has couture to distract him from filmmaking. Via It's Nice That.
Another round of David Cairns's freeze-framed actor mash-ups? Sure, why not?
Obituary
James Garner made it look easy. In a career spanning 50 years, he made an impression playing wry, self-effacing characters on the small screen and the big screen, at his best undercutting the conventions of the American hero. As the star of Maverick, he was a gambler who used wiles rather than violence, and in The Rockford Files he was private eye who tended to be on the receiving end of a punch and was often stiffed by his clients. On the big screen he starred opposite Doris Day and Julie Andrews in multiple films and earned his only Oscar nomination opposite Sally Field in Murphy's Romance (1985). He passed away at the age of 88. More from Bruce Weber at The New York Times.
Noel Black earned an Oscar nomination for his 1966 short Skaterdater, which had a healthy run as theatrical short subject through the years, but he owes his legacy to Pretty Poison (1968), the brilliant, blackly satirical thriller with Anthony Perkins and Tuesday Weld. He directed a lot TV and a few movies since, but never had a project as rewarding as that. He passed away at the age of 77. Stephen Bowie revisits his career at The Classic TV History Blog.
Four novels by Thomas Berger have been adapted for the big screen but the one everyone remembers is Little Big Man (1970). He died earlier this month at the age of 89, not quite as old as the hero of his most famous film. Matt Schudel at The Washington Post.
Thai stuntman, action choreographer and director Panna Rittikrai had a long career before he helped turn Tony Jaa, who he mentored, into an international action star with the Ong-Bak (2003), which he choreographed and co-wrote. He went in to direct Jaa in two Ong-Bak sequels and design the martial arts action for The Protector (2005) and Chocolate (2008) among other films. He passed away at the age of 53 after a battle with liver disease. Abid Rahman for The Hollywood Reporter.
Spanish actor Alex Angulo starred in films by Alex de la Iglesia (he was the hapless priest in Day of the Beast, a role that earned him a Goya nomination), Pedro Almodovar (Live Flesh), and Guillermo del Toro (Pan's Labyrinth). He died in a traffic accident at the age of 61. Shelagh M. Rowan-Legg at Twitch.
American writer / producer / director John Fasano is best known for his horror and genre work – he debuted as director of the heavy metal horrors Rock 'n' Roll Nightmare (1987) and Black Roses (1988) and wrote Universal Soldier: The Return (1999) and Darkness Falls (2003) – but he also wrote and produced for TV (including the first Jesse Stone telefilm, Stone Cold, 2005). He passed away at the age of 51. Carmel Daga reports for Variety.
The weekly links page is compiled and curated by Bruce Reid, with obituaries curated by Sean Axmaker, and other contributions from friends of Parallax View.