The new (and newly re-designed) Senses of Cinema offers plenty to explore, including Stuart Bender on how Gravity's sound design convincingly fakes reality and, sticking with Cuarón, Ben Ogrodnik trying to free Children of Men's narrative use of the camera from overly politicized critical readings; Marc Saint-Cyr describing the humanist sympathy for the underclass that unites two A. K.'s generally considered incompatibly maximalist (Kurosawa) and minimalist (Kaurismäki); Daniel Fairfax praising Jean-Pierre Léaud's crucial, daringly raw performance in Rivette's Out 1 (with Léaud's own anecdotes from the film as given at a 2013 screening); a clutch of articles of Švankmajer (on Faust, Jabberwocky, Conspirators of Pleasure, and Little Otik); and Sam Littman doing the honors of placing Kelly Reichardt in the journal's folio of Great Directors. (Jumping the gun? I don't think so, but even if you do, c'mon, her seat's been saved since the last frames of Old Joy, at least.)
"Saint Paul will suffer martyrdom in the middle of the bustle of a suburb of a large city, modern to the breaking-point, with its suspension bridges, its skyscrapers, its immense and crushing crowd, which passes without stopping in front of the spectacle of death…. But in this world of steel and cement, the word 'God' resounds (or starts to resound)." Pasolini's unfilmed scenario St. Paul, which would have updated the saint's journeys to the modern world while maintaining the textual fidelity of his St. Matthew, were recently published in English by Verso. Mubi offers an excerpt, and one from Alain Badiou's forward to the volume, which explains how the atheistic, political Pasolini found religious stories valuable for providing a "poetic and historical paradigm of the possibility of scathing confrontation."
Riffing off a fine photo of Rainer Fassbinder, his shirt emblazoned with his favorite football franchise, Ian Penman fills in the history swirling behind The Marriage of Maria Braun's climactic radio broadcast of a World Cup match; associations that might be lost to those sketchy on European history or indifferent to soccer. No judgment, my fellow Americans. Via David Hudson.
Surveying the current crop of genre filmmakers such as The Purge's James DeMonaco and Cold in July's Jim Mickle, Clark Collis finds John Carpenter consistently cited as a primary influence. Carpenter's response to the kind words is precisely the wry one you'd expect:  "I love it…. But I just wish they would send me money. It doesn't have to be much—just a couple bucks." Via Movie City News.
The movie distributor's eternal goal of getting butts in seats has changed dramatically in the last few years—as in, does it matter whether the seats are in a theater or at home? Radius-TWC, a division of the Weinstein Company, has been experimenting with nearly day-and-date Video on Demand to some success, as Calum Marsh reports, getting some independent directors to chime in pro (Joe Swanberg) or con (Alex Ross Perry). And Bilge Ebiri notes the company's about to take its biggest gamble yet, releasing Snowpiercer to VOD even as it expands to theaters across the nation. So those who love bemoaning change, start preparing your nostalgic reveries over the loss of the theatrical window.
The late, great jazz bassist Charlie Haden didn't leave behind a filmography of note; but, as Glenn Kenny remembers, it does offer the curious sight of Haden playing drums in the background of a scene from Quine's evangelical Synanon. Check the comments for a lovely remembrance of the musician from Kent Jones.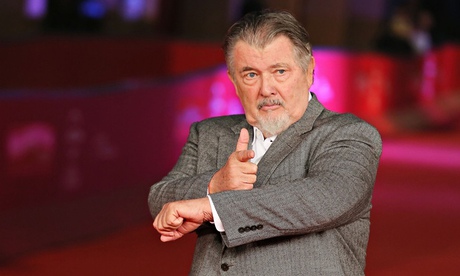 "…I always felt that genre film-making was going to be my home, but I also understood that you couldn't go on making them the way they used to do—there's no challenge. If you were just gonna go at it the way the old guys did, then you were going to run up against the fact that they did it better than you ever could—not surprising, since they had invented the genres themselves. My generation found you had to use the old genres in new ways, pull them inside out." Walter Hill, talking with John Patterson, reflects on what he learned from the old masters while humbly deflecting his right (earned absolutely) to claim his title as a current one.
"The full death toll for Hiroshima and Nagasaki has been officially published at 230,000. But in actual fact there were over half a million dead. And even now there are still 2,700 patients at the Atomic Bomb Hospital waiting to die from the after-effects of the radiation after 45 years of agony. In other words, the atomic bomb is still killing Japanese." David Hudson also spots and passes on a pair of wonderful historic interviews. First, Kino Obscura posts excerpts from a 1990 conversation between Gabriel García Márquez and Akira Kurosawa, the concerns of his then-filming Rhapsody in August heavy on the director's mind.
"Each studio seemed to pick up a coloration, or style, of its own, and was known for it. Warners was supposed to be hard-driving, speedy. They played softball at Paramount and had refrigerators in the writers' buildings. Metro was the top, the Bank of England—the posh English writers, Joe Pasternak's talented Hungarians, the Broadway playwrights in New York City." While at The Paris Review Aram Saroyan prints for the first time the 1989 interview he conducted by mail with novelist and screenwriter Daniel Fuchs, which Fuchs withheld over copyright concerns.
"CHESTBLONDELL as DONDIE" David Cairns presents a terrific gallery of frames from Warner Brothers credits caught mid-wipe, the two actors frozen into Janus-headed beasts.
If you live in a 90-year-old house in Vancouver, think about ripping up your floorboards. One homeowner did so for a renovation and found a marvelous cache of silent movie posters, used during construction as cheap flooring material. Via Adam Cook.
Video: Vadim Rizov offers video of Richard Linklater recalling a screening of Out of the Blue, after which Denis Hopper took the audience along to a racetrack to witness him surrounding himself with sticks of dynamite and setting them off. It's the sort of tale that sounds apocryphal—ok, maybe not so much with Hopper involved. But no need to wonder, since the video goes on to footage of the event itself.
Obituary
Elaine Stritch made her name on Broadway and she continued performing on stage well into her 80s, but she also appeared on the big screen and the small screen. On TV she starred in the 1960 series My Sister Eileen and the seventies British sitcom Two's Company but is surely most familiar to modern audiences for her recurring role on 30 Rock. On the big screen she co-starred in the 1957 A Farewell to Arms and the 1987 senior citizen gala Cocoon: The Return and was featured Woody Allen's September (1987) and Small Time Crooks (2000). Arguably her best film role was playing herself in the documentary Elaine Stritch: Just Shoot Me, currently available to stream on Netflix. She passed away this week at the age of 89. More from Charles Isherwood at The New York Times.
Tom Rolf, the Swedish-born film editor who worked with Martin Scorsese (Taxi Driver, New York, New York), John Frankenheimer (The French Connection II, Black Sunday), Paul Schrader (Blue Collar, Hardcore), Ridley Scott (Black Rain) and Michael Mann (Heat) and earned an Academy Award for editing The Right Stuff (1983), died at the at 83. He edited over 40 features in his career. In addition to his Oscar, he won the ACE Eddie award (given by fellow profession film editors) for WarGames (1983) and received nominations for The Right Stuff and Robert Redford's The Horse Whisperer. Carolyn Giardina at The Hollywood Reporter.
Seattle Screens
Framing Pictures is back at Northwest Film Forum on Sunday, July 20. Robert Horton, Richard T. Jameson, and Bruce Reid will be discussing (among other topics) the concept of the guilty pleasure, Richard Linklater's long-gestating Boyhood, and Eric Rohmer's long-arriving A Summer's Tale. The talk begins at 5:30 pm, it's free, and you are encouraged to join the discussion.
Visit the film review pages at The Seattle Times, Seattle Weekly, and The Stranger for more releases.
View complete screening schedules through IMDb, MSN, Yahoo, or Fandango, pick the interface of your choice.
The weekly links page is compiled and curated by Bruce Reid, with obituaries curated by Sean Axmaker, and other contributions from friends of Parallax View.