"'I'd learn from the crew whether a picture was good or bad. Electricians were my best critics, cause they watched the scenes from the day it was first rolling. If they said the picture was good, I'd go to the movie. If they said it was a turkey, I'd leave it alone.' So he skipped seeing Escape from the Planet of the Apes, and caught The Wizard of Oz." Matt Weinstock talks with then-99-year-old (he's since passed his centennial) Shep Houghton, whose career as a movie extra spanned six decades, and had him rioting in The Last Command, dancing inside a piano for Busby Berkeley, waltzing the Merry Widow for Hitchcock, and flirting with Ava Gardner on the set of Show Boat.
The new Cine-Files focuses on film acting, with the most space given over to Rebecca Naughten on the peripatetic career of Javier Bardem and Jennifer O'Meara analyzing three films and four performances of Cate Blanchett to argue not only doesn't the actor disappear into her roles, performance might be her great subject. But the shorter pieces, including James Naremore on Clara Bow and Joe McElhaney's closely-observed, self-explanatory Lauren Bacall: The Walk, have plenty to offer. There's also a discussion between Naremore and Jonathan Rosenbaum with some interesting points on the limitations of critical analysis of acting, but you'll want to read that at Rosenbaum's own blog, since only there is it illustrated with a .gif of James Cagney spritzing a bartender with beer. Via David Hudson.
Richard Williams's 30-year effort to bring The Thief and the Cobbler to the screen is, as Matthew Dessem points out, one of those stories that demands so much from its central hero—in labor, in sacrifice—and aligns so rightly with our natural sympathies for the underdog that it should only have had a happy ending. Alas….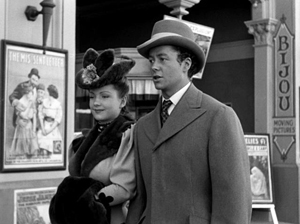 Another old movie tradition Orson Welles didn't invent but managed to imbue with unprecedented wit and thematic depth: the in-joke allusion to other movies, as David Bordwell demonstrates with the advertisements on display at The Magnificent Amberson's Bijou cinema, and his suggestion for the inspiration behind those end-credit close-ups. (As to the poster Bordwell can't identify, I couldn't track down a likely candidate, but surely the first noun isn't "Car" but "Cour"?)
"Compared to his other films that year, it has faded into obscurity, but Wake of the Red Witch held a pull over Wayne throughout his life. He got the name of his production company from the film, and when he was later battling cancer, he referred to the disease as the "Red Witch"." Those other films were Fort Apache, Red River, and 3 Godfathers, but R. Emmet Sweeney still makes a good case for John Wayne's turn in Wake of the Red Witch as an overlooked standout in the bunch.
Colin MacCabe recounts Godard's first visit to Cannes, in 1979, where the director signed a deal with Menachem Golan to make King Lear on the back of a paper napkin, and gave the best response imaginable after being hit in the face with a custard pie by anarchist provocateur Noel Godin.
Lexi Alexander takes a look at the studio execs holding back diversity and daring, and says that between them and the video pirates, she'll side with the pirates, thank you very much. Via Dissolve commentator Wolverine DoppelShane, which just goes to show it sometimes does pay to read the comment sections.
It's always possible that Alexander exaggerates how much male directors get a pass compared to female ones, of course. Anyways, apropos of nothing, here's Chris Lee describing the cost overruns, dithering over scripts, and fractious behavior towards his actors that have become accepted as Doug Liman's working method.
Cristina Álvarez López's and Adrian Martin's latest video essay examines the importance of seeing in De Palma; specifically, his insistence that "seeing is not always synonymous with knowing—his films frequently warn us that the eye is a misleading or deceptive bodily organ."
The Siren offers a priceless clause from Teresa Wright's Samuel Goldwyn Productions contract that proves "this smart and dedicated actress also knew exactly what she did and did not want from the business."
"They stopped me a couple times and checked to see if I had warrants, but [his assistant] Susan had prepared for me a "Fame Kit." My favorite thing was pulling out my Directors Guild of America card. Or, better yet, my Academy of Arts and Sciences card. 'Look here, I vote for the Oscars! Will this get me out of prison?'" John Waters, interviewed by Chris Kaltenbach, explains the impulse behind the cross-country hitchhiking trip chronicled in his new book Carsick, and assures us it was nothing but marvelous encounters all the way. Then ends with a few sentences confirming he's turned to books because even John Waters can't get films financed these days.
"I came to believe the power of film to affect good and reasonable change in the country […] but then I went out to Hollywood. I was quickly relieved of that notion." William Friedkin talks with Donald Liebenson about his first film, the documentary The People vs. Paul Crump.
"My life, my loves, where are they now?" Brendan Gaughen takes a then-and-now walking tour of Slacker's Austin. Continuing this week's accidental theme of worthwhile content found in comments, assistant cameraman and longtime Linklater confrere Clark Walker pokes in to give an amusing portrait of Slacker's making, and the reasoning behind its title. Via Criterion.
For Criterion, kogonada offers a gallery of the movie posters decorating the walls and streets of Ozu's films.
Despite the acclaim his films receive, Apichatpong Weerasethakul's range of interests seem likely to have him remembered in the long run as one of those omnivorous artists whose interests happened to include film, like Warhol or Maya Deren. To this point, Vadim Rizov spots two highly complementary, "generously illustrate[d]" reviews of recent gallery installations by Weerasethakul:  Marco Bohr on London's Double Visions and Chris Sharp on Fireworks (Archives), presented in Mexico City. ("[E]thereal, impressionistic, and fleeting—the way a dream, half remembered, upon waking is, as it flickers obliquely out of consciousness.")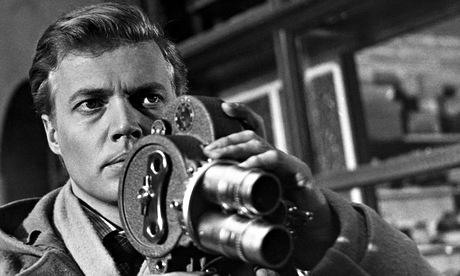 Obituary
German actor Karlheinz Böhm rose to fame playing Franz Joseph opposite Romy Schneider's Princess Elizabeth of Austria in the Sissi films and infamy as the lead in Michael Powell's Peeping Tom (1960), and went on to star in a number of Rainer Werner Fassbinder's films, including Martha (1974), Effi Briest (1974, and Fox and His Friends (1975). He credited Fassbinder with inspiring his interest in politics and he turned his focus from acting to activism and charity work in the 1980s. He passed away at the age of 86. Ronald Bergen at The Guardian.
Joan Lorring, who earned an Oscar nomination for her performance in The Corn is Green (1945), died at the age of 88. She also starred opposite Sydney Greenstreet and Peter Lorre in Three Strangers (1946) and The Verdict (1946) and appeared on Broadway and TV over her long career. The AP notice is at The Hollywood Reporter.
Actress Ann B. Davis appeared in a few feature films, including supporting roles in Lover Come Back (1961) and All Hands on Deck (1961), but she took up residence in the pop culture rooming house of American minds as Alice, the lovable housekeeper on the sitcom The Brady Bunch and subsequent Brady spin-offs and TV movies. Before that she starred in The Bob Cummings Show for five seasons. She died at age 88, after suffering a fall. More from Anita Bennett at The Wrap.
Actress Anna Berger, whose 60 year career spanned screen, stage and TV, passed away at the age of 91. Among her screen roles: a subway hostage in the original The Taking of Pelham One Two Three (1974) and an elderly Jewish socialist in Woody Allen's Crimes and Misdemeanors (1989). Daniel Slotnick for The New York Times.
Marilyn Beck, who reported on Hollywood in syndicated newspaper columns and on TV for decades, died at the age of 78. More from The New York Times.
The weekly links page is compiled and curated by Bruce Reid, with obituaries curated by Sean Axmaker, and other contributions from friends of Parallax View.