With their major Fassbinder retrospective kicking off, the Film Society and Film Comment are naturally shining a light on the director. Steven Mears and Max Nelson offer thumbnail introductions of some of his key early collaborators, including Schygulla, Raab, Raben, and ben Salem. (More are promised in the future.) John Oursler looks back at the economic and political reasons Fassbinder worked so much in television, and thus rendered every TV vs. Film debate pointless decades before they were begun. And Abbey Bender considers how much the director reveals character through clothing, both before his Sirk epiphany and after. (There is also a digital book collecting Film Comment's writing on the director available for 99¢; though I'm sure he'd be the first to tell you something for free is better than even something priced so low it's almost free.)
"I really believed in the project, and I believe in it to this day […] It's a great American story, and it's true, and people don't know about it. It's a classic underdog story and, yes, it is about white racism against Chinese people, but it also has great action scenes in a way people aren't used to." Also at Film Comment, Grady Hendrix talks with David Henry Hwang about his first screenplay assignment on one of the most tantalizing great-films-that-should-have-been: King Hu's The Battle of Ono, which would have brought the director to America for a story set during the construction of the Western railroads.
For more on Fassbinder, Godfrey Chesire writes a Letter to a Young Cinephile that serves as a fine introduction and summation to the oeuvre Chesire considers "easily the most exciting and revelatory area of world cinema during my first half-decade as a critic."
In the process of blowing up the myth that Hollywood stories adhere to a three-act structure, David Bordwell remarked how screenwriters from the Golden Age barely ever alluded to such organization, and never about their actual scripts. Then his correspondent reminded him of one who absolutely did: F. Scott Fitzgerald.
"Well, I got the job, all right. Do you know what firm that was? Smith's Weekly." "No." "Yes, Mr. Green. The great liberal magazine that fights injustice on all sides." Saul Austerlitz on the compromises and "antiseptic" atmosphere that hobble Gentleman's Agreement; and, briefly, the way Crossfire's grimy darkness showed the way to do it right. Via Movie City News.
Bilge Ebiri revisits Gordon Willis's sole directorial credit, Windows, an "unfortunate thriller about a crazed lesbian stalker" that nonetheless presents some real originality and promise.
Film Studies for Free spots a new edition of Transformations dedicated to the "Other Western"; and despite some familiar topics like the use of landscape in Mann's Bend of the River, the title's lived up to, the academic tone enlivened by the relative novelty of topics such as India's 1975 "Curry Western" Sholay, the history of Australia's Westerns, or the anti-colonial messages snuck into The Wild Wild West TV series by American Samoan scriptwriter John Kneubuhl.
Andy Serkis's less-than-charitable comments on the effects artists who help craft his characters, insisting they are only applying "digital make-up" over his completely worked-out performance, was of course chum in the water at Cartoon Brew. But among the howls of outrage came an informative demolition of Serkis's claims from WETA's Randall William Cook, Animation Director on the Rings trilogy, who reveals how truly collaborative motion capture acting can be—to the point that the series's first image of Gollum was the work of two different performers (including Cook), a team of animators altering things per Peter Jackson's suggestions, and Serkis's contribution restricted to a hissed "precious" on the vocal track.
As some commentators in the thread above astutely point out, it's ridiculous to begin with that referring to someone as a make-up artist should be considered denigrating. Sasha Archibald's account of Max Factor's career makes clear his genius added as much to the movies as anyone's. And while I knew of Factor's inventive adjustment to every new film stock that came around, I had no idea his life so often played out like a fairy tale, daringly romantic in the account of his first courtship and marriage, mysterious and altogether uncanny in the strange circumstances of his death. Via Longform.
"A knock-down, drag-out scrap, friendly-like, ensued, ending by Cagney tossing Jenkins into the farthest corner of their dressing-room. 'I guess that was due to his constant smoking,' Jimmy expounds. 'I never puffed.'" The Chiseler reprints a Photoplay article from 1934 in which Jimmy Cagney and Allen Jenkins (or their publicists, perhaps) relate to Ben Maddox how their friendship bonded on the stage and maintained despite their varying levels of success in Hollywood.
"I say three things when I start a picture: 'Listen, I know nothing of movies. I know what I want! So, stop with the technical things, and do what I want.' Second: 'I am healing my soul. I will do whatever I want.' And third: 'I have money only for seven weeks. Don't go slow in order to promulgate and make more money. At seven weeks, I will stop. If I don't finish the picture with the material I shot in seven weeks, I will finish what I have, then I will do a shot of me sitting there, telling to the public why I could not finish the picture.'" Alejandro Jodorowsky, as if you didn't know, talking his compulsively egocentric talk with Bilge Ebiri.
"We only hear about Texas when we're executing innocent people, or wrongly incarcerating people, or some kind of corruption. This is an interesting story from the other place." There've been several interviews with filmmakers on passions or interests unrelated to their profession. But Matt Zoller Seitz's conversation with Richard Linklater on the state's recent decision to release Bernie Tiede so long as he lives with Linklater is probably the first about having a felon bunk in your garage apartment.
Adrian Curry presents ten international posters for Losey's Accident, which range from realistic cartoons to expressionistic abstracts, but all keep coming back to the explosive crack-up.
Video: There are directors who, unable to attend a film festival, send along a video explaining and apologizing for their absence. And then there's Godard, quoting philosophy and old movies, summoning up the spirits of departed friends, and as Manohla Dargis observed, offering another of his inimitable goodbyes to cinema in his "Letter in Motion" to Cannes.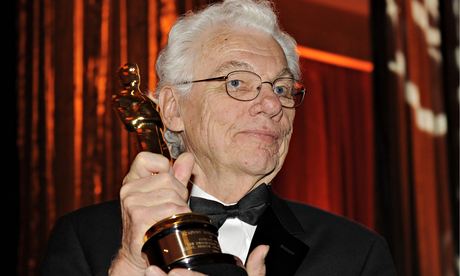 Obituary
Gordon Willis helped define the look and tone of American cinema in the 1970s. He collaborated with Francis Ford Coppola on all three The Godfather films, Alan Pakula on Klute, The Parallax View, and All the President's Men, and Woody Allen on numerous films, from Annie Hall and Manhattan to Zelig and The Purple Rose of Cairo. His willingness to push the envelope of light and shadow on the Godfather films, where some scenes practically dissolved in twilight, earned him the nickname "Prince of Darkness." Yet he never won an Academy Award for any of these films, or any other for that matter. Only in his retirement did the Academy honor him with an honorary Oscar. Which puts him in the company of Alfred Hitchcock, Robert Altman, Howard Hawks, and Stanley Kubrick among others. He passed away this week at the age of 82. Ronald Bergan revisits his legacy at The Guardian.
Seattle Screens
Visit the film review pages at The Seattle Times, Seattle Weekly, and The Stranger for more releases.
Parallax View is collecting links to coverage of and resources to the Seattle International Film Festival.
View complete screening schedules through IMDb, MSN, Yahoo, or Fandango, pick the interface of your choice.
The weekly links page is compiled and curated by Bruce Reid, with obituaries curated by Sean Axmaker, and other contributions from friends of Parallax View.