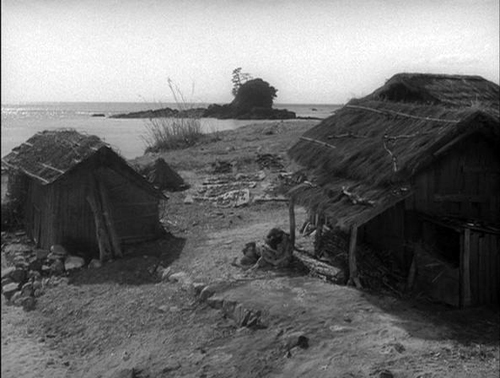 "Mizoguchi finds a huge variety of ways of turning images into drama, and he has left us a rich repertory of staging strategies–if we only look. Young filmmakers, are you looking?" In an article adapted from a presentation he gave a few weeks ago at the Museum of the Moving Image's Mizoguchi retrospective, David Bordwell contextualizes the director's fluctuating reputation—victim as ever to cultural blinders and the availability of good prints—and analyses some key scenes to demonstrate why Bordwell considers him a "more fervent pictorialist" than even those few masters—Ford, von Sternberg, Welles—who could be considered his peers.
In the mid-80s Will Vinton's Claymation studios were working on contracts for Disney, releasing their first full-length animated film, and making room on the awards shelf for a clutch of trophies to share space with his Oscar. By 2002 the company was bought out from under him by the head of Nike, and handed over by the shoe mogul to his son, a failed rapper. Zachary Crockett has the story. Via Longform.
With two separate film programs devoted to his films and a major exhibit at an art gallery, Chris Marker is front-and-center (or on the left bank thereof, at least) of London's art scene at the moment. Sight & Sound reprints the multi-voiced tribute they ran at his passing, with thank yous and celebrations from Thom Andersen, Jem Cohen, Agnès Varda, and more.
Paul Robeson made a relative handful of films, and was rarely satisfied with the portraits of African-American life they offered. But as that's merely one stream of his remarkable creative flow, let's agree with Peter Dreier that the actor, singer, activist (and more) deserves consideration as "the most talented person of the 20th century," and the glimmers suggesting a revival of interest in Robeson are long overdue.
"21-87 was a work of avant-garde abstraction concerned expressly with the real world, an experiment in film form with a deeply rooted sociopolitical message, an assemblage of dated archival material designed to comment on the future, and an ostensibly "difficult" project that achieved a rare sort of popular success." Calum Marsh looks back at the early compilation films of Arthur Lipsett.
David Ehrlich takes note of new sounds—brittle, minimalist, discordant—filling theaters as more filmmakers turn towards indie rock icons to score their movies.
"I have been trying to get a film financed […] Not easy nowadays, especially if one is in no way an entrepreneur, as I'm afraid I never have been. But keep looking forward—you never know!" Peter Cowie's latest Flashback column chronicles his meetings with kind friend and perpetual maverick Lindsay Anderson.
The new Godzilla is providing another excuse for critics to view the series through the lens of Japanese-American relations. Gregory Pflugfelder, professor of Japanese history at Columbia University, reminds us it was a hit all over the world, and encourages us to widen our appreciation enough to understand what the big green guy had to say, for example, to German audiences watching a dubbed version of the Raymond Burr edit. Marvelously illustrated with a selection of international posters. Via Matt Zoller Seitz.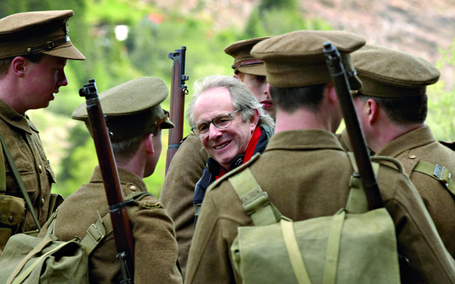 "Hollywood is a deeply unattractive place; why go and swim in a sea with sharks if you can bathe somewhere else? And the work that comes out compared with the talent that goes in is not great." Talk of his retirement thankfully behind us, Ken Loach answers questions (mostly political, but some interesting insights to his process come us as well) from Guardian readers—and from Lynne Ramsay, Robert Duvall, Samantha Morton, and others.
"But I think the combination of having made [Space Coast] and then Charleen made me not want to do the kinds of films in which I'm invisible. There was something that didn't suit me. It wasn't fair, in a way, that I expected people to be putting their lives on the line for my movie and that you'd know nothing about my life and what I was up to as a filmmaker." Ross McElwee talks with Robert Avila about how he came around to his inimitable essay style, the varied international responses to his films, and kids today with their damned video cameras.
"I wonder what sadistic urge has driven so many filmmakers to bask in either an ample, dark vision of existence or, more often, pathetic little stories that wind up with pathetic little fights. There's a real indulgence in defeat and cowardice and in dealing with exclusively negative feelings. I wrote about lyricism to ask filmmakers to show us they believe in something, that there's some hope. If people love other people, if they love actors or places, why don't they film what they love?" On the occasion of Cahiers du Cinéma's 700th issue, editor-in-chief Stéphane Delorme discusses with Nicholas Elliott, the magazine's New York correspondent, the need for lyrical, emotional investment—in criticism as much as filmmaking—as opposed to a stifling formalism. Via David Davidson, who presents every Cahiers cover under Delorme's stewardship along with some interesting thoughts on the changes signaled by their evolution from headshots to arresting graphics.
"There's only one thing that I always do, which is ask myself what happened from when the character was literally born until the first page of the script. That's where it always starts for me. If you do that, you've already done half of the work, because that could be a lifetime of exploration if you want to. There are a couple of movies I have coming out this year and one takes place in Algeria, so I went there because I spoke French before the movie, but not in the way I needed to for that movie. I didn't speak Arabic, so I had to learn that, too." Viggo Mortensen at The Talks on lying, preparation, and why he wouldn't have wanted to be in a Hitchcock film (though a pair of lousy remakes was apparently fine).
"Hey, listen, man, that was in my past. That was a 16mm film. Back in those days I didn't know anything. We thought we were hot shit, but we weren't. We were sadly mistaken." Even in as brief an interview as the one given Miles Raymer, John Carpenter remains quite amusing in his laconic refusal to be pinned down.
Life's gallery of photos from the 1962 Cannes Festival focuses mostly on the paparazzi, swarming like locusts around Natalie Wood, Elke Sommer, and a "Dutch actress" whose name is "lost to history."
Sarah Habibi offers a gallery of posters by the great German designer Hans Hillman, dead this last week at 88.
Obituary
Les Carlson, the Canadian actor who played the insidiously sinister Barry Convex in David Cronenberg's Videodrome (1983), passed away at the age of 81. He also appeared in two more Cronenberg features—The Dead Zone (1983) and The Fly (1986)—as well as Bob Clark's two holiday features, Black Christmas (1974) and A Christmas Story (1983). More from Mike Barnes at Hollywood Reporter.
Swiss painter, sculptor and set designer H.R. Giger, whose distinctive and disturbing mix of the mechanical and biological created the defining aesthetic of Ridley Scott's Alien (1979), died at the age of 74 from injuries suffered in a fall. Giger also created designs for Alejandro Jodorowsky's aborted Dune and is featured in the documentary on the project. Ben Beaumont-Thomas at The Guardian.
Swedish filmmaker Malik Bendjelloul, director of the Oscar-winning Searching For Sugar Man, was found dead at the age of 36 in Stockholm. It appears he took his own life. Xan Brooks remembers Bendjelloul's debut (and only feature film) for The Guardian.
Seattle Screens
Visit the film review pages at The Seattle Times, Seattle Weekly, and The Stranger for more releases.
View complete screening schedules through IMDb, MSN, Yahoo, or Fandango, pick the interface of your choice.
The weekly links page is compiled and curated by Bruce Reid, with obituaries curated by Sean Axmaker, and other contributions from friends of Parallax View.