"Using light or steam to kill seems slyly self-referential: these are cinematic deaths, almost death by cinematography." Imogen Sara Smith tracks Anthony Mann's progress through three genres he embraced successively—the documentary-inflected policiers; the noirs, which sank the straight-arrow posturing of cops-and-robbers under a moral murk; and the wracked emotional landscapes of the '50s westerns—showing how the director adopted different methods to always return to his core obsession, "the truth that the past can never be erased or corrected, a truth that leaves [Mann's heroes] not cleansed but broken."
Also at Moving Image Source, David Cairns writes astutely on that great cinematic exploration of man and machine and essential precursor to "the biomechanical passion of H.R. Giger or J.G. Ballard, which makes no distinction between flesh and metal," the factory sequence in Chaplin's Modern Times.
Neal Gabler recounts how Carl Laemmle managed (either personally or by cajoling friends) to extricate 300 Jews from a Germany spiraling into genocidal madness; an effort that would shame Laemmle's contemporaries more if it weren't such an extraordinary example to set.
"Why don't you just go home?" "Pal, I've been asking myself that all night." In their second audiovisual essay for MUBI, Cristina Álvarez López and Adrian Martin explore the frenzied energies of After Hours, a film "full of tiny, complicated patterns: networks of exchange, spirals of circulating objects, hallucinatory substitutions. It's The Earrings of Madame de … (1953) gone berserk, off its leash."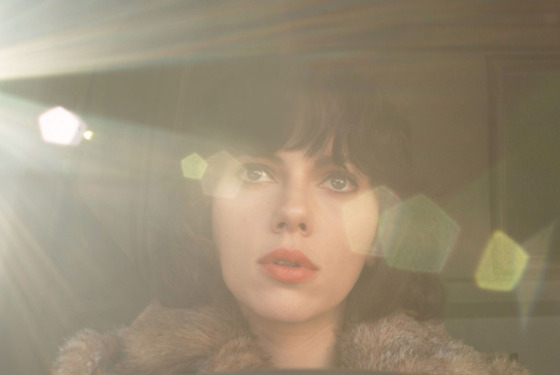 With Under the Skin and Only Lovers Left Alive (whose director Jim Jarmusch Ebiri also interviews; see below) in theaters, Bilge Ebiri charts their lineage in the "art horror" genre, movies from Nosferatu to Vampyr to The Shining, from Lewton to Lynch to Skolimowski, whose measured pace and hypnotic mood don't merely traffic in the genre's "great theme [of] the unnatural and uncanny" but which deliberately unfold unnaturally and uncannily themselves.
"Patrick? Is that you?" "No Luis. It's not me. You're mistaken." Tasha Robinson agrees that asking whether or not American Psycho's crimes are actually occurring or merely Patrick Bateman's fevered imaginings is an interesting one, with each answer dramatically impacting how the film should be read. But thinking you've read the clues and sorted out the answer is a fool's game, and arrogant to boot.
Susan Doll notes the real-life echoes, from WWII battles to deported mobsters, gathering before the storm in Key Largo.
Revisiting Sorcerer Adam Nayman finds Friedkin trying too hard to "inflate something which is at its core lean and mean into an overbearing statement about crime and punishment" to make the film hold up outside its handful of celebrated scenes. But oh man, those scenes. Via Adam Cook.
Jordan Cronk surveys the career of J. P. Sniadecki, associate of the Sensory Ethnographic Lab, who for over a decade has been chronicling daily life in China in a series of acclaimed but little-known films.
Vadim Rizov has found a new position as managing editor of Filmmaker Magazine; which I consider good news both for him and selfishly, as it means another venue for me to keep up with the intriguing, otherwise overlooked news items about international cinema that Rizov has a gift for hunting down. Like this one, on the crackdown in the Philippines of buses showing unrated movies.
"I am having somewhat fewer ideas. Maybe it's just a matter of getting older and being aware that the market for medium-budget and low-budget films, which is of course what I spent most of my life making, has diminished. And maybe the quality—I don't know if quality is the right word, I meant to say quantity; you can figure out later the Freudian reason for saying that—maybe the quantity of ideas has diminished a little bit." Jonathan Demme, filling in the titular role for Interview Magazine, catches up with his old friend and mentor Roger Corman.
"So, editing is where I really build the film. And I don't just shoot the script, I shoot a lot of things and I'm not sure which scenes will end up in the film necessarily. But the thing is, the beauty of cinema is to walk into a room and be taken somewhere where you don't know you're being taken. And if you wrote it and shot it, that quality is removed for you, so I personally have trouble always being analytical or seeing my films." Jim Jarmusch, who can even make anti-Stratfordian rubbish sound charming and cool, talks Only Lovers Left Alive with Bilge Ebiri. Related: Jarmush's star Tilda Swinton has one of her inimitably laid-back sitdowns with Anna Peele. ("Well, I would find it strange for anybody to say that they didn't feel like an alien. Do you not feel like an alien? Did you never feel like an alien?")
"Everybody imitates work that I've done, but for that one I haven't seen an imitation yet." In the second installment of Art of the Title's three-part interview with the designer, Pablo Ferro (and his son Allen) discuss his work on Bullitt, Citizens Band, and (referenced above) the trailer for A Clockwork Orange. They also relate a pretty riveting bit of behind-the-scenes drama, initiated when Pablo was accidentally shot in the neck and culminating in his brother trying to scam the company out from under him.
Old posters can come across our path in so many ways; for Adrian Curry, he discovered Nicola Simbari's marvelous U.K. quad for The Horse's Mouth when he read about the discovery of posters in a closed-off station of London's underground. He passes along the story, and some other fine examples of Simbari's art.
David Hudson spots the latest exhaustive cataloging effort from Roland-François Lack, a collection of every painting (in Godard's case, often postcards) hung on the wall in New Wave films.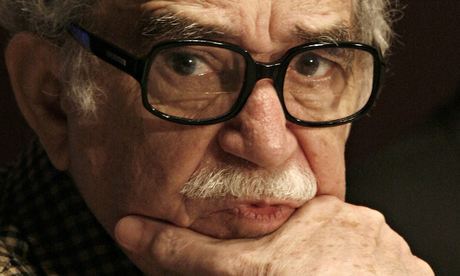 Obituary
Colombian novelist Gabriel Garcia Marquez passed away this week at the age of 87. His 1967 novel One Hundred Years of Solitude elevated him to the world stage and he received the Nobel Prize for Literature in 1982. Many of his short stories and novels have been adapted to the screen, including Erendia (1983), which Marquez himself scripted for Brazilian director Ruy Guerra, and the English-language Love in the Time of Cholera (2007). More from The Guardian.
Seattle Screens
Visit the film review pages at The Seattle Times, Seattle Weekly, and The Stranger for more releases.
View complete screening schedules through IMDb, MSN, Yahoo, or Fandango, pick the interface of your choice.
The weekly links page is compiled and curated by Bruce Reid, with obituaries curated by Sean Axmaker, and other contributions from friends of Parallax View.