Joseph McBride provides the best writing yet on Too Much Johnson, showing how the footage looks back to Welles's love of silent film and forward to the sexual frankness of his later films. He also speculates on how the film went "missing" all those years; which, considering McBride's the one who rediscovered The Hearts of Age and saw first-hand Welles's reaction to the news, is probably closer to the truth than most theories.
The Hollywood Reporter provides some excerpts from the new collection The Selected Letters of Elia Kazan, bracing, compulsively forthright missives on salvaging Streetcar from the Breen office ("Frankly, Charlie, I have no intention of giving in on a damn thing that I consider essential to the honesty of this story."), the appeal of James Dean ("Most kids who become actors at nineteen or twenty or twenty-one are very callow and strictly from N.Y. Professional school. Dean has got a real mean streak and a real sweet streak."), and the letter to his wife detailing his affair with Marilyn Monroe ("I'm awful sorry I hurt you. I am human though. It might happen again.").
Lumière's massive, invaluable dossier of Allan Dwan essays, published last year in multiple languages, is now completely translated into English.
"Oh, do you write, Mr. Faulkner?" "Yeah. What do you do, Mr. Gable?" John Meroney looks back at William Faulkner's career in Hollywood, with particular attention paid to two collaborations that ended badly: the planned war epic Battle Cry, which Howard Hawks couldn't get off the ground, and Faulkner's affair with Meta Carpenter. With a gallery of photos to set the scene.
Spinning off the LA County Museum of Art exhibit dedicated to Agnès Varda, Lauren O'Neill-Butler surveys the fruits of Varda's two extended stays in Los Angeles, from the improvised drama Lions Love to documentaries on the Black Panthers and the city's wealth of murals.
Jacob Lillemose reminds us of Lars von Trier's 1996 theatrical experiment Psychomobile #1: The World Clock, 53 actors roaming through 19 rooms of an exhibition space, their scripted interactions altered at random by the movements of ants in a cage. A quintessentially von Trier move, Lillemose observes, for how it takes a theatrical format historically aimed at Utopian gestures and makes a chaotic purgatory instead. Via David Hudson.
"At first she's a breathless schoolgirl, her hair a mass of bobbing golden curls. She would look ridiculous if she weren't Dietrich." BAMcinématek's retrospective of the Sternberg-Dietrich films allows Stephanie Zacharek to consider all the ways the actress's currently "unfashionable" desire to please her man, and the variety of costumes she donned to do so, allowed her more creative input into the greatest pairing in movie history than such submissive statements might suggest.
Great movies are always relevant, true, but contemporary events can press their meanings more urgently upon us. Such a time has come for Chahine's Cairo Station, argues Anthony Kaufman.
"He was uniquely able to actualize the audience's itch to play those same angles, to grab a handful of that easy money, to flout those shiny post-war promises that most of them had missed out on anyway." And it's precisely that quality of Dan Duryea's that Mark Fertig finds makes him the perfect choice for the redemptive journey of the lead in Endfield's The Underworld Story.
Chris Bell tells of the latest contender for Worst Movie Ever Made, Richard Driscoll's Eldorado, a post-apocalyptic rip-off of The Blues Brothers that got its writer-director-star thrown in prison for defrauding Britain's filmmaking incentive program. It's not the incoherent story, awful musical numbers, or shameful waste of stars like Michael Madsen, Darryl Hannah, and Peter O'Toole that make the result so floridly bad, though; it's that Driscoll wasn't in it just for a money-making scam, but to create a legitimate work of art. Via Matt Singer.
Of course just because you write something off as terrible doesn't mean it lacks any interest whatsoever. Writing of the insanely prolific (perhaps 300 films in a 40-year career) skid-row director Sam Newfield, Jim Knipfel points out that freedom from the studios meant trying things they wouldn't. Which led to Westerns with all-midget casts, sure; but also ones starring African-Americans, and a willingness to declare Hitler the bad guy in 1939.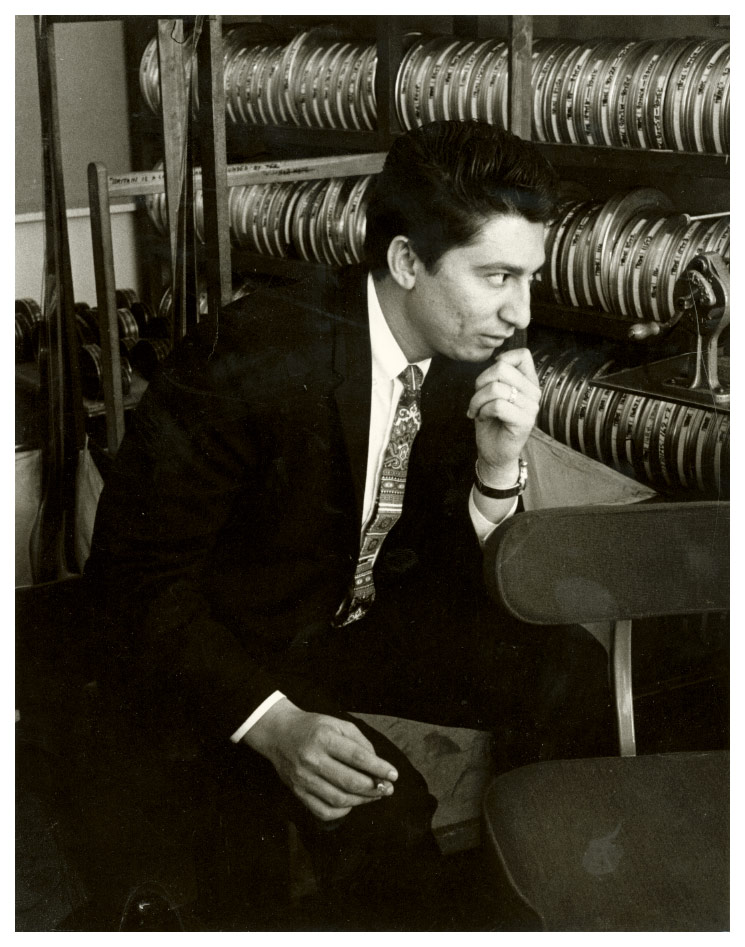 "Two weeks after I finished with everything, [Kubrick] and I were talking. He asked me what I thought about human beings. I said one thing about human beings is that everything that is mechanical, that is invented, is very sexual. We looked at each other and realized—the B-52, refueling in mid-air, of course, how much more sexual can you get?!" In the first of an announced three interviews to range over his career, title designer Pablo Ferro tells Ian Albinson about his beginnings in the design and advertising game, and how he came up with Dr. Strangelove's iconic credits.
"And for me, when I was a teenager, I would have these extreme floods of feelings and it would be pretty wild and out of control and might cause me to do something. I'm more used to those feelings—now that I'm all sorted and grown up and know how to do life perfectly. [laughs]" Interviewed by Adrian Rapazzini, Mica Levi describes the method behind her score for Under the Skin.
Dazed Digital celebrates Apichatpong Weerasethakul's exhibit at London's Anthony Reynolds gallery with a wealth of material, including Matt Mansfield's interview with the director on the effect of censorship on his work ("At home I started to question the relevance of what I do, and I feel that there are certain things that I cannot talk about, or I have to flip to another mode of expression because of censorship and all these other things, so I'm getting more interested in the idea of escape, and of living in another dimension."); a gallery of photographs; and extracts from the exhibit's videos. Via Adam Cook.
Obituary
Mickey Rooney was the top box-office star in America for three years running, from 1939 to 1941, at the height of his 90-year career in show business, a has-been just a few years later as he aged out of juvenile roles, bankrupt in the sixties, and the comeback kid in 1979 when he co-starred in The Black Stallion and made his Broadway debut in the nostalgic revue Sugar Babies with Ann Miller. He made over 200 films, was awarded Oscars and Emmys, and earned and lost millions of dollars over the course of his turbulent career, and was back in front of the cameras, filming a role in Night in the Museum 3, when he passed away at the age of 93, of natural causes, barely a week after his film debut Mickey's Circus (1927), for decades a lost film, was just rediscovered in an Amsterdam film archive. More from Aljean Harmetz at The New York Times, and a personal remembrance from Olivia de Havilland at Time magazine.
Author and naturalist Peter Matthiessen, the only writer to win the National Book Award in both fiction and non-fiction, died after a long illness at the age of 86. His short story "Travellin' Man" was the basis for Luis Bunuel's English language film The Young One (1960) and At Play in the Fields of the Lord (1991) was based on his most famous novel. More from Carolyn Kellogg at Los Angeles Times.
Richard Brick taught film for three decades at Columbia and produced features (including Hangin' with the Homeboys, 1991, and Woody Allen's Sweet and Lowdown, 1999) and documentaries, was also cheerleader for film production in his hometown of New York City. As the head of the city's office of film, theater and broadcasting in the early 1990s, he brought Hollywood productions back to the city. He died this week at the age of 68. Bruce Weber at The New York Times.
Swiss filmmaker Peter Liechti, whose films spanned documentary, performance art, essay, autobiography, and experimentation, passed away at the age of 63. Report via David Hudson at Keyframe.
V.K. Murthy, one of the most celebrated cinematographers in Indian cinema and a master of black and white cinema, died at the age of 91. Reported by The Hindu.
Seattle Screens
Visit the film review pages at The Seattle Times, Seattle Weekly, and The Stranger for more releases.
View complete screening schedules through IMDb, MSN, Yahoo, or Fandango, pick the interface of your choice.
The weekly links page is compiled and curated by Bruce Reid, with obituaries curated by Sean Axmaker, and other contributions from friends of Parallax View.