With so many silent film rediscoveries of late stemming from the antipodal regions of New Zealand and Argentina, it's almost charmingly old-fashioned to have a treasure pop up in the Netherlands. Amsterdam's EYE Filmmusem announced last week they'd uncovered a number of comedy and documentary shorts from America, including Mickey Rooney's first starring role and an exploration up Mt. Hood. Though the article doesn't make this very clear, many of these weren't lost, merely available in substandard editions now upgraded considerably. But one film they have returned to the public after decades gone missing is Love, Life and Laughter, selected by the BFI in 2010 as one of British cinema's "most wanted" lost masterpieces, starring Betty Balfour and now the second complete film available by director George Pearson. One looks forward to once again completely rewriting the early history of cinema. Via Silent London.
For a Berlin tourism site, Brendan Nash traces the many places in the city that young Marlene Dietrich called home, constantly uprooted against her volition by economic strife and family tragedy. Till the night of The Blue Angel's premiere, whereupon she thanked the audience, grabbed a train out of town, and made a break for Hollywood. Via David Hudson.
Speaking of pricey real estate, Nancie Clare gives a brief overview of how Beverly Hills went from a busted oil deal to the home of the stars, nicely accompanied by some celebrity photos.
"Nomi Malone is what Las Vegas is all about! She's dazzling, she's exciting, and very, very sexy!" In an excerpt from his new book It Doesn't Suck: Showgirls, Adam Nayman looks at the fast education Sin City provides Nomi upon her arrival, and her unlikely but genuinely "cozy" relationship with giggly roommate Molly.
Brandon Harris attends the New Voices in Black Cinema mini-festival, and ponders the takeaway that two of the selections are directed by white men—and one, Sayles's "quietly revolutionary" The Brother from Another Planet, is 30 years old.
"Mistakes can be made. We all make them. But Rumsfeld created a climate where mistakes could be made with little or no way to correct them. Basic questions about evidence for W.M.D. were replaced with equivocations and obfuscations. A hall of mirrors. An infinite regress to nowhere. What do I know I know? What do I know I know I know? What do I know I don't know I don't know? Ad infinitum. Absence of evidence could be evidence of absence or evidence of presence. Take your pick. An obscurantist's dream." In his latest long, four-part essay for The New York Times, Errol Morris picks apart some of the more famous quotes from the subject of his latest film The Unknown Known, Donald Rumsfeld, interviewing the Briefing Room reporters who prompted Rumsfeld's pretentious distractions, and in some cases even the originators of the phrases he made famous. (Parts two, three, and four here.)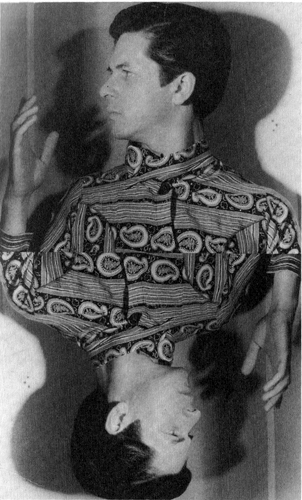 "I looked for movies to listen to that were light in tone so I wouldn't have any dark thoughts or images in my head. Stripes was a good one. I had seen it so many times growing up that I could practically see it in my head. One night my brother came across The Shining and I made him change it. I didn't need those endless tracking shots swirling in my head." On New Year's Day Aaron Aradillas—born blind, granted limited visibility through a series of operations, never once letting that stop him from becoming a lover and fine critic of film—lost what little remained of his sight. How he managed his harrowing situation—with help from family, doctors, and Coppola's Peggy Sue Got Married—is movingly described, down to a happy ending that's grand news but understood as no more a guarantee than anything else in this life.
The last of David Bordwell's great trio of '40s film critics, Parker Tyler, stood apart from Agee and Farber in many ways: gay where they could be so preeningly macho, a writer of book-length essays rather than reviews, and a surrealist less interested in movies as the finished statement of artists than as compromised, collaborative works whose flaws acted as vessels for the restaging of myth.
A pair of topics that on their own tend to make my eyes glaze over—the Bechdel Test and statistical analysis of movie box office—combine to an interesting result in Walt Hickey's demonstration that movies where two women get a chance to talk about something other than a man tend to be more profitable than ones where they don't. One can quibble about Hickey's methodology, but since his numbers also suggest only half of Hollywood's output even passes Bechdel's deliberately low bar, why bother? Via Matt Singer.
Serge Kaganski's short review of a recently published (in France) collection of Eric Rohmer's early fiction makes two startling points that maybe aren't as divergent as they seem: that the writer had worked out all his contes moraux decades before the director got to film them; and that while chronicling Paris in the early '40s, Rohmer apparently felt no compulsion to bring up the occupation.
"Do it—and bring a bottle of the Pouilly-Jouvet '26 in an ice bucket with two glasses so we don't have to drink the cat-piss they serve in the dining car." Since everything placed in Wes Anderson's boxes matters, no surprise there's even a story behind M. Gustave's choice of wine, as Kailyn Kent explains.
"What I loved when I came here from Ohio is that I realized, you could be the weirdest person in the world and then walk around, and in three blocks, you're going to see someone way weirder than you." Jim Jarmusch talks New York, music, and his vampire romance Only Lovers Left Alive with Melena Ryzik. As bonus, a description of what Jarmusch learned from his (fictional) stint in prison as only Tom Waits could provide.
"I'm making digital works now with the whole set of ideas I'm bringing from the past—still thinking in terms of optical printing and mimicking things from the old film world—which I suppose is valuable, if you know those things, but maybe that's holding me back from really breaking into what this new stuff can do, collaging and all these other programs. Maybe you should start to work with totally new ideas that aren't connected to film at all." James Benning, who's only recently made his peace with digital equipment and releasing his films on DVD, discusses his own learning curve and the thrills and problems (mostly institutional) of teaching students with Nick Bradshaw.
"Do you know Charles never made a single investment? Always used money to—" "To buy things. Buy things." Up for auction later this month, several items once owned by Orson Welles. Expecting any great insight from this hodgepodge of personal miscellany—scripts, books containing multiple scratched out addresses or (presumably) well-thumbed magic tricks, telegrams detailing the contract for an appearance on the Frank Sinatra show—is whatever would be even cheaper than dollar-book Freud, but it's still the fascinating detritus of a restless, rarified life. And some lucky bidder is going to walk away with Welles's Bell & Howell. Passed along by The Hollywood Reporter, along with an interview with daughter Beatrice. (Consider yourself either notified or fair-warned.)
Adrian Curry's latest find are the energetic, magnificently colored hand-painted posters of Boris Streimann.
Obituary
Screenwriter and playwright Lorenzo Semple Jr. wrote some of the greatest and most distinctive thrillers of the late-sixties and seventies, including Pretty Poison (1968), Papillon (1973), The Parallax View (1974), and Three Days of the Condor (1975) but to most people he's remembered as the man to who brought camp to the TV superhero series in the 1960s Batman (1966-1968). That same sensibility was brought to the big screen in Batman: The Movie (1966) and Flash Gordon (1980). He passed away this week at the age of 91. Bruce Weber at The New York Times.
Exploitation pioneer Harry Novak made his career promoting disreputable movies with the promise (and usually the payoff) of nudity, sex, violence, and sometimes transgressive behavior. Some of the titles he produced and / or distributed are: Toys Are Not for Children (1972), Wham! Bam! Thanks You, Spaceman (1975), and Teenage Bride (1975). To quote Singin' in the Rain: Dignity, always dignity. He died at the age of 86. The Daily Grindhouse pays tribute with a collection of his trailers.
Lewis Tice, a film publicist, festival programmer, and producer specializing in LGBT films, passed away this week at the age of 44. More from Indiewire.
Seattle Screens
The Seattle International Film Festival opens On Thursday, May 15. Yes, that's still a month and a half away, but opening night tickets are already on sale. Not that they've announced the opening night film, mind you.
Seattle-born and bred filmmaker Kevin Hamedani returns home to screen his second feature Junk at SIFF Uptown on Thursday, April 10. He'll be at the screening along with some of the cast members, and he'll be at Scarecrow Video the next day to sign copies of the DVD starting at 6pm.
Visit the film review pages at The Seattle Times, Seattle Weekly, and The Stranger for more releases.
View complete screening schedules through IMDb, MSN, Yahoo, or Fandango, pick the interface of your choice.
The weekly links page is compiled and curated by Bruce Reid, with obituaries curated by Sean Axmaker, and other contributions from friends of Parallax View.