"Was his goal to make a film, or was his goal to change the world? Well, if his goal was to change the world, then mission accomplished." With his abandoned adaptation of Dune the subject of an acclaimed documentary (directed by Frank Pavich, quoted above) and his own first film since 1990 soon to have its North American premiere, Alejandro Jodorowsky has returned from the wilderness to become the unexpected man of the moment. Eric Benson's profile makes clear the person least surprised by this turn of events is Jodorowsky himself.
"One who follows his nature keeps his original nature in the end." Studio interference may have hopelessly muddled Orson Welles's ambitions for The Lady from Shanghai, but as Michael Peck's account of its making affirms, too much of the film's hallucinatory power remains to erase its achievement as "an evisceration of exactly the kind of entertainment [Harry Cohn] expected: a deconstruction of Hayworth, a hodgepodge of satire, existentialism, and expressionism, a symbolic interpretation of the arms race." Elsewhere at the LA Review, the publication of The Empty Chair has Matt Thorne looking back over all of Bruce Wagner's satirical novels of Hollywood.
"Personally, I've never subscribed to that old Egyptian custom." "What Egyptian custom?" "Of walling up the widow alive in the funeral chambers of her dead husband along with his other possessions." The barriers that entomb All That Heaven Allows's characters extend even to Sirk's meticulous dissolves, as Carson Lund demonstrates.
This Recording offers a pair of articles on Barbara Loden. First, Durga Chew-Bose looks back at Loden's remarkable Wanda, sadly the only film she would direct; then Alex Carnevale reminds you what a strange, unpleasant journey it could be as the mistress and, later, wife of Elia Kazan.
At first too often viewed in the shadow of King Kong, then arguably overpraised for a briskness that was in fact standard practice, The Most Dangerous Game deserves its own acclaim for grounding itself in realism and then constantly upsetting that firm footing, Calum Marsh argues.
Also at Fandor, Kevin B. Lee breaks down the shot lengths of Nostalghia, finding an almost rigorous mathematical pattern to gird Tarkovsky's artistic and spiritual flights of fancy.
In anticipation of Darren Aronofsky's Noah, presumably the latest of his outsized would-be epics, Adam Nayman revisits Pi, and hopes the director one day returns to what's best about his debut, "the gigantism of its concept balanced out by the modesty of its execution."
Reverse Shot's latest symposium attempts to refresh the tired TV vs. cinema debates by having writers discuss in tandem a movie and a television episode of their choosing. Most inspired pairing: Fernando Croce's comparison of time unfolding and character histories revealed in Altman's self-conscious swan song and a Futurama episode that had been designed as a season finale just in case.
"You notice things if you pay attention." Film Studies for Free's latest roundup of links devoted to a single film offers all the commentary you could want on Wong's In the Mood for Love.
Longform has dug up one of Lillian Ross's masterpieces from the New Yorker archives, her 1966 account of Otto Preminger's lawsuit against Columbia Pictures to prevent the televising of Anatomy of a Murder with "mutilating" cuts and commercials. Written in screenplay form to emphasize the varied voices at play: the lawyer's legalese; the strained, hopeful showbiz patter of actors (and cab drivers) auditioning for the director; and the icy precision of Preminger's own brisk, politely formal ironies.
Novelist Chris Knapp's ongoing love affair with his wife Lola has a clear precedent in his mind: Fellini's with Guilietta Masina. Right down to the tricky infantalization he's willing to own up to. Via Criterion.
The first of two planned articles on Manny Farber has David Bordwell exploring Farber's art criticism of the 1940s, finding already the inclusive engagement with populist art and the remarkably lucid grasp of detail that made him such a natural fit for movies once he came to write about them.
"I've always been interested in this idea of allowing the audience to be bored. I know this isn't a new idea, but it has become to me a new idea again because there's so much excitement kind of sold to people every moment of their lives so I became interested in doing the opposite. Instead of competing with noise I propose silence." In the new desistfilm, the almost willfully obscure filmmaker CS Leigh discusses his career, and debunks some of the rumors surrounding it, with José Sarmiento Hinojosa, while the journal's John A. Riley provides a rundown of Leigh's "invisible cinema." And Ken Jacobs sits down with David Phelps to settle some old scores around the Millennium Film Workshop. ("I'm forgetting his name because I hate him so. Oh God… Who did Pull My Daisy?" "Robert Frank." "And?" "Oh yeah, the other guy…." "Leslie. Al Leslie. The fact that you can't think of his name, but you think so readily of this other awful filmmaker—")
"The great films and the great directors, they're a reflection of the person. They're a reflection of who you are as a human being… It's not so much a technique or it's not so much a way of doing things, it's what you are. What you're prepared to give. How you're prepared to dominate the situation. What you're receptive to. Someone like Cassavettes [sic] is great. Not because of a technique, but because he's just great, as a person. That's why I'm just great." Jake Mulligan presents a selection of Harmony Korine quotes from a Q&A at the Harvard Film Archives showing off Korine's flair for, let's say, inventive self-aggrandizement. And bullshitting.
Neil Bahadur's appreciative review of A Countess from Hong Kong mostly lets screenshots do the talking for him. Via Adam Cook.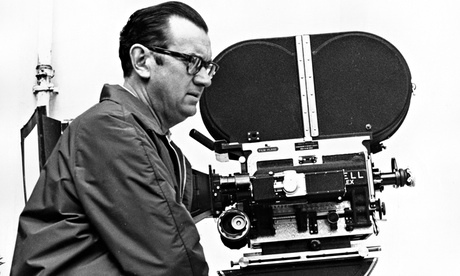 Obituary
The great British cinematographer Oswald Morris won the Academy Award for his work on Fiddler on the Roof (1971) and was nominated for Oliver! (1968) and The Wiz (1978), but is probably more revered today for shooting Stanley Kubrick's Lolita (1962), Martin Ritt's The Spy Who Came in From the Cold (1965), and eight films for John Huston, including Moby Dick (1956) and The Man Who Would Be King (1975). He photographed over 50 features in his career, retiring in 1982 after making two films with Jim Henson: The Great Muppet Caper (1981) and The Dark Crystal (1982). He passed away at the age of 98. More from Brian Baxter at The Guardian.
Seattle Screens
Visit the film review pages at The Seattle Times, Seattle Weekly, and The Stranger for more releases.
View complete screening schedules through IMDb, MSN, Yahoo, or Fandango, pick the interface of your choice.
The weekly links page is compiled and curated by Bruce Reid, with obituaries curated by Sean Axmaker, and other contributions from friends of Parallax View.