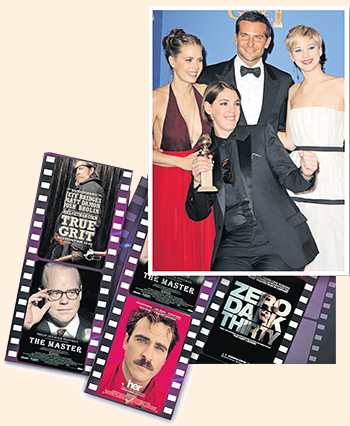 The past few years have seen several profiles of Megan Ellison, not one of which I've felt like passing along since the bulk of each consisted of anonymously sourced putdowns of Ellison's inexperience and inability to understand the Hollywood game. The tide has shifted somewhat with Matthew Garrahan's piece for the Financial Times; off-the-record carpers still get a say, but positive assessments predominate, and the slant seems finally on the side of suggesting the adventurous, cinephile founder of Annapurna Pictures maybe doesn't have much to learn from the guys who abandoned the mid-range prestige picture in favor of ever more vacuous and financially insolvent blockbusters.
"When the movies were made and put out on the market, the revenue and the profits belonged to the studio. But just suppose those bastards got organized, with those lousy writers leading the way. Some of those people had education and radical ideas. Mr. Mayer didn't like to think about it, but they might ask for pensions, health benefits, and—if you'll excuse the word—residuals, or a cut of the profits." And thus, as David Thomson relates, the Oscars were born.
OK, shady beginnings, but where do the Oscars stand now? Kevin B. Lee reports on one facet, analyzing statistical breakdowns of the nominees provided by the academic website Cinemetrics to find another grim example of Hollywood's gender imbalance: lead actors are onscreen about half again as long (85 minutes compared to 57) as their female counterparts. Among those weighing in on Lee's findings are Geena Davis, David Bordwell, and nominated editor Jay Cassidy.
Meanwhile The Hollywood Reporter's Scott Feinberg is posting anonymous ballots from Academy members on each of the five days leading up to the ceremony. The first two—from "longtime member[s]" of the directing and sound branches, respectively—are already up. Less interesting for the arguments made than the pathologies inadvertently revealed; these are voices so insular they seem deluded that clannish gate-keeping and dismissive sniping come off making them sound like the good guys, not petty, entitled whiners.
On a completely unrelated note, here's Alec Baldwin explaining why he's done with public life.
"Maybe Paris has a way of making people forget." "Paris? No. Not this city. It's too real and too beautiful to ever let you forget anything." Michael Koresky finds An American in Paris and Gigi the fullest expression of Minnelli's aesthetic grandeur and the fragile emotions beneath that make the beauty so tremblingly vivid; a thorough vision so often dismissed as "painterly."
With Jean Epstein's revival continuing apace, time to shed some light on the even more overlooked oeuvre of his sister Marie. David Cairns considers La maternelle, codirected by Marie and Jean Benoît-Lévy, whose poetic flourishes and use of kid actors pulls off "a difficult task: staging a drama inside a documentary."
Nick Pinkerton finds Blake Edwards's cinematic intelligence and sardonic wit all over The Carey Treatment; or at least what's left of it after the studio interference that sent Edwards fleeing to Europe for the rest of the decade.
David Bordwell's latest installment in his ongoing exploration on '40s film criticism is a marvelous discussion of James Agee, alert to the adolescent weaknesses of his "volcanic energies," but still delighted at how Agee's close readings can open up films, and your head along with them: "reading him can do something rare in film criticism: He calls you to your best instincts."
"It is unavoidable at this point to repeat that an actor is rewarded with attention out of all proportion to his responsibility. I do not wish to imply that he is paid too much for his services, as this phase of his reward does not concern me; to delude the masses is always profitable. It is, however, important to point out the absurdity of receiving the profits of speculation in emotions, when neither the emotions nor the speculations are the actor's." Steven Soderbergh offers some of his favorite quotes from von Sternberg's Fun in a Chinese Laundry, epigrams rooted in a genius more corrosive and less concerned with false humility than I can imagine most filmmakers possessing, let alone expressing.
Matthew Dessem runs through some of the challenges film archivists face in the age of digital storage, adding to the debate the perceptive concern that future rediscoveries, or digital files reconstituted, will lack the dramatic aura of stories, the narrative lure of "Dreyer's The Passion of Joan Of Arc, presumed lost, moldering in the closet of a Norwegian mental institute; the fires at Fox's warehouse in 1937 and the MGM vault 30 years later; James Mason discovering Buster Keaton's archive in a shed at the back of his new house."
"I don't know tech stuff." Seth Stevenson hunts down the famously off-kilter time signature to The Terminator's main theme, learning from composer Brad Fiedel it resulted from a combination of improvisation and equipment gaffe.
"Werner told me my next project should be an Eddie Murphy comedy. Instead, I made a film about survivors of the 1965 genocide confronting the men who killed their son—coming soon. Errol told me that this IS an Eddie Murphy comedy. So I guess my approach is to do the opposite of what Werner advises, and dismiss Errol's advice as bonkers." Taking part in a joint AMA, Werner Herzog is crowd-pleasingly gnomic as you'd expect, Errol Morris continues his deeply philosophical stand-up routine, and Joshua Oppenheimer relays fascinating details on The Act of Killings's making and reception—including a deleted sex scene from the movie-within-the-movie that he admits could only have been filmed as a "testament to my delirium."
"[In] one of the scenes, we created these Klieg lights which used translucent yellow discs for the beams of light. Evidently, that disc, in that color, was a discontinued piece from an old space set. The builders were dedicated to maintaining the intended aesthetic, so they went on eBay and brick resale sites and basically purchased every disc…. Somewhere there's a kid right now trying to find that piece for a space station he is building and having a really hard time; basically, we're responsible for ruining that kid's day." Advance rumors to the contrary, the vast majority of The Lego Movie was done in CGI. One major sequence excepted, the lovely end title credits. Ian Albinson discusses their making with effects studio Alma Mater's Brian Mah, James Anderson, and Kathy Kelehan.
Adrian Curry delivers a double tribute, saluting the late Miklós Jancsó by rounding up several of the superb woodcut print posters Peter Strausfeld designed for showings of the director's films at London's Academy Cinema.
The poster illustration for Dave Kellett and Fred Schroeder's documentary Stripped takes the titular pun at charmingly undignified face value. More important, it's the first published work by Bill Watterson since Calvin and Hobbes set off on their sled to explore the beautiful world.
Obituary
Harold Ramis was responsible for some of the funniest movies and TV shows of our generation. A veteran of Second City, he joined the SCTV team as a writer and performer, wrote or co-wrote the scripts for Animal House (1978), Meatballs (1979), Stripes (1981), Ghostbusters (1984), and Ghostbusters II (1989), and wrote and directed Caddyshack (1980), Multiplicity (1996), Analyze This (1999), and of course Groundhog Day (1993), a hilarious masterpiece of redemption by any measure. He also directed the underrated blackly comic modern noir The Ice Harvest (2005). He passed at the age of 69 from complications of autoimmune inflammatory vasculitis, a rare disease that involves swelling of the blood vessels. Mark Caro remembers his legacy at The Chicago Tribune.
Academy Award-winning documentary filmmaker Robert M. Fresco, who won in 1969 for the short Czechoslovakia 1968, died earlier this month at the age of 83. More from Margalit Fox for The New York Times.
Seattle Screens
Visit the film review pages at The Seattle Times, Seattle Weekly, and The Stranger for more releases.
View complete screening schedules through IMDb, MSN, Yahoo, or Fandango, pick the interface of your choice.
The weekly links page is compiled and curated by Bruce Reid, with obituaries curated by Sean Axmaker, and other contributions from friends of Parallax View.