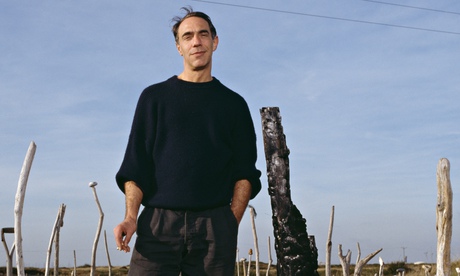 England's ongoing celebration of Derek Jarman on the 20th anniversary of his death continues to lead to some fine reminiscences; here, friend and writer Philip Hoare on the city- and seascapes Jarman made his own: "From the midnight Thames running below his Bankside studio to Soho's back alleys and eventually Dungeness's bleak strand, Jarman's eclecticism and found narratives predated psychogeography; but he might have invented it." While Dalya Alberge passes along the news that an unknown film by Jarman—experimental footage shot for Jarman's friend Ron Peck, suggesting ways to capture dance on video—is about to have its public premiere. Both bits, along with other Jarmania, courtesy of John Coulthart.
One more life lesson to be gleaned from noir: Never assume you've seen it all, because the overlooked shadows hold more riches than you think. Fresh off San Francisco's Noir City festival, Imogen Smith praises five Latin American films—from Mexico's In the Palm of Your Hand ("It opens with a mushroom cloud and ends in a morgue, and earns a place among the best noir tales of couples who go down together, all the way down") to an Argentine remake of M that takes the perspective of a mother, and that makes all the difference—whose artistry and originality "suggest a continent of dark treasures to be explored."
"They're listening in America, Johnny." "Okay, we'll tell 'em, then." For James Naremore, Foreign Correspondent divides not so neatly between a continuation of Hitchcock's fleet thrillers and a political engagement belying the charges that the director had left his country in the lurch.
Michael Koresky wraps up one of the most consistently thoughtful and rewarding online film columns of the past few years, arranging his marvelous Here & Now & Then articles in chronological order and offering some final thoughts and hidden links the project revealed.
As ghosts continue to haunt the screens of Spanish cinema, Ann Davies thinks we're long past explaining the trend away as exorcisms of Generalissimo Franco (still dead). Via Catherine Grant.
"Come with uncle and hear all proper! Hear angel trumpets and devil trombones. You are invited." The latest back-and-forth at To Be (Cont'd), on Stanley Kubrick's use of music, has its first two installments up, Matthew Zurcher considering how A Clockwork Orange rather savagely creates disassociations between its familiar score and its horrific images, and Glenn Kenny's follow-up placing 2001's (and The Shining's) use of modernist masterpieces in context with the eclecticism of '60s musicians.
Mike D'Angelo praises the unobtrusive mastery of Kurosawa's direction in High and Low, including a marvelous bit of single-shot reframing involving Mifune, a clutch of cops, and a chauffeur about to receive some devastating news.
The new Interiors analyzes a scene (clean thoughts, chum—it's the breakup) from Blue Is the Warmest Color, a project the writers admit is made difficult by a cinematic style that "[keeps] us closely connected with the characters, but we are never provided with a solid understanding of space as a result."
Lola Landekic, with an assist from a perceptive David Fincher quote, considers how Butch Cassidy and the Sundance Kid's newsreel title sequence prepares its audience to look at westerns in a whole new way before the film's even begun.
"'I understand you get on well with female artists?' asked the man who had been looking for him. Lucas nodded. He had six sisters, he explained, and that had given him an advantage. Why? 'Would you like to photograph Marlene Dietrich tomorrow?'" And with that, as Gaby Wood relates, began the career of Cornel Lucas, the only stills photographer to be awarded a BAFTA. Via It's Nice That.
"I just wanted you to come out in style, baby!" "Take me to my tailor." In a two-part article Chris Laverty writes up every suit worn by Michael Caine in The Italian Job, a sharp, fizzy (but each just a little off-kilter, "cool precisely because [they're] not perfect") collection that's the definitive cinematic display of fashion picking up the beat of the swinging '60s. (Part two here.)
"You know, every year I had a year to think up the next part, based on everything that had gone before. So by year four, I've got three years that I can look at, that are edited, that we've been working on, and I can feel where it's going and where it wants to go. I was stuck with this kind of architecture but yet within that the décor, the details were always being reworked, being found." Richard Linklater discusses the making and intent of Boyhood with Jessica Kiang.
"It's more like trance or shamanism than acting. It's like a combustion, it's dangerous, and frightening. The fear gives you that energy and pressure." Denis Lavant talks with Adam Cook about working with the latest in a string of great directors, Tsai Ming-Liang.
"It was hard out there in the city at night. We had real gangs that we'd run into and sometimes our guys thought they were tough enough to take them on. So they had to be rounded up. We were shooting under an elevated train one night and real gangs literally pissed on us from up above! [Laughs] It seems funny now, but it was not at the time." Interviewed by Jennifer M. Hood, Walter Hill looks back 35 years to the filming of The Warriors.
"In 1983, one critic said all the laughs were non-intentional. It just happened, but the writers didn't think it was funny. Which is complete bullshit! We never laughed more than the time when we were writing the script. Today's audience doesn't have this doubt, they understand that from the first moment, it's supposed to be funny." Speaking of New York cult movies of the period, Slava Tsukerman discusses how Liquid Sky continues to resonate with audiences all over the world, and thrills many by confirming a sequel's forthcoming, in an interview with James Ramsay. Via David Hudson.
"I've read one book that argues that Pudovkin, Eisenstein, and the others were the true successors to Mussorgsky, Rimsky-Korsakov, and Tchaikovsky, even though they weren't musicians. That means you have quite a task when you have to improvise over their movies." Some insights into silent-film accompaniment, both about those making a current job of it and as a historical phenomenon, courtesy of Ben Sachs's interviews with Chicago pianist David Drazin (part two here). Via Movie City News.
Video: Romanian filmmaker Ilinca Calugareanu presents a short documentary on Irina Margareta Nistor, the translator and voice artist who dubbed over 3,000 foreign films released by samizdat, making stars in her country of Chuck Norris, Bruce Lee, and others.
Seattle Screens
Visit the film review pages at The Seattle Times, Seattle Weekly, and The Stranger for more releases.
View complete screening schedules through IMDb, MSN, Yahoo, or Fandango, pick the interface of your choice.
The weekly links page is compiled and curated by Bruce Reid, with obituaries curated by Sean Axmaker, and other contributions from friends of Parallax View.