There have been critiques, even some good ones, of her central argument, but Manohla Dargis's plea in advance of Sundance still strikes a responsive chord: please movie buyers, don't send another glut of unremarkable indies our way.
"The attraction, Eisenstein wrote in 1923, shortly before he would make his first feature film, Strike, is 'every element that can be verified and mathematically calculated to produce certain emotional shocks in a proper order within the totality.' Godard proved the point in his 1960 masterpiece—not Breathless but the Breathless trailer." J. Hoberman finds the '60s film trailers of Godard pretty remarkable on the whole; our densest filmmaker operating at his most concentrated.
No surprise Barbara Stanwyck had a long and celebrated side career, explored by Morgan Wilcock, as the star of radio adaptations; the key is to have a great voice, and her smoky, subtly emotional rasp was one of the best.
At a time when ethnic diversity meant slathering make-up on white actors, Sabu carved out the first Hollywood career for an Indian national. The movies weren't always cream-of-the-crop, but the ever-youthful actor always played his roles with dignity and charm, as Dennis Harvey relates.
The publicity machine for MGM's 1924 war film Mons pushed hard on British director Walter Summers bringing to the film the hard-earned realism of his own experience. Examining Summers's military records, Jo Pugh finds the specifics entirely untrue, but the reality arguably more interesting: a director whose youthful battlefield exploits, instead of mentally scarring him, left him with such fond feelings towards service under fire he attempted to recreate those high adventures on location shoots thereafter.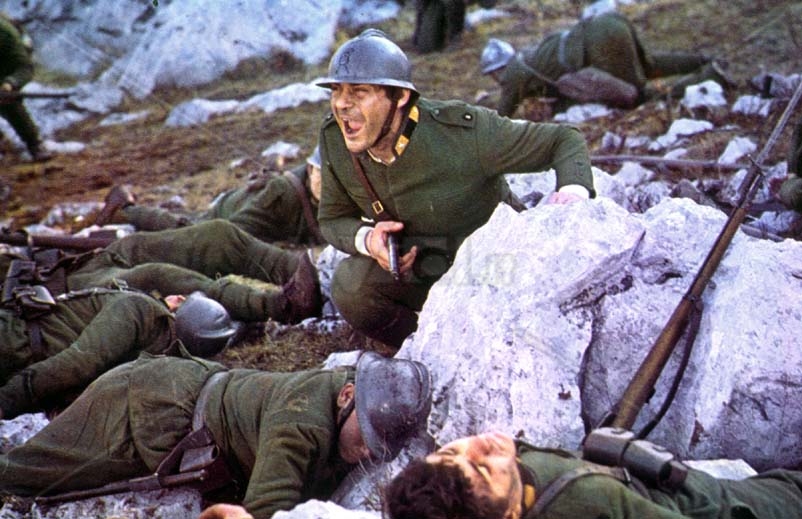 Somewhat contrarily, a viewing of Rosi's 1970 WWI film Uomini contro (whose ending, fair warning, he gives away) has Michael Atkinson considering how the films about the conflict tend to a "radical" message, the "awakening realization, perhaps a first in mass popular culture, that aristocracies and governments and military cabals are corrupt, untrustworthy, self-serving and carelessly malevolent."
Surveying for Criterion three late films of Satyajit Ray's, Michael Koresky finds them the opposite of mellow swan songs; Ray's old age, in fact, found him "increasingly political, and vehement in his opposition to social corruption and fundamentalism."
While providing a fun look at how Netflix's absurdly niched categories are developed, Alexis Madrigal's overview of the algorithm's development is definitely too high on geek fumes to provide any critical judgment. So Felix Salmon's pushback, reminding us that those numbers being crunched have nothing to do with delivering good movies and everything to do with getting you to watch the mediocrities already stuffing the company's catalog, makes a good rejoinder.
No thoughts or breaking news here on hecklers' identities or what's so wrong about being a doorman in the first place, just the transcripts of two speeches—from the National Board of Review, Meryl Streep's witty, hell-raising Emma Thompson tribute-cum-Disney-bash and Harry Belafonte's soaring praise of 12 Years a Slave at the New York Film Critics Circle—of the kind that almost make award shows worth it.
Martin Scorsese's open letter to his daughter about the promising future of the new cinema world is inspirational, charming, etc. etc. It's also pretty much Francis Coppola's famous "little fat girl from Ohio" speech several decades after the fact. (No slight upon Miss Scorsese's appearance or place of residence intended.)
"I don't know, I'm struggling. I'm struggling here. I've never examined myself. This is hard because I'm going back to certain times in my life I haven't really thought about for a long time. And maybe I avoided that because it was always a very difficult time in a way, and a lot of people were damaged on that journey, friends of mine. And it was all because of people not giving a fuck." Famously recalcitrant interviewee Steve McQueen doesn't so much open up for the Guardian's Decca Aitkenhead as let the chinks in his armor breathe, allowing her to fill in some blanks.
"That's what I try to do, but it's also important to me to learn every day to become simply a film director, not a film director of the Khmer Rouge genocide. I'm not a specialist; I want to be a film director—because it would mean I'm still alive. And because an artist brings more than testimony: he brings imagination, creation, the idea how to fight against totalitarianism." Cambodian director Rithy Panh, whose earlier documentary experiments helped inspired The Act of Killing and whose latest, The Missing Picture, employs clay models to explore its horrors, speaks of the obligations he feels as artist and survivor with Nick Bradshaw.
"So that's what I remember from One More Saturday Night: [David Mamet] was on the set, and he was a prick." Ted Levine's charmingly brusque way with an anecdote—whether meeting Michael Mann by crashing the wrap party for Manhunter or pivoting off from working with Gregory Peck into wondering whatever happened to all the real men—makes his interview with Will Harris a delightful read. And his actor's perspective on the film vs. video debate is one of the more cogent I've come across.
For Gilded Birds, jewelry designer Andrew Bunney defines his ideal of beauty as a bust of Spencer Tracy made by Katherine Hepburn:  "It must have been quite an indulgence to carry this thing around. I like the idea of that gesture, that sentimentality."
David Fincher's photograph for the Entertainment Weekly cover story on Gone Girl is certainly… let's go with thematically appropriate.
Obituary
Sir Run Run Shaw is best known to Americans as the co-producer of Blade Runner but to the rest of the world he was one of Shaw Brothers: the dominant movie mogul and TV broadcaster (he founded TVB in 1967) in Hong Kong. The Shaw Brothers were the kings of Hong Kong martial arts cinema and colorful costume pictures through the sixties and seventies and the founders of Hong Kong's first free television station. Shaw produced hundreds of pictures and hundreds more through his production company. Among his most famous productions are King Hu's Come Drink With Me (1966), Five Fingers of Death (1972), The 36th Chamber of Shaolin (1978), and Five Deadly Venoms (1978), which were far more successful than his forays into international co-production such as The Legend of the 7 Golden Vampires (1974), Cleopatra Jones and the Casino of Gold (1975), and Meteor (1979). He was knighted in 1977, received a Lifetime Achievement Award at the Hong Kong Film Awards in 2007 on the occasion of 100th birthday, and honored with a BAFTA in 2013. He passed away this week at the age of 106 or 107 (there is some mystery as to his official date of birth). More from Variety.
Saul Zaentz, the music impresario turned film producer who won three Academy Awards for Best Picture, passed away at age 92. Along with Oscar winners One Flew Over the Cuckoo's Nest (1975), Amadeus (1984), and The English Patient (1996), he produced Ralph Bakshi's original animated Lord of the Rings (1978), Philip Kaufman's The Unbearable Lightness of Being (1988), and At Play in the Field of the Lord (1991), and he famously purchased and held on to the media rights to The Hobbit and The Lord of the Rings, which he licensed to New Line and Peter Jackson for their films. For his last film, Goya's Ghost (2006), he teamed up once again with Milos Forman, who delivered Zaentz two Oscars. More from Duane Byrge and Mike Barnes at The Hollywood Reporter, and from Anne Thompson at Indiewire.
Seattle Screens
Visit the film review pages at The Seattle Times, Seattle Weekly, and The Stranger for more releases.
View complete screening schedules through IMDb, MSN, Yahoo, or Fandango, pick the interface of your choice.
The weekly links page is compiled and curated by Bruce Reid, with obituaries curated by Sean Axmaker, and other contributions from friends of Parallax View.