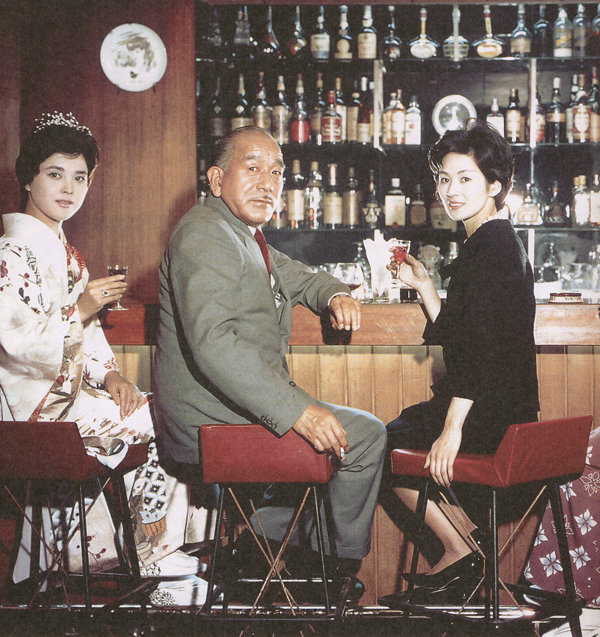 David Bordwell traces the modern influence of Ozu, from Jarmusch's minimalist deadpan to the delicate attention to small changes—in light and otherwise—in Hou's Café Lumière. And even admiring his inheritors' achievements, he notes "something has been lost. To make us wait and watch today, the director must 'gear us down' through long takes and stasis, through deferring, stretching, or purging narrative," thus missing some crucial part of Ozu's miraculous, humanist touch.
Reviewing Walter Wanger and Joe Hyams's My Life with Cleopatra is the perfect excuse for Kim Morgan to discuss what she really wants to: Elizabeth Taylor's brave resilience and great beauty, and the night in 1951 when Wanger tracked down wife Joan Bennett and her lover in a parking lot, and shot the latter "where it counted most: in the groin."
"Here and elsewhere, there's something about the way Cochran's hazel eyes catch the light, with a gleam that can register as tenderness or threat. It's hard to pin down this luster, and that's one of the best assets a movie star can have—some small thing that can't be explained." Imogen Smith salutes how that small thing, a confident suavity that breathed with self-assurance, made Steve Cochran excel in so many B pictures, and stand out in his few top-of-the-line pics: "If Cagney is white heat, Cochran is black ice."
Smith also provides one of the highlights of David Cairn's 4th Annual Late Show Blogathon (dedicated to films at or near the end of their director or star's career), examining the "overwhelming flavor of waste and ruin, of senseless destruction…, and of irrevocable loss" that Mann once again borrowed from King Lear for his Man of the West. Also, Tony Dayoub shows how Stevens keeps his camera from swooning over James Dean in Giant; Marilyn Ferdinand finds more than you'd think to admire in 1934's The Scarlet Letter, swan song for Colleen Moore; Dennis Cozzalio contrasts the attitudes toward death in final films by Penn and Altman; and both of Borzage's last two films gets respectful if ultimately critical looks, China Doll by Aubyn Eli, The Big Fisherman by Cairns himself.
Though they've been passed over by most critics and biographers in disdainful silence, David Kalat argues that Chabrol's mid-'60s spy spoofs are, while hardly masterpieces, self-aware, wittily feminist, and eminently Chabrolian.
"Art sure is ugly." "Shows how much you know about art. The uglier the art, the more it's worth." Steven Soderbergh offers some brief but impassioned words in praise of Scorsese's After Hours. Elsewhere at his site he rolls out some more viewing diaries, for 2011 (Carnal Knowledge, Dark of the Sun, four viewings of Kane) and 2012 (Prince of the City, Sweet Smell of Success).
"I remember once I was working with Ellen Burstyn, who's a great actress, the queen of The Method, and she was like, 'you don't know how to talk to actors. Talk to Paul Mazursky—he knows how to talk to actors.' Two years later, I'm at a restaurant and I see Paul Mazursky, so I go up to him and say that Ellen Burstyn says you know how to talk to actors. And he says 'No, I just let her do whatever she had to do and said cut, perfect.'" Eric Hynes offers some excerpts from James Gray's advice to filmmakers, not all as humorously pragmatic as his tips on working with actors, delivered at a "Master Class" at the Marrakech Film Festival.
"I tell you what we're gonna do, Marlboro. You're gonna take that goddamn JCPenney tie off and we're gonna have an old fashioned man to man drinking party." "Well, that's okay but I'm not taking off the tie." When it comes to private-eye fashion, Elliot Gould's rumpled, mismatched suit marks the midpoint between old-school flair and the indifferent slovenliness of modern day dicks, says Christopher Laverty.
"My moment came after I tripped in the road and a special ray gun stopped a speeding vehicle inches from my head. How it all was filmed remains indelible. The stunt driver started the car at my body then sped away backwards, reversed later in the lab. My sense of reality as fiction and fiction as reality accelerated with that car, I never recovered." Alan Rudolph, recalling here his day as an extra in one of his father's films, talks with Neil McGlone about the early stages of his career, from horror quickies he's never even seen in finished form to his years benefiting from Altman's sponsorship, and the more frustrating, stymied years in work for hire that helped pay for the triumph of Choose Me. Via Movie City News.
"But you know my process. It's not simple. It's never like, 'Okay, great, we got it.' It's more like, 'Hmmm…. Maybe we should go back and try that again,' or 'Maybe we should rewrite that again.' Ren [Klyce], who does all of our sound design and music editing, always refers to "my process." I'm not sure that he means that in a positive way." Spike Jonze, interviewed by Nicole Holofcener, discusses the making of Her, including the influence Terrence Malick had on certain scenes, and how he owes his career to a Sonic Youth fan and Tamra Davis, before interviewer and interviewee bond over the great loss that is James Gandolfini.
"There's something I've noticed that's interesting to me, which is that we make a movie and people say, 'This is a Coen brothers movie for people who don't like Coen brothers movies.' And I've been reading that for 15 or 20 years now, as each one successively comes out. So now I'm thinking, so what is a Coen brothers movie?" Joel deliberately leaves the question hanging, but in this Andrew O'Hehir interview his and Ethan's unflagging sardonicism easily answers any suggestion the pair have mellowed in their middle age.
Fiction: Lynn Crosbie's "Butterflies Are Free to Die," a short short tale of revenge served cold on the night of Farrah Fawcett's debut at the Burt Reynolds Dinner Theater, ends with a nasty little shiver.
Gina Telaroli's alternating images from Stromboli and The Bridges of Madison County make Streep and Bergman's characters something like secret sharers, each captivated by and echoed in the other's misery. Via Adam Cook.
Sam Smith selects his ten favorite movie posters of the year, and tosses in his own sickly glowing redesign for Spring Breakers as a bonus.
Adrian Curry selects some of his favorite Barbara Stanwyck posters. Curry remarks upon the gallery's standout weakness, the artists' noticeable inconsistency in capturing Stanwyck's features, but I'll take that as inadvertent tribute to her constant, mercurial inventiveness.
Audio: Shakespeare, The Shadow, and Citizens from Kane to Clay, sure; but the most slyly booming of theatrical voices was equally made to ladle out Christmas bromides. Wellesnet has you covered, with four of Welles's seasonal radio broadcasts: two Christmas Carols (offering both Welles and Lionel Barrymore as Scrooge), Wilde's The Happy Prince, and Corwin's The Plot to Overthrow Christmas, where Welles recognized villain Nero as the better part and ceded Santa to Ray Collins.
Obituary
Eleanor Parker was one of the great American leading ladies who, despite three Oscar nominations, never quite became a major star despite a career playing strong women on the screen. Most obituaries have cited her supporting role as the Baroness in The Sound of Music but her legacy is so much more. She was nominated for Detective Story (1951), playing the neglected wife of angry Kirk Douglas, as well for Caged (1950) and Interrupted Melody (1955), and was memorable as a villain in Scaramouche (1952) and a woman suffering from multiple personalities in Lizzie (1957), as well as in The Naked Jungle (1954), The Man With the Golden Arm (1955), A King and Four Queens (1956), and Home From the Hill (1960). She passed away at age 91. Susan King and Elaine Woo remember her legacy at Los Angeles Times and Turner Classic Movies will pay tribute with a day of her films on Tuesday, December 17.
Edouard Molinaro, the French director who scored a massive hit with the comedy La Cage Aux Folles (and was later remade in the U.S. as The Birdcage and turned into a Broadway musical), died in Paris at age 85. More from the New York Times.
Seattle Screens
Visit the film review pages at The Seattle Times, Seattle Weekly, and The Stranger for more releases.
View complete screening schedules through IMDb, MSN, Yahoo, or Fandango, pick the interface of your choice.
The weekly links page is compiled and curated by Bruce Reid, with obituaries curated by Sean Axmaker, and other contributions from friends of Parallax View.