"In Stanwyck's movies, home is not a simple place. It is somewhere you return to with regrets (All I Desire), in disillusionment (Remember the Night), or in defeat (Clash by Night)…. It is somewhere you are trapped and stifled, as she is in Double Indemnity, The Strange Love of Martha Ivers, and Crime of Passion. It's a place you run away from (Baby Face), or that you fear losing (No Man of Her Own). It's a place you don't have." Imogen Sarah Smith praises the inherent honesty, perhaps born of a brutally hardscrabble upbringing, that made Barbara Stanwyck feel right in place whatever genre of film you dropped her in.
"Perhaps this is not as significant a loss to humanity as the disappearance of all but 19 of the more than 90 plays by Euripides, but at least we can attribute the absence of the latter to the loss of the Ancient Library of Alexandria, not to neglect." For the Library of Congress, historian David Pierce has written the most thorough study to date on that most disheartening of cinematic statistics, the survival rate of American silent-film features. Cutting to the chase, 1 in 4 remains, a figure no less gloomy for being higher than some earlier guesses. But there's much to be grateful for nonetheless, and Pierce's fine report covers that as well, along with interesting discussions of film gauges, the various paths by which prints found themselves in collectors' and archivists' hands, and a comparison of how different studios have dealt with preserving their history (sincere hurrahs to MGM on this score). .pdf warning. Via Vadim Rizov.
"Carax doesn't give a damn about being cool. He works from the inside out, choosing the references he employs for the emotion they can call up rather than the associations they trigger." Charles Taylor falls for the swooning, romantic thievery of Mauvais sang. Also at the L.A. Review, Hayley Mlotek visits the Cronenberg: Evolution exhibit and appropriately wonders whose head-space is penetrating whose; and, since I couldn't pass it along before the holiday break, Noah Isenberg salutes the no-budget ingenuity and masterful sense of mood of Ulmer's 50s films.
Given that the new issue of feminist film journal cléo is built around the theme of doom, no real surprise that Claire Denis is well represented, both in a short but vivid interview with Kiva Reardon ("I would never say: 'Claire, now it is time to make a social film, let's get involved in social things!' No, I am living in a country, I am living my life. I'm filled with anger, I'm filled with regret, I'm filled with great memories, also poetic memories. But anger is part of my relation to the world.") and Julia Cooper's appreciation of Beau Travail's ultimate "spasmodic, triumphant release of the body." Elsewhere Tara Judah looks at two transformations of Barbara Hershey's performance in The Entity by avant-gardist Peter Tscherkassky, and Hayley Crooks argues for seeing Melancholia's Justine less a depressed victim than a bracing attack on cultural norms, not least those of the bridal industry.
"I should remember your name. You're Mr. Hatfield?" "That's what I'm called, yes." Charles Barr considers the importance of addressing people by their names in the films of John Ford, particularly those of Dallas, Ringo, and Hancock… sorry, Haycock, that is, Peacock. Via John Wyver.
In Jump Cut, Gary Bettinson takes a long look at the invaluable contributions to the films of Johnnie To made by sound designer Martin Chappell, who's thrived at a pace as hectic and working conditions as sparsely economical as you'd expect. Via Film Studies for Free.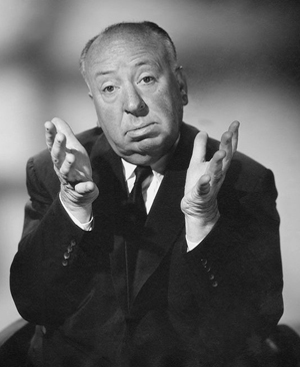 Curious about the history of Hitchcock's iconic distinction between surprise and suspense (which, to be fair, Hitchcock never exactly claimed to have originated, though his modesty only allowed for so much ambiguity on the matter), David Bordwell first traced the idea to 18th-century playwright Gotthold Lessing and some 19th-century theater critics. After proving the notion was au courant during Hitchcock's apprentice years, Bordwell, aided by his readers, follows up with a quote from British film director Henry Edwards that lays the principle out in terms remarkably similar (a man sitting on a bomb) to the celebrated example.
"Bill turns to me. 'You want your drink?' 'Sure.' Bill pulls out a Corona from his pocket and hands it to me. Then from his other pocket, he pulls out a Bud Light—the Bud Light the bar didn't even have." By Alex J. Mann's account, an evening being dragged along in the wake of Bill Murray is precisely as intoxicating, unpredictable, yet strangely all planned out as you'd hope. Via Anne Helen Petersen.
"We performed our music at night, then we'd shoot film during the day. That's the way I wish I could live every day of my life. That's the way I like to live! I like creating 24/7." Though of course Nashville is the primary focus of her interview with Will Harris, Ronee Blakely's talking there about Renaldo and Clara, in fact. As she does about Wim Wenders, Larry Cohen, and Wes Craven's disdain for improvisation.
"I think in the case of action movies it's a lot more about how sound feels coming out of subwoofers, and your personality is obviously subverted in the name of the franchise and the existing music of the franchise, but you know, at the same time, yeah. I always experiment because it always makes me feel like I have something in my pocket, ideas I can pull out." Patrick Fahy interviews the great Thomas Newman about film scoring and the power of silence.
"For Nebraska his idea was to keep the soundtrack from being overtly country/western, instead imagining a kind of Italian cinema on the plains. It's why the accordion is featured so heavily." From the latest in a classic lineage to the outsider stylings of a relative newcomer, more composer talk: Mark Orton discusses his deliberately modest score for Nebraska with Daniel Schweiger. One sour note is that it's annoying even Payne's composer has to answer those silly questions about condescension. Via Movie City News.
"I enjoyed working on the quad I designed for Vampire Circus…. The animals on there were pretty much copied directly from a children's book, as I really didn't have that much time to work on it. I thought they looked quite amusing, since they're not exactly anatomically correct portraits of tigers and lions! I also had fun sneaking in the hidden male members, which was really just meant as a bit of a tease towards certain people behind the scenes." Poster artist Vic Flair's interview with Eddie Shannon is mostly a dry account of a career in the British design industry. But there are amusing vignettes of what it's like to work for Terry Gilliam and Hammer Films, and a wealth of marvelous concept art and finished posters to savor. Via Fandor Daily.
Brandon Schaefer offers a gallery of Cuban movie posters whose boldness and near-abstraction is worthy of comparison to their celebrated Eastern Europe contemporaries. I leave it to others to suss out reasons why.
"We look good." "Yeah, we do." Also at Film.com, a collection—no less colorful (or occasionally surreal), if more family friendly—of behind-the-scenes shots from Fantastic Mr. Fox.
Obituary
French director Georges Lautner kicked off a successful commercial career with Monsieur Gangster (1963), the first of a series of lighthearted crime capers and spy movies that included The Great Spy Chase (1964) with Lino Ventura and The Professional (1981) with Jean-Paul Belmondo, all big hits in France but little seen outside the country. He died in Paris at age 87 after a long illness. Elsa Keslassy at Variety revisits his career.
American actor Christopher Evan Welch, who narrated Woody Allen's Vicky Christie Barcelona (2008) and had small roles in War of the Worlds (2005), Synecdoche, New York (2008), The Master (2012), and Lincoln (2012), passed away after a three-year battle with lung cancer. Mike Barnes delves further into his legacy for The Hollywood Reporter.
Marc Breauc, choreographer of the films Mary Poppins (1964), The Sound of Music (1965), Chitty Chitty Bang Bang (1968), and many other movies and TV shows, died at the age of 89 last week. More from Carmen Dagan at Variety.
British actor Barry Jackson is best remembered for his 14-year run as Dr. Bullard on the mystery series Midsomer Murders but in addition to decades of TV work, he had supporting roles in a few movies, including Ryan's Daughter (1970) and Barry Lyndon (1975). He passes away this week at the age of 75. Ronald Bergen at The Guardian.
British actress Jean Kent found success on the big screen in the 1940s playing the bad girl in the flamboyant melodramas from Gainsborough Pictures such as Fanny By Gaslight (1945), Madonna of the Seven Moons (1945), and The Wicked Lady (1945) and co-starred opposite Michael Redgrave in The Browning Version (1951). She was also in The Prince and the Showgirl (1957) and Bonjour Tristesse (1958) before making a transition to a busy TV career. She died at age 92, after suffering a fall. Sheila Witaker at The Guardian.
And of course Paul Walker, who made his fame in the internationally popular Fast and Furious franchise, died in a car wreck over Thanksgiving weekend during a break in filming. He was only 40. Among his other credits are Pleasantville (1998), Varsity Blues (1999), The Skulls (2000), Takers (2010), and Clint Eastwood's Flags of Our Fathers (2006). More from The New York Times.
Seattle Screens
Visit the film review pages at The Seattle Times, Seattle Weekly, and The Stranger for more releases.
View complete screening schedules through IMDb, MSN, Yahoo, or Fandango, pick the interface of your choice.
The weekly links page is compiled and curated by Bruce Reid, with obituaries curated by Sean Axmaker, and other contributions from friends of Parallax View.