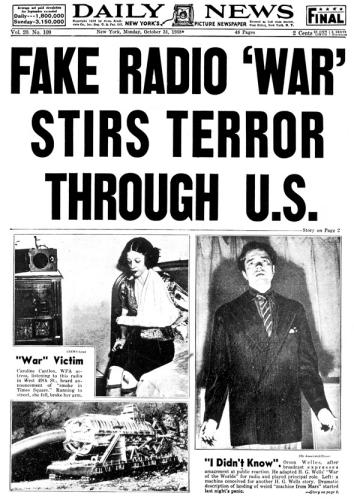 The more you know about Orson Welles the clearer it is how delighted he was that the mild overreaction to his War of the Worlds broadcast was blown up in the telling, allowing him to play the contrite, humbled instigator of a national panic. But the legend persists—inspiring a recent PBS special—so Jefferson Pooley and Michael Socolow attempt to set the record straight. From myths overturned to origins uncovered: David Cairns, having caught the premiere of Too Much Johnson, argues the found reels contain out-takes rather than the advertised "unfinished edit," but remain a rollicking good time and a presciently ambitious thing to behold nonetheless.
"'There are others who relish [B-movies] for their kinks and obsessions as a radicalizing force,' Allen writes, 'Personally, I usually junk the script and savor the grace moments.'" Tom Allen, the film critic and Catholic monk who turned down the role of Friar Tuck in Knightriders only to join Romero's "workshop-collective model" as a script consultant for the Tales from the Darkside TV series, has been forgotten by most; but not by the many friends and co-workers who warmly remember him for Nick Pinkerton's profile.
"There are these big wooden stairs on which—even when I last visited the place—students still sit on those, as we would sit and talk. We would discuss, fight a lot, sometimes literally, physically; and we all remember, all students, those wooden stairs." As Ginanne Brownell reports, the Lodz Film School continues to expand upon its distinguished history—including such alumni as Roman Polanski, quoted above—not least because it is one of the few to draw students with the promise of working with actual 16MM and 35MM film.
Wheeler Winston Dixon's history of spectatorship and the cinema makes some fascinating (and some questionable) comparisons between viewing movies and viewing paintings before reaching its interesting conclusion that because de Oliveira is "perhaps the last film director who has an authentic memory of what the world was like before electricity," his films "[evoke] a world in which spectatorship was very much a personal pursuit, and not one mass produced for audience consumption." Also at Film International, Oswald Morris shares with David E. Ellis some brief memories of working with Huston on Moulin Rouge.
Glenn Kenny tracks down a recurring phrase from Germany Year 90 Nine Zero, finding a typically allusive Godardian joke with a typically bitter Godardian undercurrent.
Asked to name an odd-duck pairing of auteur and studio, Ken Loach and Pixar would seem to be high on the list. But the latter's editors came to the rescue when the director, still working with physical film, sent out a call for outmoded supplies to finish post-production on his latest movie, Jimmy's Hall. Via Vadim Rizov.
Rizov, who has a wonderful eye for finding international film news, also passes along Ted Anthony's account of the hard times that have fallen upon Burmese actors who specialized at playing B-movie villains, now struggling for work as privatization and globalization have upended both their movie industry and audience expectations.
"But you always believed in me / You thought I was the best / And now that I got you alone / Let me get this off my chest" In movie-related tributes to Lou Reed, John Cameron Mitchell repays with affection his favorite compliment—from Reed, backstage after a Hedwig performance—and Alan Arkush relates an amusing anecdote of when the singer realized for the first time that he was, you know, Lou Reed. Via Movie City News.
"Some collect only women … others only men. Some collect just the thirties and forties, others just want science fiction or Westerns. Maybe they collect a hundred different stars, but there isn't anybody who collects everything. That would be too much." Jeremiah Moss reports on yet another end of an era, the shuttering of Jerry Ohlinger's Movie Memorabilia Store, the last establishment in New York to specialize in the sale of movie photos. Moss's own website offers some charmingly cluttered photos of what's being lost.
The campaign to bring Oscar recognition to the field of casting directors gets a significant boost from Woody Allen, who relays his indebtedness to his own CD, Juliet Taylor, in a brief open letter to The Hollywood Reporter.
"In the 20th century, an artist devoted himself like a slave to one label: a 'painter' could not be a 'writer' or a 'dancer' or a 'shaman'. Things in the 21st century have changed. Before, a phone was only a phone. Now what was just a phone is a device that photographs, plays music, sends texts, knows the weather, gives us directions. Soon it will be a vibrator and throw poisonous darts. Why, then, can't an artist be countless things?" Love or hate his films (I've done both, often at the same moment), I wouldn't want to be in a world without Alejandro Jodorowsky's interviews. His grandiose, surreally tinged self-mythologizing is on fine display in this sitdown with Frieze's Erik Morse. (Free registration required.) Via David Hudson.
"I think there was conflict, because we talked so easily about revolution and shit like that, and it was hard for me to buy that, unless you were willing to get a gun and go somewhere on a rooftop and do something about it. Because I was coming from a more practical experience." Oliver Stone talks with Matt Zoller Seitz about attending NYU Film School, his efforts to reintegrate with American society after Vietnam hindered by his shallowly leftist fellow students even as he found encouragement from a fast-talking "New York nutcase" of a teacher who knew more about movies than seemed possible.
"It's like being close to people. The only difference is that you can't touch. But that is the sense of an image. I think that cinema is working upon a concept of mystery and curiosity. Mystery creates curiosity. Curiosity attracts you. When I look through the camera, filming someone, what I'd like to be able to see is what is in his mind. Not only to look at him." Agnès Godard discusses her "intuitive" collaborations with Claire Denis and Usula Meier with Fandor's Jonathan Marlow.
In both a look at his own design process creating a poster for the gonzo cult classic The Visitor, and interviewing Jay Shaw, who made one up for Mondo, Brandon Schaefer shows the challenges and thrills inherent in the freedom of opportunities that come with trying to summarize a film that's pretty ridiculously over-the-top.
Evolution, TIFF's lovingly exhaustive Cronenberg exhibit, has NOW Magazine's John Semley arguing the continuity of a career that can seem at first glance wildly eclectic. A small gallery of photos by Cheol Joon Baek offers support, as does the more amateurishly framed but fannishly inclusive set offered by Twitch Film's Jason Gorber, with Mugwumps, medical instruments for operating on mutant women, and elegant Victorian couture all feeling of a piece. Another of David Hudson's finds.
Obituary
So many words have been written since the passing of Lou Reed. I defer to Laurie Anderson, who wrote a brief obituary for the East Hampton Star: "Lou was a tai chi master and spent his last days here being happy and dazzled by the beauty and power and softness of nature. He died on Sunday morning looking at the trees and doing the famous 21 form of tai chi with just his musician hands moving through the air." Complete text via Vulture here.
Nigel Davenport was most famous for his stage work but like many esteemed British actors, he found steady work on TV and in films, including memorable roles in A Man For All Seasons (1966) and Chariots of Fire (1981) and leading roles in the cult films No Blade of Grass (1970) and Phase IV (1974). He died at age 85. Michael Coveney at The Guardian recalls his rich legacy.
British director Antonia Bird apprenticed in experimental theater and British TV films before she made her name with Priest (1994), one of many collaborations with actor Robert Carlyle. She directed Drew Barrymore in Mad Love (1995) and Carlyle again in Ravenous (1999), which earned strong reviews but small audiences and returned to British TV. She was only 62 when she passed away from cancer (early reports put her age at 54). Mark Cousins pays tribute to the filmmaker with a personal remembrance for Sight and Sound and David Hudson collects more personal reactions for Keyframe.
American actress and comedienne Marcia Wallace, who played the receptionist on The Bob Newhart Show and voiced elementary school teacher Edna Krabappel on The Simpsons, passed away at the age of 70. Anthony Breznican at Entertainment Weekly.
British actor Graham Stark was a close friend of Peter Sellers and among his 100 screen credits are roles in five Pink Panther movies, beginning as Clouseau's assistant Hercule Lajoy in A Shot in the Dark. He passed away at the age of 91 after suffering a stroke. More from the BBC.
Seattle Screens
Visit the film review pages at The Seattle Times, Seattle Weekly, and The Stranger for more releases.
View complete screening schedules through IMDb, MSN, Yahoo, or Fandango, pick the interface of your choice.
The weekly links page is compiled and curated by Bruce Reid, with obituaries curated by Sean Axmaker, and other contributions from friends of Parallax View.