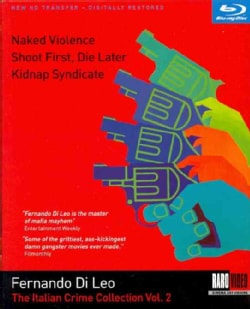 Italian crime thriller director Fernando Di Leo is a favorite of Quentin Tarantino — the director has gone on record crediting Di Leo's 1972 The Italian Connection as an inspiration for Jules and Vincent in Pulp Fiction — but apart from a few dubbed and often recut VHS releases, his films were not readily available on home video for Americans to see. Raro Video has made it their mission to correct that oversight. In 2011 they released the box set Fernando Di Leo Crime Collection, featuring four stand-out gangster movies on DVD (the Blu-ray edition came out in 2012), and after a few stand-alone releases in the interim, they follow it up in 2013 with Fernando Di Leo: The Italian Crime Collection Vol. 2 (Raro) on both DVD and Blu-ray.
This three-disc set boxes up Shoot First, Die Later (1974), a ruthless crime drama starring Luc Merenda as a corrupt cop on a mission of righteous vengeance (previously released as a stand-alone disc), with two disc debuts: Naked Violence (1969), a juvenile delinquent cop drama by way of social commentary, and Kidnap Syndicate (1975), a revenge thriller with Merenda, this time playing an innocent bystander roused to take justice into his own hands.
Shoot First, Die Later, one of Di Leo's best, stars Merenda as Domenico Malacarne, a hotshot cop on the Milan strike force. Young, good looking, and at the center of big, dangerous cases, he is the department poster boy for police heroism and Di Leo kicks off the film with a volatile undercover assignment and a ferocious car chase that rivals The French Connection. Just the thing to introduce Domenico as an ambitious hero with a penchant for muscular assignments and brazen action, right before revealing that he's on take. The collision of the unpredictable nature of character with the impersonal code of mafia business is at the center of Di Leo's best gangster films and revenge is big, bloody, and violent. So when Domenico's father, a modest and idealistic career cop who sacrifices all for his son (including, at one point, his moral code), is murdered by a local mafia lieutenant, Domenico goes after the mob and its business-like boss (Richard Conte), who negotiates the crisis with ruthless aplomb after his underlings botch the job.