"Everybody's in the minstrel show. Behind the mask, you can say and do anything. The Greeks did it. Shakespeare used it when he wrote the jester. Those he could not give the speech to, he created the jester to say it. All of America's problems are rooted in the fact that we're all jesters. Not one of us truth tellers. So how do you get to the truth?" Harry Belafonte's career is so long and fascinating that anecdotes that would anchor anybody else's life story—drawing inspiration from a black character strangling a Nazi in the World War II pic Sahara; demanding his TV show air without commercials then walking (while still, per the contract he negotiated, getting paid) when he was told his background dancers couldn't be integrated; flying in with Sidney Poitier to the heart of Mississippi at its bloodiest to fund the Freedom Riders—are just details along the way of the grand, epic flow in Jeff Sharlet's profile. Via Longform.
In an excerpt from Matt Zoller Seitz's The Wes Anderson Collection, Anderson talks about the making of The Royal Tenenbaums, digging into matters less aesthetic (other than vague thoughts about his preference for long takes) than practical (such as juggling actors' schedules or the many meetings and long wait it took until Hackman agreed to lower his price). Anderson's admittedly spotty recollections are enhanced by a slideshow of set photographs taken and engagingly annotated by Laura Wilson, acclaimed photographer and mother of Owen and Luke. Vulture uses Seitz's interview to kick of a series of articles on filmmaking. There's the expected fluff, with installments focusing on superheroes and Diablo Cody; but among the worthwhile efforts Paul Feig talks about the pragmatic ruthlessness it takes to edit comedy; Nicole Holofcener has some interesting observations about the difference between directing for movies and television (including the envy she has for TV's budgets); and Emmanuel Lubezki walks Kyle Buchanan through five of the most celebrated sequences (two for Malick, three for Cuarón) he's shot.
Curiously, Vulture's best, most well-researched behind-the-scenes article of the week isn't gathered under that umbrella. Mark Harris's account of the making of Spike Jonze's Her shows an iconically youthful director entering middle age with perhaps some anxieties (both human and virtual characters of his new film were first conceived as older than they wound up) but his unflagging work ethic and refusal to compromise (even recasting the voice behind the titular computer program) surviving undiminished.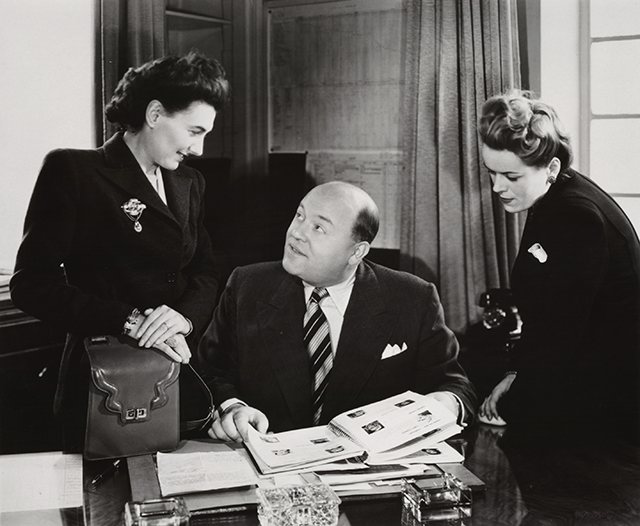 If opportunities for women to distinguish themselves behind the camera are notoriously hard-earned now, imagine how director Muriel Box and her producer sister-in-law Betty had to scrabble in post-war England. Rachel Cooke recounts their story, and salutes their talent (particularly Muriel) for populist entertainment that retained a still-surprising feminist edge. Via John Wyver.
Highlights of the new DGA Quarterly include John Anderson's interview with Darren Aronofsky ("I think I was attracted to social anthropology because I liked to travel and was always interested in far-off places. When you grow up in Brooklyn, at least back when I grew up in Brooklyn, all you wanted to do was get the fuck out."); Margy Rochlin's account of how Lucky Star's Dennie Gordon fulfilled Zhang Ziyi's request to "create a movie for me that Anne Hathaway may star in. We don't make those here," and became the first American woman to direct a film in China; and a collection of Saul Bass storyboards for West Side Story more colorful and dynamic than the picture. Spotted by Movie City News.
In one of those author-subject pairings that seems incongruous at first blush but marvelously apposite the more you think on it, Guy Maddin turns out the perfect choice to introduce Clair's I Married a Witch for Criterion, channeling his own winking love of spiritualism to conjure the movie's many ghosts.
"In Raiders! Zala and Strompolos discuss the child they cast as Toht, the sadistic Nazi. They call him a "slob" who lacks the "creepy energy," "menace," and "sense of danger" of the original actor, and only allow that he is "appropriately round" enough for the role. A harsh assessment, and perhaps it is true. But then again, I was only ten." Theodore Ross recounts the seven years he spent playing a bit part in the celebrated fan film adaptation of Raiders of the Lost Ark, and the happy-but-less-than-starry-eyed ending now that the young trio behind the beguiling exercise have become "professionals at being the 'guys who made that movie as kids.'"
The first installment of what's promised as a monthly series on editing has Mark Asch examining two World War II documentaries crafted by their makers to different ends: Ford's spatially confusing but emotionally direct The Battle of Midway and Huston's more coherent, "classical" The Battle of San Pietro, held back for over a year for its refusal to look away from "the truth about death."
John Bailey kicks off a series of his own, with the first of three articles on the great John Alton, ASC, on and off for still uncertain reasons. He includes a lovely photo of the author sandwiched between Alton and Stanley Cortez at a 1995 tribute. (And my apologies for having missed Bailey's tribute to the equally great Gabriel Figueroa, posted a few weeks back.)
David Bordwell's typically erudite, formalist takeaway from the Vancouver International Film Festival: the two-shot, mostly abandoned in Western filmmaking despite its admirable pedigree, is alive and well (and deployed for various reasons) in Asian cinema.
Neil Young describes an intriguing pendant to Gravity that for some reason has not been released with the movie (though it's been promised for the video): Jonás Cuarón's Aningaaq, displaying (spoilers) the other half of the radio conversation Bullock has with an Inuit fisherman in Cuarón père's film.
"It's my way of putting myself into the films as much as I can so it has relevance and emotional truth. Not the truth, but a truth. The truth is for assholes who can't invest in a tripod." James Gray's long, searching interview with Adam Cook reaffirms him as one of the most articulate directors around about his goals and methods. (As to whether he achieves them or not, align me more with Gray's skepticism than Cook's enthusiastic certainty.)
"What I mean is that scriptwriting is one thing, but before that there must have been a sort of transportation to, not a story, but a mood, where I can see people, free or trapped, but in a space, in a mood. It's not a spark, but rather a moody time." Interviewed by José Teodoro, Claire Denis discusses travel, literature (Faulkner in particular), and how inspiration is best stimulated by "moments of laziness."
"People talk about how there's many ways to design a career. I think a lot of mine was happenstance. If you're there long enough, you accumulate this… baggage, as Joel Silver called it. When I was meeting on Road House, I said, 'How'd I get in here?' He said, 'You've got a lot of baggage, and it makes you right for this part.'" Whether discussing the costars he's admired with delightful, foul-mouthed glee or chuckling in good nature over his fair share of flops, Sam Elliott proves as reliably enjoyable an interview (here by Will Harris) as he is an onscreen presence.
This year's New York Film Festival features 20 directors making return visits; photographer David Godlis rounds up some shots of their previous appearances, including Breillat, Godard both bemused and pontificating, and both Joe Strummer and Winona Ryder staring with delighted smiles up the tall frame of Jim Jarmusch. Via Adam Cook.
Obituary
American film critic Stanley Kauffmann, who wrote for The New Republic for over 50 years, passed away this week at the age of 97. Before beginning his tenure as the magazine's resident film critic in 1958, where he was became of the most influential film critics of his time for approaching cinema with the same rigor that other critics applied to literature and theater, he was a novelist and book editor at Bantam (where he discovered and helped edit Walker Percy's The Moviegoer) and Ballantine Books. His only break from his 55-year run at The New Republic was a short tenure as the theater critic at The New York Times in the 1960s. Sam Adams revisits his legacy at Indiewire with comments from critics he inspired.
Filmmaker, actor, and opera director Patrice Chéreau passed away this week from lung cancer. He was 68 years old. His breakthrough film, Queen Margot (1994) with Isabell Adjani, earned him the Jury Prize at Cannes, and he won the Cesar for Best Director for Those Who Love Me Can Take the Train (1998). As an actor, he appeared in Andrzej Wajda's Danton (1983) and Michael Mann's The Last of the Mohicans (1992), among others. Ronald Bergan at The Guardian.
French actor Daniel Duval appeared in films by Bertrand Tavernier (Let Joy Reign Supreme, 1975), Francois Ozon (Time to Leave, 2005), and Michael Haneke (The Time of the Wolf, 2003, Caché, 2005) among others, as well and writing and directing his own films. He died at age 68. Thanks to David Hudson at Keyframe for spotting this in the European press.
Carlo Lizzani worked with Roberto Rossellini on Germany Year Zero (1948) and Giuseppe De Santis on Bitter Rice (1949), where he was nominated for an Academy Award, before turning director in his own right, directing nearly 70 films and earning the David di Donatelli award for Best Director for Bandits in Milan (1968) and Best Screenplay for Celluloide (1996). He died at the age of 91 after a fall from the balcony of his home. More from BBC.
Kumar Pallana, the entertainer once known as Kumar of India who became a distinctive member of the Wes Anderson universe in the films Bottle Rocket (1996), Rushmore (1998), The Royal Tenenbaums (2001), and The Darjeeling Limited (2007), passed away at the age of 94. His Anderson appearances led to roles in other films as well, including The Terminal (2004) and Another Earth (2011). Josh Modell remembers his legacy at the A.V. Club.
Seattle Screens
Visit the film review pages at The Seattle Times, Seattle Weekly, and The Stranger for more releases.
View complete screening schedules through IMDb, MSN, Yahoo, or Fandango, pick the interface of your choice.
The weekly links page is compiled and curated by Bruce Reid, with obituaries and Seattle Screens curated by Sean Axmaker, and other contributions from friends of Parallax View.