The wealth of good writing on Alan Dwan this year is increased by Imogen Sara Smith's perceptive reading of the late quartet of Silver Lode, Tennessee's Partner, Slightly Scarlet, and The River's Edge. Other highlights of the new Bright Lights Film Journal range from Gordon Thomas's consideration of Lang's Die Nibelungen as an epic that gains much of its strangeness and wonder by adapting more than just its nominal source to Michael Betancourt's good case for considering Eugenio Lardani's credit in the titles he designed for The Good, the Bad, and the Ugly as a witty little statement of purpose.
"We can trace a similar theme through the highpoints of most of Ford's hundred-and-more films: characters staring into space, after people who have gone, or are leaving, or are right in front of them. These are beautiful images, compelling. Always there is alternation of community and privacy, and the intolerance, the racism, the nonrecognition of our neighbor." One of the best of all articles on John Ford has turned up on the web:  Tag Gallagher's 1993 "Angels Gambol Where They Will: John Ford's Indians," which magisterially explains, without excusing, the director's racist limitations as part and parcel of his devotion to myth. Via Girish Shambu.
"To regret not seeing a horse break its leg while all the dramatic tension on the verge of breaking a moment later is concentrated right before our eyes between Cotton and Bergman is a very infantile conception of cinema." Kino Slang hosts Ted Fendt's translation of a 1950 article about Under Capricorn written by Jacques Rivette. Needless to say, his thoughts on the long, roaming camera takes are of particular interest.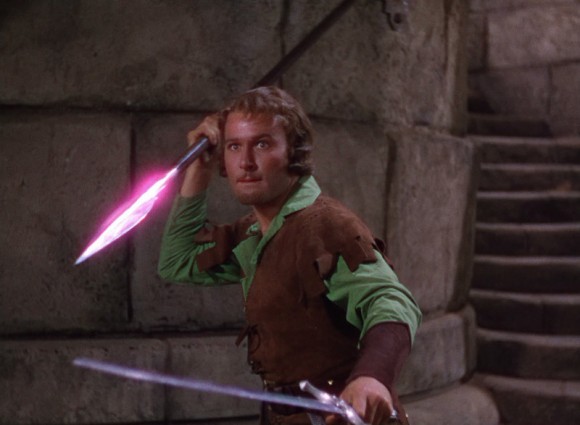 Introducing the five early Fassbinder films just released by Criterion (Love Is Colder than Death; Katzelmacher; Gods of the Plague; The American Soldier; Beware of a Holy Whore), Michael Koresky captures both the breathless fecundity of Fassbinder's beginnings and the steady maturation of his style they demonstrate. In his other regular gig, for the Sundance blog, Koresky considers three uses of Technicolor from 1938.
Welles's camerawork in The Trial, Calum Marsh argues, isn't just an auteur asserting himself (although yes, it's that too), but an ingenious way to make "a movie about mental space…that looks like a movie about a huge, indomitable world, one a man could get lost in."
Few film writers are better than Dan Callahan at crystallizing the special appeal of actors who deserved better breaks. This week delivers two delights. For RogerEbert.com he remembers Julie Harris as one of the stage's titans, and one of the movies' shoulda-beens: "Harris's voice was somehow burnt to a crisp, as if her oversized feelings had left this voice a scorched earth terrain that could still somehow bear all the emotional fruit she would need for the winter and beyond." And at The Chiseler he celebrates Beverly Michaels, and her uniquely hard-luck burn-out of a femme fatale in Wicked Woman: "And then the theme song starts again on another bus, and Billie smiles a little-girl vamp smile at a dirty and dumb-looking guy, and at this point you don't wonder why some people need to drink themselves to death."
Since there are few triumphs as small-scale but undeniably cheerful as exiting on your own terms, congratulations to Philip French, retiring in this, his 50th year of writing film criticism. The Guardian offers both French's response to reader questions and a collection of tributes by filmmakers.
Pretty much every art form has been declared on its death's bed at some point. 25 years ago the sorry patient was avant-garde film, certainly on its way out according to a series of articles by sympathetic observers such as P. Adams Sitney, Fred Camper, and J. Hoberman. Inspired by Paul Arthur's recent book on the still-thriving community, "A Line of Sight," Making Light of It posts some of these end-of-days articles; a helpful reminder to any current doomsayers that a little historical perspective can't hurt. Via David Hudson.
"There is a bakery in Sussex that I have found (through great trial and error, of course) that makes small, crusty loaves which are perfect for making French toast. Not many people know about this bakery, and I would like to keep it this way (please see the confidentiality agreement attached to this memo)." Also spotted by Hudson, McSweeney's Chris Okum offers An Excerpt From Some Instructions To The New Guy Concerning The Preparation And Presentation Of My French Toast, By Stanley Kubrick.
Discussing three scenes from The Grandmaster with Bilge Ebiri, Wong Kar-wai talks less of choreography (though he has insights there as well) and more of exactly what you'd expect: the draw of memory, crafting a sense of loss, the many ways to film weather.
"Critics and university people can say what they like about the Catholic symbolism in [Hitchcock's] films. What really motivated him was "How can I make ten million dollars with one million?" In my view, that's the American system." I don't think there's that much difference between 1982 De Palma and 2013's version; but different interviewers set their own agendas. So his 30 year old sitdown with Cahiers du cinéma's Serge Daney and Jonathan Rosenbaum (posted, with its introduction newly translated, by David Davidson) has a sharper political edge than his interview with Film Comment's Margaret Barton-Fumo, which positions him as more the old pro taking stock. ("The [negative] perceptions are rather fixed. It's always "sleazy." This is one thing I would never say about this movie. These girls look great, the locations are fantastic, the clothes, the shoes—what is sleazy about this movie?") More continuity comes from what Cahiers cites as one of De Palma's unique qualities: "showing the pleasure [he has] in making films," which shines through in both interviews above and his walking Nicolas Rapold through some of his old films. "Strangle, strangle, strangle, strangle…. The nightmare never ends."
"Seventy-seven stories above the street, no guardrails, no windows, completely exposed on all sides. It was like a platform, really. A platform in space. And if you stepped off the platform, that was the end of you. You'd go flying down into the street. So it was a hairy place to shoot a movie. But we couldn't afford to build the top of the Chrysler Building, so we had to do it at the real place!" Larry Cohen and some of his cast—including (from a 2008 interview) David Carradine, but not, of course, Michael Moriarty—look back at the making of Q for The Dissolve's Will Harris.
"Thy voice was a censer that scattered strange perfumes, and when I looked on thee I heard strange music." Al Pacino talks to Ron Rosenbaum about his methodical, exploratory process, as both an actor (which led to his controversial recent onstage turn in Glengarry Glen Ross, every performance of which Pacino treated as a rehearsal, regardless of how his castmembers saw it) and director (whose small, fascinating oeuvre will soon be expanded by two movies—a filming of Wilde's Salome and a Looking for Richard-style documentary about the production—six years in the making).
Cinema owner and film distributor Jean Desmet was no more concerned with art or less interested in money than any of his contemporaries in the Netherlands; but he was something of a fanatical packrat, so by the time he died in 1956 he'd amassed a collection of several hundred films and over 2,000 posters. 850 of the latter, Dutch movie posters from the period 1907 to 1916, have recently been made available at European Film Gateway, a delightful collection worth strolling through at leisure. Via Luke McKernan.
Video: At Ubuweb, a 1967 documentary about Gruppo di Improvvisazione di Nuova Consonanza, the avant-garde free improv collective featuring film composers Ennio Morricone and Ivan Vandor (and Frederic Rzewski, for the piano enthusiasts among you).
Obituary
Julie Harris passed away this week at the age of 87. She was Oscar-nominated in her screen debut for Member of the Wedding (1953), played opposite James Dean in East of Eden (1955), where Kazan praised her for centering and calming the anxious Dean, was the original big screen Sally Bowles in I Am a Camera (1955), and starred in Requiem for a Heavyweight (1962), The Haunting (1963), and The Bell Jar (1979) among many others, but was much busier on television, where she starred in scores of television plays and TV movies, guest starred on numerous shows, co-starred on the nighttime soap Knots Landing for years, and was nominated for eleven Emmy Awards, winning twice. Yet the stage was her home and she was the most decorated performer in the history of Broadway, with five Tony Awards for Best Actress from ten nominations (the first performer ever to do so) and a special Tony of Lifetime Achievement. She was American acting royalty. More from Bruce Weber at The New York Times.
British-born cinematographer Gilbert Taylor, who died at the age of 99 this week, worked most of his career in his own country, where he made an enviable career. His filmography spans from shooting Dr. Strangelove (1964) and A Hard Day's Night (1964) for a couple of American transplants to Roman Polanski's first English language films, Repulsion (1965) and Cul-de-Sac (1966), to Hitchcock's first British film in decades Frenzy (1972), to a little thing called Star Wars (1977), shot in British studios and locations around the world. He started with low-budget British programmers, and his career also includes a bunch of episodes of The Avengers and two handsome horror films of the seventies: The Omen (1976) and Dracula (1979). More from Ronald Bergan at The Guardian.
Russian cinematographer Vadim Yusov shot four features for Andrei Tarkovsky, including Ivan's Childhood (1962), Andrei Rublev (1966), and Solaris (1972), and four features for Sergei Bondarchuk. He passed away at the age of 84. Again, Ronald Bergan at The Guardian.
Seattle Screens
Visit the film review pages at The Seattle Times, Seattle Weekly, and The Stranger for more releases.
View complete screening schedules through IMDb, MSN, Yahoo, or Fandango, pick the interface of your choice.
The weekly links page is compiled and curated by Bruce Reid, with obituaries and Seattle Screens curated by Sean Axmaker, and other contributions from friends of Parallax View.