In 1927 Alla Nazimova added publicly available apartments to her private estate the Garden of Alla; only a year later, fortunes diminished, the actress sold them to a company that slightly altered the name. For years the Garden of Allah was a favorite site for assignations both sexual ("Photographs of female stars wearing trousers or in athletic poses, or of male stars like Cary Grant and Ronald Coleman in their pyjamas breakfasting together, suggested, to those who were paying attention, that there was more than one way to live, one way to be.") and political ("here, too, that Frederic March gathered its residents to watch a screening of The Spanish Earth…and solicited $1,000 towards the cost of ambulances in Spain from each of the guests"); making it for Kate Webb the perfect embodiment of the emigrant-driven louche cosmopolitanism of '30s and '40s Hollywood, till you-know-what came along and shut the whole damned party down. Via Anne Helen Petersen.
Eleven years after what was arguably the first mumblecore film, eight years after the movement was ironically named, and several years after many seemed to stop caring (remember Paul Schrader praising Lena Dunham for the grand innovation of using a tripod?), mumblecore seems to have finally found its breakout moment. At least enough to prompt two attempts to track the connections of a group of filmmakers who actually have far less in common than their many collaborations would indicate. At Grantland Karina Longworth uses Drinking Buddies's Joe Swanberg as her nexus; while EW's Clark Collins, inspired by Adam Wingard's You're Next, draws his web via mumblecore horror films.
In his usual method of examining three contemporaneous films and then extracting from them the larger picture of the period, Michael Koresky looks back to 2017, and finds a trio of underrated masterpieces—Tarantino's Stonewalled!, the Wachowski siblings' Orlando-meets-the-digital-age mashup Big Magenta, and of course James Franco's shot-for-shot remake of The Sixth Sense—from a year often dismissed as weak for movies.
John Bailey considers the contradictions of John Ford, the most significant for Bailey being the old master, barely putting up with an inexperienced film crew during an interview, gently hazing the young camera assistant before allowing him to pocket a treasured souvenir of the day.
Max Nelson does a fine job unpacking how both elements in Hollis Frampton's lovely Gloria!, its silent-film footage of Finnegan's Wake bookending the bare computer text of memories of Frampton's grandmother, interact to play with "the logic of the movies, which remind us of the temporal distance separating us from their subjects even as they make the past seem like something tangible and close." Via David Hudson.
"Klimowski once told me that the skill of a Polish poster artist was when—not having a pair of scissors to make a collage—didn't stop you; you simply tore the paper with your hands and used the rough edge of the tear as a strength. You didn't apologize for it. You made it an asset." Also spotted by Hudson, Michael Guillen posts an informative (and needless to say marvelously illustrated) lecture on the history of Polish poster art by Daniel Bird, given at an exhibit of the work of Barbara "Basia" Baranowska.
And let's make it a trifecta of Hudson finds with Jordan Schonig's sympathetic reading of Werner Herzog's transcendent intentions for his much-derided video installation Hearsay of the Soul.
"I just don't like to think of people unprotected." "Yes, well, it's best not to." Ben Sachs finds Ulzana's Raid something of a culmination of Aldrich's career-long effort to make populist cinema on his own, politically charged terms.
Kevin B. Lee's video essay and accompanying text salute radical filmmaking not just as a history—a series of (often brave) direct observation and unapologetic activism from Ivens to Solanas and Getino to Watkins—but as a still vital force, however much the real deal (he insists) shouldn't be confused with the bogus "nostalgia trip[s]" of Tarantino and Assayas.
Speaking of Ivens, he's one of several intriguing names Ed Carter discovered on an evocative little bit of ephemera: the 3 x 5 card detailing the rental history of the Academy's copy of the 1941 documentary Churchill's Island.
Jim Beaver (who ought to know) considers one secret of Elmore Leonard's success with cinematic adaptations is how marvelously his sentences roll off actors' tongues.
One can pore over Woody Allen's tongue-in-cheek 1965 CV for ironic portents—they're there if you want them, goodness knows—but the major impression it leaves is the same one Allen's always given off:  the faux-indifferent helpless nebbish who's secretly the hardest working guy in the room.
"You have to adapt, but that's the story of cinema. It's always trying to reinvent itself, trying to find this primitive power of cinema. It's lost, in the wild, and you have to reinvent it all the time, find out its power again." Peter Howell provides the typically gloomy yet still idealistic thoughts of Leos Carax, in a transcript of a post-screening Q & A from Toronto.
"The one thing [my dad] said that really impressed me was, 'You're not gonna be free to dance your funny dance in this project.' Dance your funny dance… So when you come up against that, you know that you have a problem. You won't be as good as what you know so well because you're doing something you shouldn't be doing, maybe. Maybe." Chris Nashawaty seems to be selling his excerpts from a 2009 interview with Jerry Lewis as the first time the director has gone on the record about The Day the Clown Cried; that's not remotely true, but it's always interesting to see Lewis struggle with his feelings about his most notorious film. Via Matt Singer.
"Quite a few people have said in interviews, 'Oh, this is a bit darker than the others.' And we've said, 'Well, he does shoot his mum in the head in Shaun Of The Dead.'' Edgar Wright, Simon Pegg, and Nick Frost talk with The Dissolve's Tasha Robinson about smuggling shocks to the status quo into their nominally mainstream comedies. Considerable spoilers for The World's End, by the way.
On the back wall of a "cozy crêperie" in Portland, Oregon, remains the last of several murals painted for a regional Mexican fast-food chain back in the 1980s by Gus Van Sant.
As part of their Satyajit Ray retrospective, the BFI is displaying an exhibit of some of the posters Ray himself designed for his films. Fandor offers a sample. Via Criterion.
A gallery of pages from Guillermo del Toro's sketchbook highlights the dense fecundity of his imagination; and given how closely the dreamings of Pan's Labyrinth and Hellboy II were reflected in the finished product, the glimpses of At the Mountains of Madness are only that much more tantalizing. Via Tor.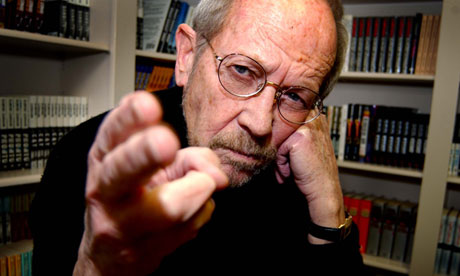 Obituary
Elmore Leonard, the man Stephen King called "the great American writer" and the tireless author of western and crime fiction just made for the American screen, passed away at 87, three weeks after he suffered a stroke. Among the (too many to count) movies based on his stories and novels: The Tall T (1957), 3:10 to Yuma (1957 and 2007), Hombre (1967), 52 Pick-Up (1986), Get Shorty (1995), Jackie Brown (based on "Rum Punch," 1997), Out of Sight (1998), and the TV series Justified (2010-present), on which he also served as an executive producer. He also wrote a few screenplays of his own, among them Joe Kidd (1972) and Mr. Majestyk (1974). David Hudson collects the obituaries, remembrances, and tributes at Fandor Daily.
Ted Post, who directed Clint Eastwood in Hang 'Em High (1968) and Magnum Force (1973), as well as in episodes of Rawhide, died this week at the age of 95. His career as a director spanned nearly sixty years, with hundreds of hours of television dating back to the early 1950s, including episodes of Medic, Gunsmoke, The Rifleman, Combat!, and The Twilight Zone and the pilot episode of Cagney and Lacey, as well as the cult movies Beneath the Planet of the Apes (1970) and The Baby (1973) and the Vietnam movie Go Tell the Spartans (1978). Mike Barnes at The Hollywood Reporter.
Seattle Screens
Visit the film review pages at The Seattle Times, Seattle Weekly, and The Stranger for more releases.
View complete screening schedules through IMDb, MSN, Yahoo, or Fandango, pick the interface of your choice.
The weekly links page is compiled and curated by Bruce Reid, with obituaries curated by Sean Axmaker, and other contributions from friends of Parallax View.