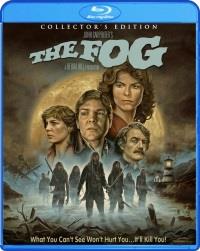 The Fog (Shout Factory), John Carpenter's follow-up to his breakthrough hit Halloween, isn't among the director's best films, but it is one of his most gorgeous.
Carpenter and his producer / co-writer Debra Hill wanted to make an old-fashioned ghost story, something spooky and eerie, rather than another slasher movie (not that "Halloween" is just a slasher movie, but that's how the industry saw the film and the director). So they came up with a story about a hundred-year-old curse involving an island leper colony, a fortune in stolen gold, and an act of genocide covered over in a story that has become legend in this fiction California coastal town. Jamie Lee Curtis plays a hitchhiker who stops over on the 100th anniversary (that's bad timing), her mother Janet Leigh plays the local civic leader, Tom Atkins is a fisherman who picks up Curtis (in every meaning the term), and Hal Holbrook is a boozy priest who uncovers the curse, but the hero of this one is actually Adrienne Barbeau, a single mom and evening deejay in a lighthouse booth who goes on the air to give fog reports like traffic updates.
You can see Carpenter reaching for a larger canvas, incorporating more characters and storylines, crosscutting and weaving story arcs. And you can see the appeal of an old-fashioned ghost story played without gimmicks, although he ultimately has to compromise his original concept. When he tested the finished film, where the fog itself was the monster and no murders appeared on screen, he found that his campfire tale was more soggy than scary. It simply didn't work and he didn't need studio prodding to bring back the cast and toss in ghost pirates and a series of murders. (Carpenter and Hill discuss this in a commentary track they recorded a decade ago, included on this release.) It still isn't particularly scary or compelling, the performances are variable, and the dialogue seems to mark time between money shots.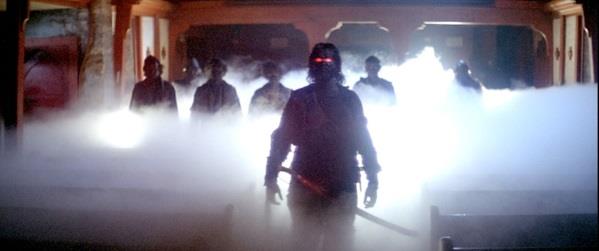 But it is a beautifully shot film, with the fog coming alive and taking over the frame like a creature in its own right. Carpenter and Dean Cundy were the low-budget masters of composition and lighting of their time and this film is an exemplary case, creating compelling shots even when the drama itself is weak. As in Halloween, Carpenter and Cundy shoot in Panavision and fill the sides and backgrounds with shadows and empty spaces "where evil can inhabit," as Cundy describes in an accompanying interview. The monsters don't come from outside of the frame or hide behind objects. They arise from the darkness (or, in this case, the empty white of the fog) itself, materializing as if they have always been there. In its own way, The Fog a quintessential Carpenter horror.