The unofficial campaign to make Allan Dwan the most written-about director on the internet in 2013 gets a fresh push at Movie Morlocks, where R. Emmet Sweeney presents the first of a series celebrating his work with actors in the silent era, from staging one of the cinema's first tracking shots to record William H. Crane's waddle to celebrating Douglas Fairbank's "easy athleticism."
Michael Glover Smith gathers a few good reasons to agree with his selection of Richard Linklater as the director of his generation; the most quietly compelling being that Linklater displays all the necessary cinephile bone fides while making films enthralled by the vagaries of life, not just other movies. Via Adam Cook.
The new issue of the bilingual journal Cinema Comparat/ive Cinema has as its central topic the '60s; an impossibly broad topic that in practical terms means is defined as what France was up to. Peter van Bagh and Miguel Marías's dialogue recalls the heady rapture of those days for a cinephile, at a time when the old classicists and new rebels were both creating at a feverish clip; speaking of rebel voices; Marcos Uzal traces the divergent paths taken by the New Wave directors; and an interview with Bernard Eisenschitz describes the changes at Cahiers du cinema as the decade dribbled close. Another interview highlight comes from David Phelps sitting down in a movie lobby with Ken Jacobs and his wife Flo for reminiscences mostly autobiographical (and fascinating), but that can turn on a dime to Israeli politics or the semiotics of the TCM sets.
"I promise! I'm much better now!" Producer Stuart Cohen recounts the extensive salvage job John Carpenter performed on the first cut of The Thing—streamlining the narrative, providing a central hero, and cutting to the bone with a ruthlessness worthy of any of his antiheroes.
David Bordwell's entirely right: going through Lau Kar-leung's filmography—appreciating the dazzling use of movement, the encyclopedic range of fighting styles ("a sort of audiovisual database of the entire Chinese wuxia tradition"), and his welcome sense of humor—he emerges one of the most remarkable directors of the '70s and '80s.
"Timing in comedy is not like rational time. When the actor gives his reply, he hasn't had the physical or mental time to assimilate the previous line, but he has to deliver his reply at full speed. No one is going to wonder if he's understood what was being said to him." Pedro Almodóvar offers his tips on filming comedy, and a runthrough of some of the masters of the genre. Via It's Nice That.
Surveying ten of the year's top-grossing films from countries other than the US—including a Polish expose of corrupt traffic cops and a coming-of-age film set against the backdrop of Singapore's mandatory military conscription—Vadim Rizov reminds you that even when it comes to blockbusters, we're a wildly more diverse audience than some would like you to believe. Spotted by The Siren.
Toward the end of his profile of Paul Muni, John Strausbaugh races through the Hollywood career; which is fine, because what's of interest here is his portrait of the Yiddish theater, where the teenaged Muni specialized in alter kockers and played 300 roles before speaking a word of English onstage.
Filmmaker IQ, which endeavors to set itself up as an online film school, presents a handy two-part survey of aspect ratios, charting both their history and some of the aesthetic considerations that can go into composing for them. A handy reference (complete with video) even for those who've skimmed right past every debate about Kubrick's video releases. Via John Wyver.
In a 1989 article excerpted from his new collection, Peter Rainer considers Seize the Day, and what the movies have missed out on by not adapting Bellow. Also at the LA Review of Books, Kim Morgan affirms her wonder at Marilyn Monroe, growing in wonder still more than 50 years after her death: "Ubiquity may cause some to take Marilyn for granted, or even to become tired of her, but it will never, ever diminish her."
"Mike once told me being onstage was the only place where he could be as angry as he felt and it was still acceptable." Christopher Borrelli's profile of Michael Shannon suggests an actor so canny about tending to his image—Jeff Nichols notes Shannon's accent varies depending on whom he's talking to—it might be pointless to wonder about the real guy.
"If you're a girl and you don't fit the very specific vision of what a girl should be, which is always from a man's perspective, then you're a little bit at a loss." Ellen Page's feminism, here displayed in an interview with Hadley Freeman, is like her acting: direct, unapologetic, and regrettably unique among her peers.
Dot Graphics, a design firm based in Denver, produced some of the finest posters Janus Films ever had, as Sam Smith explains and as his dozen selections ably demonstrate. Also at Criterion, Michael Koresky offers brief but astute admiration for Patsy Kelly, whose achievements began way before and go far beyond practically lifting Rosemary's Baby away from Farrow, Cassavetes, and Gordon.
"Texas is a big state." "I can handle it." At The Edit Room Floor, a nice collection of photos from the day Sam Peckinpah, Steve McQueen, Ali MacGraw, and crew took over the streets of Fabans, TX, to stage a narrow escape in The Getaway. Via Cinephilia and Beyond.
Ehsan Khoshbakht and illustrator and co-writer Naiel Ibarrola offer marvelous comic celebrations/critiques of their five favorite jazz films, the panels in each set to the rhythms of its source, the colors a sublime mix of profound blacks, heartbeat reds, and cool, sparkling blues. Via Girish Shambu.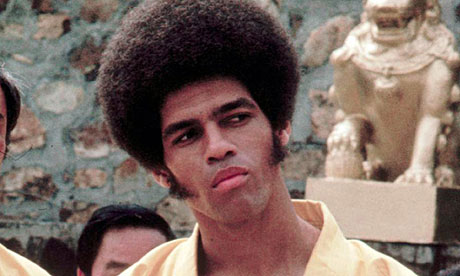 Obituary
Jim Kelly, martial art champion turned seventies action movie star in Enter the Dragon (1973), passed away at age 67 after a struggle with cancer. The black belt karate expert went on to star is such films as Black Belt Jones (1974), Three the Hard Way (1974), and Black Samurai (1977) and then went on to a career in professional tennis. Ben Child at The Guardian recalls his legacy.
British-born animator John David Wilson began in the art department of Pinewood Studio, working on such films as The Thief of Bagdad (1940) and Great Expectations (1946), went stateside to work in the animation department at Disney on such films as Peter Pan (1953) and Lady and the Tramp (1955), and formed Fine Arts Films, which produced numerous shorts and commercial projects, including the trailer for Billy Wilder's Irma La Douce (1963) and the animated opening sequence for Grease (1978). He passed away in a nursing home Blackpool, England, at the age of 93. More from The Hollywood Reporter.
Seattle Screens
Visit the film review pages at The Seattle Times, Seattle Weekly, and The Stranger for more releases.
View complete screening schedules through IMDb, MSN, Yahoo, or Fandango, pick the interface of your choice.
The weekly links page is compiled and curated by Bruce Reid, with obituaries curated by Sean Axmaker, and other contributions from friends of Parallax View.