So many collaborative projects on the internet come out piecemeal, dribbled out over several weeks and spread across half-a-dozen websites. None of that for Gina Telaroli and David Phelps, who have followed up their previous Dossier on Wellman with an equally exhaustive one dedicated to Allan Dwan, and present it to you in one glorious package. Free for download right now, 46 articles, with only five reprints, from writers such as Ted Fendt, Fernando F. Croce, R. Emmet Sweeney, Cullen Gallagher, and Farran Smith Nehme, exploring one of the finest and longest careers in Hollywood. Currently the articles are all in their writer's original languages; English and (courtesy of project host LUMIÈRE) Spanish language editions are forthcoming.
But even with that bounty you can never get enough Dwan. Richard Brody has some good thoughts on how the density of the director's social and psychological observations give his outbursts of violence a "strange, removed side."
Speaking of great westerns, one of the genre's best but relatively unheralded director/actor pairings gets some attention, as Nick Pinkerton salutes three marvelous films made by that two-man band of outsiders, Robert Aldrich and Burt Lancaster.
The early films of Ford and Harry Carey, on the other hand, are hardly masterpieces, but unmistakably show signs of a master in the making, argues Bristol Silents's Rosie Taylor.
"His Oscar acceptance speech began: 'If you ever wondered what reflected glory looks like, this is it!' And it went on to remind the Academy of Hollywood's wretched record, destroying 73% of pre-sound films: 'By God, your predecessors did a terrible job of preserving the silent era!'" The Guardian's Philip Home offers an introduction to Kevin Brownlow's body of work.
"The lord's on my side, Mr. Dillert." "So, you finally got here, Dave. It sure took you a long time." C. Jerry Kutner traces the many journeys to Hell (and, often but not always, back) in Minnelli's films.
The quote above courtesy of Richard Linklater's favorite Minnelli, as he explains in another excerpt (after Del Toro last week) from Robert K. Elder's The Best Film You've Never Seen.
Daniel Eagan previews Mostly Lost, a three-day film festival at the Library of Congress where audiences are encouraged to use their smart phones and tablets during the screenings, and even shout things out in the theater, since the goal is to identify mislabeled and otherwise unidentified films. Via Luke McKernan.
"Well, your objections have been duly noted and summarily overruled." Calum Marsh does a better-than-you'd-expect job validating the one film even Paul Verhoeven's fans can't muster much enthusiasm for, Hollow Man. Spotted by David Hudson.
David Bordwell shows how before computer graphics or even complex wire work King Hu was able to achieve dizzying effects with simple jump cuts.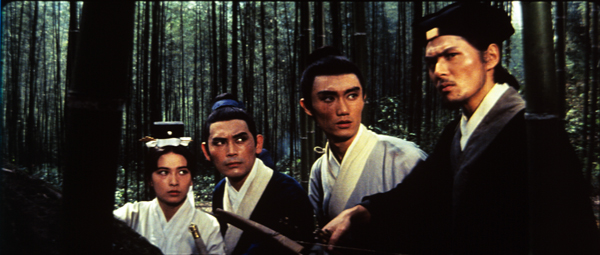 "All or nothing. It is difficult to imagine the battles that we fought in those comparatively recent years, not simply for auteurism or semiotics, but for cinema itself." To celebrate a new edition of Peter Wollen's Signs and Meanings in the Cinema, Sight and Sound publish excerpts from a 1997 self-interview where Wollen explores some of the changes in his outlook since the book's first publication.
The above courtesy of Girish Shambu, who posts his usual fine collection of links along with some pertinent questions about the silly buzzword du jour, Vulgar Auteurism. Shambu raises good points, but the deathblow was already dealt by Matt Zoller Seitz (about whom more below.)
Charles Gemora was a legendary make-up artist, designer, and prop artist, but as Jim Knipfel relates, his everlasting claim to fame will be his 26-year run as "The Gorilla Guy."
"Not many people have basements in California." "I do." In their first of a new series for Arch Daily, Interiors writers Mehruss Jon Ahi and Armen Karaoghlanian lay out how David Fincher combines a comprehensive sense of space and an infatuation with the latest technology in scenes from his three latest theatrical releases.
Will Harris reminds us than in between the two Tanner series, Robert Altman and Garry Trudeau collaborated on Killer App, a drama about internet start-ups whose pilot was not only passed on by Fox, but never even aired.
"[Rocky] was a really big deal to me. I told my mom, 'I want to be a boxer.' She said, 'No, no, no—you want to be a writer—Rocky also wrote the movie!' I went out running a couple of mornings to be like Rocky and I thought, 'Fuck this—I'll take my mom's advice and write.'" Lynn Hirschberg's interview with Paul Thomas Anderson reveals an artist more and more enveloped in the past (the TV kept on TCM, a car radio tuned to "Hits of the '40s") as he makes his way forward. Via Movie City News.
The Guardian's Ewen MacAskill interviews Gail Sistrunk McTiernan on how her husband John is faring two months into his year-long prison sentence. Sadly, not terribly well.
Another beautiful find from Adrian Curry; this time, designer Burton Rice, whose lovely illustrations graced the posters for Universal's "artistic division" Bluebird Photoplays back in the late teens. (Curry passes along some interesting information about the studio as well, which seems to have been mostly forgotten everywhere except Japan.)
Adrien Parlange's Cinema.jpeg project snatches generic images from the web as funny stand-ins for famous movies:  Corn, a plane, and a running man for North by Northwest; a dozen random angry men for, well, you get the idea. Via It's Nice That.
It's been 80 years since auto-parts dealer Richard Hollingshead Jr. figured out a way to allow his large-sized mother to view movies even though she was too ample to sit in theater seats, adopted the system for audiences, and invented the Drive-In Movie. Life offers a gallery of shots taken over the years in celebration.
Gavin Aung Than's comics charmingly illustrate inspirational passages; his latest comes from Roger Ebert's autobiography. Passed along by Matt Zoller Seitz, in his new capacity as editor-in-chief of RogerEbert.com; for which, all due congratulations.
Video: Also courtesy of Seitz, Drew Morton's video essay on Kubrick's erasure of Jack Torrence's free will in The Shining is not only a fine example of the form, but a reminder of what Room 237 could have been.
Obituary
Esther Williams, MGM's million dollar mermaid star of water ballet musicals, passed away this week at the age 91. A champion swimmer whose Olympic hopes were dashed with World War II, she was discovered by MGM while performing in Billy Rose's Aquacade with Johnny Weismuller. The athletic actress appeared in over a dozen aquatic-themed films for the studio, and periodically in non-swimming roles, for MGM before retiring from the screen for good in the early 1960s. Aljean Harmetz revisits here career and legacy at The New York Times. More from David Hudson at Keyframe Daily.
For most people, actress Jean Stapleton remains inseparable from her defining creation, Edith Bunker on Norman Lear's All in the Family, but she had a long career on stage and screen (including roles in the stage and screen musicals Damn Yankees! and The Bells are Ringing) before the show and continued long after. The AP reports here.
French actress Françoise Blanchard, who played the lead in Jean Rollin's Living Dead Girl and appeared in other films by Rollin and Jess Franco, died at the age of 58. Via Tim Lucas.
Jean Bach, the jazz aficionado who made the documentary A Great Day in Harlem, passed away in her Manhattan home at the age of 94. Elaine Woo at Los Angeles Times.
Hindi actress Jiah Kahn died of apparent suicide at the age of 25, reports Times of India.
Seattle Screens
It's the final weekend of SIFF, which winds up with a focus on African cinema and the closing night gala The Bling Ring. Parallax View's coverage is here.
Visit the film review pages at The Seattle Times, Seattle Weekly, and The Stranger for more releases.
View complete screening schedules through IMDb, MSN, Yahoo, or Fandango, pick the interface of your choice.
The weekly links page is compiled and curated by Bruce Reid, with obituaries and Seattle Screens curated by Sean Axmaker, and other contributions from friends of Parallax View.