"Every Democrat who has presidential ambitions is now going to beat a path straight for Jeffrey's door. Or they're too dumb to be president." Reporting on the fund-raising monster that is Dreamworks's Jeffrey Katzenberg, Mother Jones's Andy Kroll dutifully reports the official line that Katzenberg doesn't ask for any returns on his investment while also making perfectly clear how pliant the Obama administration has been to Hollywood's concerns. Via Longform.
Then again, Katzenberg's pleas for money from the next wave of Hollywood power players may fall on ears deaf to Democratic requests, should any of the animators studios have recruited from Brigham Young University rise through the ranks to moguldom. As Jon Mooallem reports, their work ethic and mature expectations have made quite the impression, and they're already family-friendly by default.
Thomas Doherty's new book, Hollywood and Hitler, 1933-1939, arguing that business interests and political intimidation combined to assure the American movie industry let Germany's descent into horror proceed without comment, has received rave reviews thus far, including Dave Kehr in the NY Times and Christopher Bray in the WSJ. All well-deserved, based on the powerful excerpt available at Pop Matters detailing Carl Laemmle's idealistic, internationalist hopes for Milestone's All Quiet on the Western Front, and the brutal rejection it received in Berlin, a gleeful Goebbels leading brownshirts in chants against the "Judenfilm."
"You don't know whether you're watching Robert Mitchum thinking, 'Here I am making another crummy movie' or watching his character thinking, 'Here I am living this crummy life, and nothing makes any sense, but I don't even care.'" Part two of Imogen Smith's profile of Robert Mitchum has arrived, with particular focus on his RKO contract years.
Honestly, from what I've read Michael Atkinson is a bit behind the curve arguing for Pre-Code to be considered a genre; but he makes his case enjoyably enough.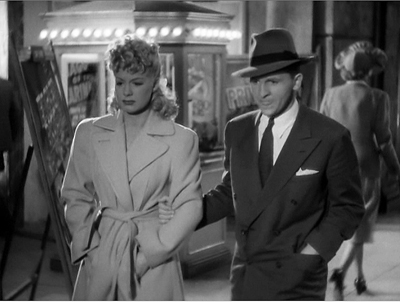 Jokes buried in the background of a Preston Sturges film? Hard to believe, perhaps, but David Bordwell has nonetheless found a few, courtesy of The Miracle of Morgan's Creek visit to the movies.
After a sad little encounter with a woman on the streets, the Siren does a grand job filtering the experience through a variety of film styles, and interpreting the behavior accordingly.
Proving once again that tracking origin stories is a fool's game, David Kalat admits he has to rewrite his understanding of movie history when a Harold Lloyd marathon turns up the oldest version yet of the mirror bit made famous in Duck Soup.
So many dispatches from Cannes stay on ground-level with the critics; following James Gray around, Manohla Dargis gives you the festival view as experienced by a celebrity (well, at Cannes) director.
On his blog screenwriter Doug Richardson shares the time he had a meeting with John Frankenheimer, old and hungry but still wry. (Though it's accurate that all parties, including Frankenheimer, would have viewed his then-current TV phase as an embarrassing exile, it would have been nice to have his work in the medium acknowledged as a rather remarkable late blooming.) Via Movie City News.
Natalie Elliott's marriage isn't yet a year old, and there she and her husband are in Italy trying to maneuver their still-forming union in a foreign land. Fortunately she's seen some movies on the subject to guide her way. (Equally fortunately, The Comfort of Strangers is not among them.)
The New Yorker's Larry Buchanan, Michael Guerriero, and Nick Traverse provide a fun visual display of the profitability of movie franchises, from behemoth Bond to little-engine-it-turned-out-couldn't Chronicles of Narnia.
If you somehow never snatched up a copy of editor Jerome Agel's once-ubiquitous The Making of Kubrick's 2001, Cinephilia and Beyond has got you covered.
"Life is very simple for most people. It becomes so routine that everybody wants to escape his environment." The marvelous two-step of a Howard Hawks interview, sidling up to profundity then pretending to shoot it down with pragmatic recourse to good business sense or simple story-telling, is on full display in one of his best: Andrew Sarris's translation of the director's 1956 sitdown with Cahiers du Cinéma's Rivette, Truffaut, and a visiting Jacques Becker; posted by David Davidson.
"A movie is a sum of compromises until you grow into your own independence…. It's very obvious in The Incredible Hulk. The first half of the movie is really mine and the second half is the studio's expected Hulk movie—two giants kicking each other's ass." Louis Leterrier is so frank and amusing on his previous Hollywood experiences, I'll just let slide his assurances to interviewer Mike Ryan that working on Now You See Me was nothing but a delight.
"It is like a nightmare—it's like you're in a dream and your communication with the outside world has been turned off." Abbas Kiarostami is talking about working through translators, but The Hollywood Reporter's Clarence Tsui makes it clear the director's anxiety relates to Iran as well—not that he'd ever talk about that.
"What is at stake is the soul of the person. He's not going to be destroyed physically; he's not going to be chewed. He may be murdered in a ritual, but the main fear you have is for the soul of this guy, and that is very close to the stuff I like." In an excerpt from Robert K. Elder's The Best Film You've Never Seen—which interviews a number of directors about precisely that—Guillermo Del Toro sticks up for the erudite, aestheticized horror of Avati's Arcane Sorcerer.
"[T]he truth was when we saw the costumes that he actually wore, they stymied our imagination because we would never have enough money or time to recreate them." Interviewed by Kristin M. Burke, Behind the Candelabra Costume Designer Ellen Mirojnick gives a good idea of the unique challenges involved in dressing up a movie about Liberace in a way that maintains the characters' dignity.
"Why does every city have to be in the rain? What's wonderful about getting wet?" Roland-François Lack breaks down Midnight in Paris's prologue, showing all (I mean all) the echoes and pairings from later in the film that make Allen's fantasy what Lack calls Tourist cinema:  one that "travels in order to confirm the authenticity of the pre-formed image it already had of its destination."
Life reprints a 1942 picture story on the hazards of wartime gossip; a project requested by Roosevelt's press secretary, photographed by Eliot Elisofon, and "directed," cameo included, by Alfred Hitchcock.
Obituary
Filipino director Eddie Romero is legendary among genre fans for the exploitation films that came stateside in the late sixties and seventies, some of them made for Roger Corman, with titles like Mad Doctor of Blood Island and Black Mama, White Mama (the latter with a story co-written by Jonathan Demme). But as David Hudson reminds us at Keyframe, there was much more to his 60-plus year career, and in addition to his native Filipino dramas he was a co-producer on Francis Ford Coppola's Apocalypse Now. He passed away at age 88 after a fight with prostate cancer.
Bengali film director Rituparno Ghosh has won multiple awards in his career, including the Golden Lion at Locarno in 2003 for Chokher Bali. He died this week at the age of 49 after completing principle photography on his latest film, Satyaneshi. BBC gathers some of the tributes being paid to the director.
Seattle Screens
It's weekend three of SIFF and there are plenty of options across the seven screens in Seattle and Kikland, including a gala screening of the documentary Twenty Feet From Stardom featuring two of the featured artists, An Evening with Kyle MacLachlan featuring a screening of the Twin Peaks pilot, and screenings of Ain't Them Bodies Saints and Prince Avalanche with their respective directors in attendance. Parallax View's coverage is here.
Visit the film review pages at The Seattle Times, Seattle Weekly, and The Stranger for more releases.
View complete screening schedules through IMDb, MSN, Yahoo, or Fandango, pick the interface of your choice.
The weekly links page is compiled and curated by Bruce Reid, with obituaries and Seattle Screens curated by Sean Axmaker, and other contributions from friends of Parallax View.