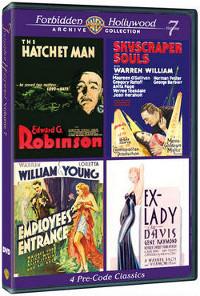 Forbidden Hollywood: Volume 6 (Warner Archive) and Forbidden Hollywood: Volume 7 (Warner Archive) continue to showcase the best, sauciest, and most surprising films made before the Production Code forced Hollywood to clean up the screen. At their best, or at least their most memorable, they flaunted the sexual play of unmarried couples (and worse, the affairs of married characters with other partners), the flagrant boozing at the height of prohibition, and the thrill of bad behavior, which it presented without the requisite lessons learned. And in this case, they saved the best for last. Or at least for seventh.
Forbidden Hollywood: Volume 7 (Warner Archive) is the collection I've been waiting for. It features two of my favorite pre-code discoveries, Skyscraper Souls (1932) and Employees' Entrance (1933), both starring Warren William in his silver fox phase: the big business tycoon who's a shark at work and a wolf with the women, putting the moves on the youngest and prettiest girls around. This is the era of kept women and philandering men and these films revel in his alpha male aggressiveness in the boardroom and on the prowl.
Skyscraper Souls, directed by Edgar Selwyn, stars William as a New York banker and corporate gambler whose financial empire is centered in his beloved 100-story skyscraper (a phallic tower of his power just two stories shy of the Empire State Building), where he not only works but lives in a penthouse apartment. Maureen O'Sullivan is the fresh young beauty he picks out of the secretarial pool to replace his longtime mistress (Verree Teasdale), who is also his personal assistant. He juggles finances the same way he does women, and isn't above lying in either arena, which is why the bank examiners are looking into a dubious loan he made to himself to finance the building.
The pre-code era was famed for its films that pushed the envelope of sex with racy suggestiveness and Skyscraper Souls just oozes with lust and overflows with affairs, but the mercenary business dealings are just as forbidden here. William is a depression-era Gordon Gekko obsessed with building his own empire at any cost. O'Sullivan came to the film fresh from "Tarzan the Ape Man" and her wardrobe is almost as skimpy in a couple of scenes here. But she's no simple innocent sullied, despite William's predatory pressure. Everyone is compromised here.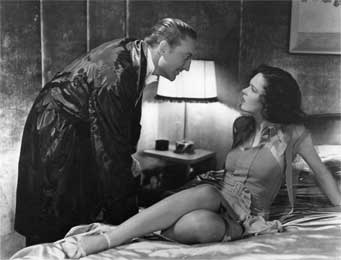 Employees' Entrance (1933) is a perfect companion piece. This one, directed by Roy Del Roy, is set in a metropolitan department store with William playing the manager in the same corporate captain manner — "My code is smash… or be smashed!" he tells the board of directors, and he follows through with a ruthless business code that allows no sentiment — and Loretta Young as the comely model that he dallies with but refuses to commit to. The store is his true mistress and his life. Wallace Ford is the ambitious young clerk with bright ideas who is also wooing Young while William grooms him in his own image. The film packs a lot of conflict and bad behavior (not to mention a stock market crash and a suicide) in 75 minutes. William is both hero and villain, ruining businesses and lives as he cancels contracts and fires employees when they fail to live up to his standards, and he is suave yet ferocious in the part.
These were two of the early "Forbidden Hollywood" releases back in the initial VHS launch and subsequent laserdisc box set, but the disc release has been delayed while new masters were being prepared.
Hatchet Man (1932) offers a crude cross-cultural exchange with Edward G. Robinson playing a Chinese Tong assassin in yellowface and slanted eyes. After dutifully following tradition, he shucks off the old ways and embraces the modern business culture of thirties America, much to the disapproval of the traditionalists (also all Caucasians in make-up). This is a truly paranoid caricature of the Chinatown underworld that somehow equates Tong justice with Buddhism, but it sure has a satisfying shot of revenge in the final act. And Better Davis is a modern woman Ex-Lady (1933) who doesn't believe in marriage but weds her lover anyway, only to discover he doesn't believe in fidelity.
Forbidden Hollywood: Volume 6 goes soberly serious with The Wet Parade (1932), a rare pro-temperance film in the midst of prohibition film culture where heroes and villains alike frequented speakeasies. Fourth-billed Robert Young is the hero of this tale, a true believer who saw drink (directly or indirectly) kill both of his parents and becomes a prohibition agent while his best friend (Neil Hamilton) drinks himself to blindness on bad bootleg rotgut. This sprawling picture, adapted from an Upton Sinclair novel and directed by Victor Fleming, plays the evils of drink hard and heavy and the luridness of the melodramatic portrait will be picked up and pushed into more extremes in the drug exploitation films of the thirties. The film, which clocks in at almost two hours, also stars Lewis Stone (who dies passed out in a pig-sty after getting stinking drunk), Dorothy Jordan, Walter Huston, and Jimmy Durante as a veteran prohibition agent who cracks wise even when undercover. Myrna Loy has a small role as Hamilton's girlfriend.
Far more compact is Mandalay (1934), with Kay Francis as a spunky girl literally sold into slavery by her mercenary smuggler boyfriend (Ricardo Cortez) to a South Seas nightclub owner (Warner Oland). Francis remains elegant and poised even as she hardens and turns fierce to survive and escape this lawless world: she uses her wiles simply to get by and get home, though she will get her revenge along the way. It's a slim story and Michael Curtiz is clearly confined by his budget to a few stock sets, but the pre-code details are lurid indeed. With a would-be hero (Lyle Talbot) who turns out to be a drunk and a deserter, it's up to Francis to save herself.
Also includes Downstairs (1932) with John Gilbert, who also co-wrote the satirical comedy of manners and class barriers, and Massacre (1934) with Richard Barthelmess and Ann Dvorak in red-face to play Sioux Indians in a muckraking expose of the abysmal treatment of Native Americans on the modern (circa 1934) reservation.
Eddie Cantor at Goldwyn:
Eddie Cantor had been in a couple of silent features and a bunch of shorts in the early sound era, but for all intents and purposes he made his debut as a feature film leading man with Whoopee! (Warner Archive), the 1930 film version of his Broadway hit. It's shot like a piece of theater on a movie sound stage that tries pass for a ludicrous Arizona dude ranch corral in pinks and pasterns. It was produced on the limited palette of the two-strip Technicolor process, which has a distinctive, rather nostalgic quality to the color.
It's also Busby Berkley's first film and he announces himself in the geometric dance steps in the opening scenes. He sadly doesn't get another chance to go for broke again and the rest of the numbers are very conventional, with chorus girls and cowboys moving in from the wings for support when necessary. And Cantor spends an awful lot of the film in blackface doing a minstrel show gag. I don't image it was particularly funny then, but it's certainly not now.
Slipping out of the pre-code era, the 1934 Kid Millions (Warner Archive) is another Goldwyn musical (complete with his Goldwyn Girls), and rather than the primitive color of "Whoopee!," the spectacle here is a finale in three-strip Technicolor.
And more…
Reviewed in an earlier MOD Movies column is The Dawn Patrol (Warner Archive), Howard Hawks' 1930 sound picture debut about World War I pilots facing daily slaughter against the better-equipped German fighters, with Richard Barthelmess in the lead and Douglas Fairbanks, Jr. as his best friend and loyal wingman.
All available exclusively from Warner Archive.