"I have become an individual with a DV camera…it was DV that saved me, that allowed me to maintain a kind of personal relationship to documentary filmmaking, and made it far more than just an identity." Inspired by a current MOMA retrospective, Aaron Cutler takes stock of 25 years of independent Chinese documentaries, a movement influenced by Japanese filmmaker Shinsuke Ogawa and American Frederick Wiseman, and (as Wu Wenguang's words quoted above attest) altered forever by the introduction of light, affordable DV cameras.
"Redford was born in Santa Monica, because of course he was. His father was a milkman but, in a page straight from the American Dream handbook, eventually became an accountant, moving his family to Van Nuys. There, Redford played on the high school baseball team and, if looks are to be believed, slayed the entire female population." Anne Helen Petersen is pretty terrific on the appeal of Robert Redford—and his limitations.
"Her Bride was certainly a success, but it was such extreme work that it led nowhere—she had been too weird in the part, too scary and sexually offbeat for easy casting." Which is why many of Elsa Lanchester's Hollywood roles merely tossed her in the shadow or sidelines of her leading-man husband; but she stood out even there, as Dan Callahan relates.
"He didn't look exactly the same, but what the hell. They never look exactly the same." Does Tony Tulathimutte (as he admits he might) make some interpretive overreaches in parsing Game of Death as an unwitting meditation on cinematic representations of Asian physiognomy? Perhaps, but the film itself is so odd and fractured it practically demands such stitching together.
The latest Offscreen is dedicated to "Oddball Auteurs," a sufficiently broad umbrella to contain Najmeh Khalili Mahani's look at the politics being dissected dialectically in Fassbinder's BRD Trilogy; Jennifer Sin's allotting to Gena Rowlands's performance in A Woman Under the Influence a creative role the equal of Cassavetes's; a look at Svankmajer's body horror at play in Lunacy, by Rachel Webb Jekanowski; and Daniel Garrett's praise of John Akomfrah's poetic documentary The Nine Muses.
Kristin Thompson surveys a new Flicker Alley boxset dedicated to five silent films from the Albatros Studio—French made but Russian behind the scenes, including the legendary actor/director Ivan Mosjoukine (starving/loving/saddened face in Kuleshov's famous experiment) and set designer Lazare Meerson. She includes a link to a short but informative recent interview with disc co-producer David Shepard.
J. Hoberman, who once had the "nerve-racking job of showing films backward, forward and frame by frame as Ken improvised a pedagogical voice-over," salutes Ken Jacobs on his upcoming 80th.
Kenneth R. Morefield argues for the essential Christian morality of Robert Rossellini. Which may be an oversimplified viewpoint, but since I've read atheist interpretations of The Flowers of St. Francis I figure fair enough.
"Am I going to spend two hours at the gym? I can't do it; it's excruciatingly boring. I feel like I'm losing time. If I'm a little bit fatter than the normal actress, whatever." Julie Delpy's been an enjoyable presence in the round-robins with her Before Midnight collaborators, but she makes her best impression undiluted, as this Mary Kaye Schilling profile confirms.
"The country itself is really great for filmmakers—the contrasting landscapes of glimmering skyscrapers sitting atop debris-laden neighborhoods speak volumes about the sweeping changes China's going through. It's a great backdrop to illustrate stories. But I could never dedicate all my attention to such beauty as I had to deal with the bureaucrats." Fresh off his first mainland production, Johnnie To explains to Clarence Tsui some of the headaches and hoop-jumping involved.
Sitting down with Bon Appétit's Carla Lalli Music, foodie Mel Brooks shares his familiar but still hilarious story about dining with Hitchcock, and a recipe for omelets that will prompt you to make a yummy sound. Via Movie City News.
Emphasizing the physicality of landscapes and figures struggling in it, describing the multiple layers of Faulkner's language, name-dropping Christian Metz; say this, when it comes to theory, James Franco's interview with Michael Bibler shows he's certainly learned to talk the talk.
"[My first boss] would just lift a reel out of a film—Visconti's Rocco and His Brothers for example—and make it conform to a requested length. I learned enough on that horrible job to think maybe I should learn film editing." Thelma Schoonmaker, discussing her origins and many influences (just kidding, it's all Marty and Michael) in a brief interview with Port's Dan Crowe.
At Making Light of It, Jacob Waltman offers the one-stop service of rounding up the online interviews with James Benning.
If we're really in the midst of a Delmer Daves revival, maybe his graphic art will get more attention. Based on these three lovely sketches for Jubal, and even the strong, quick line displayed in his 3:10 to Yuma storyboards, I'd welcome it.
Sabrina Gschwandtner's Film Quilts, stitched together from 16mm film furnished by the Fashion Institute of Technology, aren't only lively patterns in their own right but, as the artist states, a clever reminder that early film editors were mostly women hired for their skill at sewing. More images here. Via Criterion.
Brandon Schaefer won't deny there were embarrassments among the older Star Trek posters (check out the alternate design for Voyage Home, apparently "illustrat[ing] a screwball time-traveling buddy-comedy from space"), but he finds the switch from Bob Peak's bold, glittering compositions to the current blah functionality indicative of what's become of the series as a whole. Related: Scientific American's Kyle Hill offers the graph to prove if you try the Lens Flare Drinking Game, you'll die. Via Jonathan Poritsky.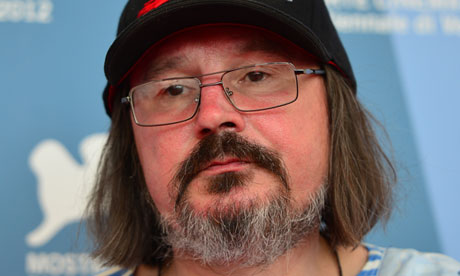 Obituary
Alexey Balabanov, the Russian director who rose to international prominence with Brother and Of Freaks and Men, died at the age of 54 after suffering a stroke. Ronald Bergan at The Guardian remarks that the director: "saw himself as the "anti-establishment rock'n'roller of Russian film" with an aim to make "scandalous, harsh cinema". Many of Balabanov's films are metaphorical black comedies that gaze unflinchingly at the bleakness and violence of the last days of communism and post-Soviet society, with classic Russian rock music on the soundtrack." David Hudson performs his usual good works gathering obituaries, tributes, and appropriate articles.
Seattle Screens
SIFF enters its second week. But be warned if you are headed to the Uptown screens this weekend, for the Folklife Festival has taken over Seattle Center. Prepare for congestion. Parallax View's coverage is here.
Visit the film review pages at The Seattle Times, Seattle Weekly, and The Stranger for more releases.
View complete screening schedules through IMDb, MSN, Yahoo, or Fandango, pick the interface of your choice.
The weekly links page is compiled and curated by Bruce Reid, with obituaries and Seattle Screens curated by Sean Axmaker, and other contributions from friends of Parallax View.