R. Emmet Sweeney's profile of William Witney goes beyond just signing on to Tarantino's endorsement. He paints the picture of a young man lucky enough to be in the right place at the right time—when your coworkers could include Yakima Canutt, and a friendly visit to Busby Berkeley's set could show you a whole new way to choreograph movie action—but ambitious and creative enough to keep pressing on for decades, tossing out inventive picture after inventive picture to no one's particular notice.
Sweeney's also over at Movie Morlocks, discussing five Delmer Daves films. Nothing wrong at all with his brief appraisals, but the Daves articles you must read are at Criterion's website, where Kent Jones writes beautifully on Jubal and 3:10 to Yuma, finding in both a transcendentalist strain that speaks of the director's "steadfast dedication and moving attunement to the very best in people."
"Scott did not concentrate on set pieces so much as approach an entire film with a tonality that extended to cutaways and connecting shots, all of which were dealt with at the same register of glossy enormity, so the opening of a car door exuded the same visual verve and finesse as any larger action scene." Joseph Bevan's take on Tony Scott balances admiration for his expressionistic, experimental visuals with dismay at his callous disregard for narrative, character, or decency.
Now that they're putting out a print edition, La Furia Umana is offering less content on their website, but what's there is still often fine. The current issue pays marvelously schizophrenic tribute to George Cukor and Abel Ferrara; Dan Sallitt's reprinted LA Reader obituary and Marilyn Ann Moss's look at the lifelong friendship between Cukor and Katharine Hepburn are part of the former; Brad Stevens finds the latter offering his characters a respect and autonomy that's positively Jamesian; and Daisuke Akasaka bridges the gap reviewing the commonalities between Two-Faced Woman and Dangerous Game. (The latter is one of those articles that betrays the multilingual journal's occasional struggles with English translations.)
"She's young, she's in high school, she's sexually active, she's taking drugs, she's crying out for help." "Well damn Cooper, that really narrows it down, you're talking about half the high school girls in America." Calum Marsh makes the case for Twin Peaks: Fire Walk with Me as Lynch's masterpiece.
Tracing all the projects Terrence Malick worked on during his two-decade hiatus—from vague rumors to films that fell through at the last minute—the LA Review's Michael Nordine does the great good service of reminding everyone that refusing to do press is not the same as being a weirdo recluse.
For Michael Koresky, 1975's a good year to study the various uses of the zoom, in Altman (natch), Kubrick, and Spielberg.
Speaking of, Sam Peckinpah reveals the secret history of Robert Altman, in what must be one of the weirder letters to the editor Playboy ever published. (It's conceivable the composition involved copious amounts of alcohol.) Via David Hudson.
Greta Gerwig's breakdown of each of the 42 takes she ran through for a 28-second scene in Frances Ha—a reserved performance overcompensated in the angry follow-up, the shifts necessary to maintain delicate calibration with her costar—is a vivid picture of the actor's job
"Effortless cool is redundant. If you're trying, you're by definition failing." Yes, of course that's from an article about Robert Mitchum; a fine one, billed as the first part of three, by Imogen Smith.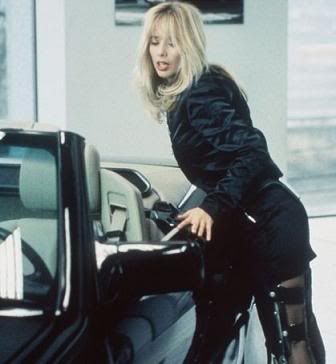 "Have you come?" "I'm okay." Kim Morgan finds Cronenberg's Crash "disturbingly, unnervingly sexy. And very human." Which I'm sure the director would find somewhat redundant.
David Bordwell presents his latest update from the digital conversion frontlines. He's very happy to report that thanks to unexpected revenue sources like Kickstarter, smaller independent theaters have so far delayed the harrowing everyone feared. But with testimonies like the report of digital projectors orphaned by their companies and thus useless to their owners just four years after they were introduced (so how will those small theaters pay for future upgrades?), it's hard to make any predictions without coming off a Cassandra.
Needing unprecedented precision and control to give the Saul Bass designs for Vertigo's opening credits motion, animator John Whitney ingeniously repurposed a bit of WWII military hardware and gave birth to computer animation, argues Tom McCormack.
Meanwhile, Art of the Title's Ben Radatz celebrates Bass's first all-graphic opening credits, for The Seven Year Itch.
"I can't give you a recipe for success, but I can give you a recipe for failure: try to please everybody." Frank Langella proves once again, interviewed by The Talks, that he's become the rare actor from whom life lessons are welcome.
Discussing his translations of Italian writer Curzio Malaparte with Poetry's Joy Katz, Walter Murch is very clear about how many of the decisions he had to make were influenced by what he's learned on his day job.
"Wow! What a finish! I'd never have guessed the way this mystery is solved!" Your unexpected marketing strategy for the week comes courtesy of John Sisson, who posted the comic book, given away at Howard Johnson's restaurants, designed to get kids excited about the upcoming movie 2001. Via io9.
Nancy Ellison's celebrity portraits, at everyday_i_show, hang nicely between artfully posed and casual. And if that's not the definitive photo of Bette Davis, I want to know what the hell is.
Daniel Kasman offers a terrific collection of screen shots, from You Only Live Once, Let Us Live, and The Wrong Man, where the lovely, gaunt face of Henry Fonda is under suspicion and under the shadow of the long arm of the law.
Michelle Aldredge posts a gallery of Tarkovsky's Poloroids, as blurry and mysterious as you'd expect. Via John Wyver.
Obituary
Spanish actor Alfredo Landa was an icon of the Spanish film industry, winning three Goya Awards and the Best Actor award at Cannes in 1984 for The Holy Innocents over the course of his long career. He was 80. More from The Hollywood Reporter.
Italian actress Rosella Falk, who was called the Italian Greta Garbo, appeared in Fellini's 8 ½ and Joseph Losey's Modesty Blaise, but was most famous for her theater work. She was 86. Gramilano offers more on her stage work.
Japanese actor Isao Natsuyagi, whose 50-year career includes films by Hideo Gosha and Kinji Fukasaku, passed away at age 73. His most recent films include the American World War II film Emperor and Hirokazu Kore-eda's latest Like Father, Like Son (slated to premiere at Cannes this week). Report from Tokyo Hive.
German director Peter Sehr died of a brain tumor at the age of 61. He made the 1994 film Kaspar Hauser and his last film, Ludwig II, is currently making the festival rounds (it plays SIFF this year). More from The Hollywood Reporter.
Seattle Screens
SIFF has begun. Parallax View has your guide to reviews, previews, and other coverage.
Visit the film review pages at The Seattle Times, Seattle Weekly, and The Stranger for more releases.
View complete screening schedules through IMDb, MSN, Yahoo, or Fandango, pick the interface of your choice.
The weekly links page is compiled and curated by Bruce Reid, with obituaries curated by Sean Axmaker, and other contributions from friends of Parallax View.