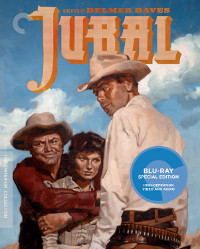 "Jubal" (Criterion)
"3:10 to Yuma" (Criterion)
Delmer Daves was a Hollywood pro with a long career and an impressive filmography. He established himself as a screenwriter with a series of light comedies and romantic melodramas (including the original 1939 Love Affair) before stepping behind the camera with the World War II adventure Destination Tokyo. Like most directors of his era, he moved easily between all genres – war pictures, romances, melodrama, and a few noir-inflected dramas (The Red House and Dark Passage), but he proved his affinity for the western from his very first effort in the genre, the 1950 classic Broken Arrow. Along with his fine eye for imagery, Daves brought a psychological dimension and an adult sensibility to his westerns. In his best films, his characters had relationships and emotions that came out of real life.
Criterion's stamp on two of his most interesting westerns may help bring a little more attention to the director. Jubal (Criterion) is the first of three westerns Daves made with actor Glenn Ford, already a seasoned western presence by 1956. Here he's an itinerate cowhand and a wary loner hired by rancher Ernest Borgnine, a garrulous, generous guy who becomes both father figure and best friend to the emotionally bottled up cowhand. It's been called "Othello" on the range, with Rod Steiger as the bitter ranch hand playing Iago to Borgnine's Othello, but the Desdemona of this piece is no innocent victim but a dark, exotic beauty (she's Canadian, apparently to explain away Valerie French's accent) in a stifling marriage to the sincere but crude and boisterous cattleman. Young and deeply disenchanted, she sets her eyes on the simple, stoic cowboy.

This is less a Shakespeare western than a Hollywood melodrama in chaps and Daves was a seasoned hand at both genres. He favors suspense to action and violence, tightening the tension until Steiger (himself spurned by French) finally pushes his boss over the edge and the cycle of violence begins. Even then, the violence is brief and abrupt and Daves leaves the most brutal assault offscreen. Noah Beery Jr. and John Dierkes offer easy-going support as Ford's friendly bunkmates and fellow cowhands and Charles Bronson takes a small but key role as a plain-speaking cowhand whose loyalty to Ford's Jubal is unshakable even when Steiger turns the town against him. Daves brings out Bronson's easy-going humor and understated style, a side so rarely tapped by other directors.