As the story goes, Ray Harryhausen was inspired to explore the possibilities of stop-motion animation after seeing King Kong with his best friend. That said friend was Ray Bradbury makes the story irresistible. That Harryhausen went on to apprentice under Willis O'Brien, the very man who sculpted and animated the king of the jungle and the first great artist of stop-motion magic, makes it legend.
Across the web, tributes and remembrances have been legion, and no surprise. Harryhausen's creations dazzled so many future film critics and historians in their formative years and turned many a movie-hungry child into a genre hound. He wasn't a film director, not in the conventional sense, but he was undeniably the auteur of his films since The 7th Voyage of Sinbad, when he turned producer and started developing his own productions around the glorious creations he crafted to life in the adventures.
Just a few months ago, I had the pleasure of revisiting some of Harryhausen's greatest moments for an article. And once again, just as when I was a kid, I was transported when his creatures came alive on the screen. I was never "fooled" into thinking his Cyclops or prehistoric dinosaur or dueling skeletons were real in any way. His movie magic wasn't great because it was realistic. It was great because it was beautiful, alive, and filled with character and personality. He filled his films with wonder.
Ray Harryhausen died last week at the age of 92. He had essentially retired from filmmaking after Clash of the Titans (the 1981 version, not the terrible CGI remake) but he spent his final decades seeing a new generation discover his films on video and DVD. He put out books, talked about his work disc releases, and appeared at festivals and conventions, where he was unfailingly generous with his time when talking to fans, old and new. I was one of the older ones, but more moving than getting a few minutes of his time was watching him encourage a young fan, a kid around 10 or 12, to follow his muse and create.
Here are my ten picks for celebrating the legacy the ray Harryhausen, one of the great dreamers of the movies. Most of these, by the way, are only available on disc, so please, give a little love to your friendly neighborhood video store.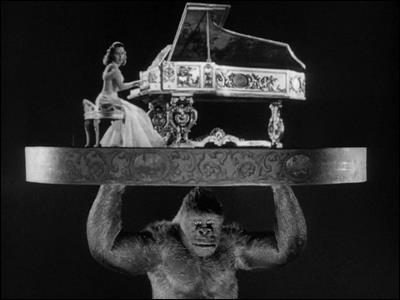 1 – "Mighty Joe Young" (1949, DVD, Warner) – Fifteen years after "King Kong," Willis O'Brien won finally won his much deserved Oscar for creating yet another ape, this one the humongous playmate of Terry Moore. Joe is a marvelous creation and the climax, where he risks his own safety to rescue children trapped in an orphanage fire is as touching as it is thrilling. Harryhausen, an ambitious young animator who had worked on George Pal Puppetoons and military shorts, worked with his hero for the first and only time and pays tribute to O'Brien on the DVD commentary track.
2 – "The Beast from 20,000 Fathoms" (1953, DVD, Warner) – One of the essentials of the giant monster on the rampage of the nuclear 1950s, this isn't an atomic mutation but a slumbering prehistoric giant (a Rhedosauras, to be specific) awakened from its icy suspended animation by nuclear tests. The first creature feature work by legendary stop motion animator Ray Harryhausen is a dinosaur spectacle dropped in the urban jungle and it highlights this clunky but endearing piece of B-movie pulp "inspired" by Ray Bradbury's short story "The Foghorn." Harryhausen give this rampaging beast just a touch of melancholy: a lost creature just looking for home.