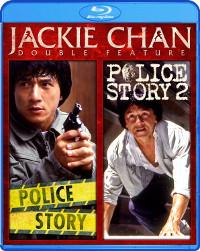 Police Story / Police Story 2 – Jackie Chan Double Feature (Shout Factory)
In the Hong Kong action movie explosion of the eighties, when the craziest, most kinetically energetic and narratively surreal action movies were pouring out of the Hong Kong studios at a breakneck pace, Jackie Chan's Police Story (1985) was one of the films that both defined and redefined the industry while firmly establishing Jackie Chan as a worldwide superstar. Everywhere except the U.S.
Chan had been making successful films for years but this was something different. In Hong Kong, he was moving into modern action comedy in Wheels on Meals and adding color, different cultural backdrops, and more spectacular stunts to the martial arts fight movie with Project A (all with his opera school buddies and fellow stars Sammo Hung and Yuen Biao). But Chan had chafed at the way American productions tried to fit him into a generic mold in his bid for a U.S. crossover film, The Protector. He came back to Hong Kong with lessons learned.
Police Story was his answer to the American action blockbuster and the first of his aggressive appropriations of American hit movies remade as Jackie Chan spectacles. It was modern and urban, filled with gritty action and juvenile slapstick, and it incorporated Jackie's brand of acrobatic martial arts (with all its comic flourishes) with big budget set pieces and eye-popping stunts. He lavished production value on the film. The story is almost inconsequential, something to do with a case against a mob boss and his drug operation. Ka Kui Chan, a committed officer on the elite CID division of the Hong Kong Police, is assigned to "protect" a reluctant witness (the great Brigitte Lin) and then framed by the mob as a corrupt cop, sending him on the run to clear his name and take out the gang one man at a time.
The only logic is kinetic: one action follows another with ingenuity and physical integrity. It opens on mission gone wrong that turns into a car chase through a hillside shantytown reduced to rubble by the careening vehicles smashing through huts and blowing out walls as inhabitants scurry for cover, and it ends with a brutal one man battle with a criminal army in the six-story atrium mall that sends combatants through plate glass windows, down escalators, and over railings. In between is a satire of office politics, a slapstick romance between a smug, chauvinistic Chan and his fresh-faced girlfriend May (a very young Maggie Cheung) — an innocent who gets almost unbearably knocked about for laughs — and an almost non-stop mix of acrobatic set-pieces, physical comedy, and fast and furious fight scenes. It's the whole raison d'etre for the film and Jackie walks a fine line through the action, which is both potentially deadly and yet much of it played for humor. The cleverness and the comic potential blunt the brutality of the battle.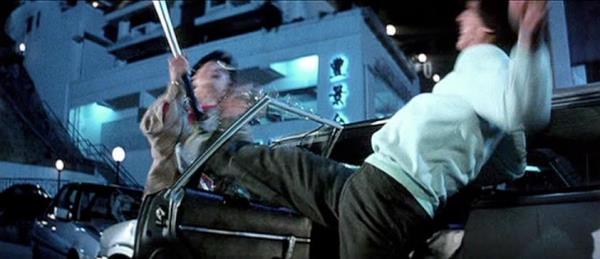 As a director and a savvy manager of his brand, Chan knew what audiences wanted and he delivered in spades. Like his American heroes, Buster Keaton and Charlie Chaplin, he presented his most elaborate and daring fights and stunts in long, unbroken takes, the better to show his fans that he did at all, with no stunt doubles or cheating shots. And then he showed it again, and again, from other angles, to give everyone their money's worth. And just to prove his credentials, he plays it all again in a closing credits montage, with clips interspersed with behind-the-scenes footage and outtakes from stunts gone wrong.
If the first Police Story topped the American action cop movie in terms of sheer stunt audacity and execution, Police Story 2 (1988) takes on the criminal mastermind genre of American action movies with a gang of bombers targeting Hong Kong corporations with an extortion racket. As in the first film, Chan fills every scene with action or slapstick, often both together, but he switches it up between car chases, stunt spectacle, and intense, ingeniously choreographed fight scenes, and then adds a police procedural mode with a special division of plainclothes operatives known as "The Dogs," who tail suspects in an elaborate sequence that Chan keeps moving at a crisp pace and clarity.
There's also a satisfying self-awareness to it, opening with a montage recap of the action highlights of the first film and then confronting the consequences of the mayhem: Chan is demoted to traffic cop because of the property damage in the shopping mall of the last case, all of it charged to the department.
Police Story 2 is more technically accomplished than the first film and even more mature, and he ups the ante with bigger set pieces, including a series of big explosions. That's not to say it's necessarily better (it never quite matches the anything goes energy and freshness of the origin) or that he turns his back on juvenile humor (exhibit A: a big, broad, childish fart joke in an elevator). But it is just as dynamic and filled with furious action while offering a more serious version of Chan's boyish police officer. Even when demoted to traffic duty he is committed to the job and it's a comforting to see him more responsive to May, even if she still gets knocked about in slapstick gags, beaten by gangsters, and humiliated and neglected by Chan and the cops. These films have a juvenile sense of adult life and romance, but that odd mix of narrative naiveté and visual intensity is part of what makes these films so vivid. They are like nothing out of American studios.
Both films make their stateside Blu-ray debut in their original Hong Kong cuts (they were edited for earlier US releases) and it feature both original Cantonese soundtrack and the English dub track. The original releases featured hard subtitles with often hilariously mangled English translations. These are new digital subtitles, easier to read and generally less weird, but not particularly sophisticated. "I must kill him! I must kill him now!," yells a villain in the first film. And they have their own oddities. In referring to a possible fight between Chan and the gangsters in the second film, May says "I'd thank heavens if it's only a verbal exchange." Those are not words any actor could choke out with any conviction. They are typo free, however. The dubbed soundtracks are less awkward, but they are also flat and without personality or even Jackie's own voice, which he has provided in many other English dub soundtracks of his films.
According to Shout Factory, they are using HD digital masters provided to them by Fortune Star, a Hong Kong label. While they are an improvement over the previous DVD release, they do not look appear to be restored or remastered. Like a lot of recent Blu-ray releases of Hong Kong classics, it looks overly scrubbed and DNRed, with details and sharpness and grain removed along with the surface scratches and grime so prevalent in releases of that era. These films are still badly in need of new, high-definition master from the original negatives. Just compare the films to the original Hong Kong trailers, which are included in the minimal supplements. The images are much sharper and brighter and more present, and the surface scuffs are not distracting. It's just part of the experience.
More releases on Blu-ray, DVD, digital, streaming, and cable at Videodrone