Seattle screenings and cinema events are surveyed at Parallax View here.
Video: Last Monday, for the first time in its 42-year history, the National Endowment for the Humanities Jefferson Lecture was given by a filmmaker. No prize for guessing Martin Scorsese. His presentation, a stirring call for visual language to be understood as vital and in need of education and preservation as any written one, can be viewed at the NEH website. With nearly as many film clips in support as you'd expect.
"Preminger's city is one of the most bleak and somber in all of noir. It always seems to be the dregs of night, sour as boiled coffee." Imogen Smith, brilliant as always, on Where the Sidewalk Ends (featuring a lovely woodcut illustration by Guy Budziak). Also at The Chiseler, and also excellent, Dan Callahan praises Brigette Helm, whose career could never live up to her robotic debut in Metropolis. And no, you won't find a better GIF on the web anytime soon.
The new issue of Desistfilm can't be accused of treading well-worn paths with such articles as David Phelps's survey of Frantisek Vlácil; Tristan Teshigahara Pollack exploring the influence on Sufi poetry on Kiarostami; and a collection of poems by Ken Jacobs. Okay, maybe John A. Riley and Mónica Delgado's interview with Alex Cox is on more familiar ground, though it still makes a good read.
Sarah Miles and Wendy Craig recount to The Guardian's Steve Rose the making of The Servant, and their relief at having a director who seemed so assured of what he wanted he barely interfered when things were going right.
Andreas at Pussy Goes Grrr offers up his five favorite Casablanca quotes—and a fine job of breaking down both the truths behind them and the performances that make them so memorable. Via Matt Zoller Seitz.
Time well overdue to reevaluate Lubitsch's Sumurun as more than a failed spectacle, argues Kelly Robinson.
A new film journal named Cleo has just launched, with a feminist perspective if you didn't trace the name back to Varda. Among the highlights, Kiva Reardon (also the editor) has an interesting look at the body talk of Haywire's Gina Carano, while Julia Cooper finds more links between Gummo and Spring Breakers than you might think.
James Hughes looks back at Mike Zwerin's 1985 book Swing Under the Nazis, which nearly became the inspiration for a Stanley Kubrick film entitled Dr. Jazz.
The University of Toronto hosted a sitdown for two of their more prominent alums, Atom Egoyan and Mychael Danna, before which they spoke with the school newspaper's Emma Fox about their collaborations. Spotted by Movie City News.
Also from Movie City News, the interesting story of a scandal that almost was, as anonymous casting directors (outed as Jane Jenkins and Janet Hirshenson in Daniel Halloway's investigative piece) announced they were auctioning old audition tapes. Outrage over the betrayal of the actors' trust was immediate, and the auction has been cancelled.
"So the 1970s are actually not that funny. The obsession with the revolution, the brutal overthrow of modern capitalism, with personal, spiritual searching. It was a violent rejection of everything we'd been taught. Of course it was crazy; of course it was utopian and had its huge limits. But at the same time there was something heroic, courageous about it. And there was a beauty to it." Olivier Assayas, interviewed by Brooklyn Rail's Joshua Sperling, on the '70s, and his two recent explorations of the period, Carlos and Something in the Air.
"Film is a collaborative process, absolutely, but I am a control freak. I need to make sure that all the ways that we can inform are pointed in the same direction." Shane Carruth's interviews, as here with film.com's Jordan Hoffman, are proving as heady but obscure as his films.
"To talk about exclusion, I was an Asian male in the '80s in Texas. Try to get a date. See how that works out for you. Pop was a way to get into a culture I wasn't part of, and then to try to control it and re-present it. Not represent it: re-present it." In the new Cinema Scope, Adam Nayman talks the inclusiveness of pop and the sophistication of genre with Joseph Kahn, who whatever your take on his self-financed Detention, has certainly walked the walk. Also in the issue, Phil Coldiron interviews Andrew Bujalski, Thom Andersen praises Wang Bing's Three Sisters, and Michael Sicinski writes up an alphabetic primer for Denis Côté's Vic+Flo.
"Don't you want to go where the rainbow ends?" "Well, now that depends where that is." Inspired by illustrations of The Shining's impossible geometry in Room 237, Scouting NY charts the malleable architecture of Eyes Wide Shut's Greenwich Village. Via Criterion.
At Slate, Joan Neuberger presents some photos of Sergei Eisenstein's bookshelf, preserved in a Russian apartment, as gloriously overstuffed with photos, tchotchkes, and books on Mexican history as you'd imagine.
The above comes via Girish Shambu, who also passes along a fine piece we apparently both missed this past December, Steven Rybin's close examination of three performances by Jessica Chastain where the actor employs her gaze, glances, and gestures to command an authority over the material not usually assigned to performers.
Legendary British poster designer Tom Beauvais is interviewed by Film on Paper's Eddie Shannon. His reminiscences are interesting, but it's the marvelous collection of artwork he hand-painted over the years—including a never-before-seen concept piece for Star Wars—that are the real attraction. Via David Hudson.
In honor of a new documentary about Bert Stern, Life reruns one of the photographer's most celebrated sessions, an inspired jape from 1963 that has contemporary stars dressing up as their idols.
Obituary
Just a day after announcing his "Leave of Presence" to cut back his workload, Roger Ebert passed away at the age of 70 due to complications of cancer. He was the first film critic to win a Pulitzer Prize, popularized film criticism and championed small, independent, and foreign films in his TV review shows "Sneak Previews," "At the Movies," and "Siskel & Ebert & The Movies," and was one of the first newspaper film critics to embrace the web as a way to interact with readers. He lost his speaking voice to cancer but his critical voice continued unabated and almost uninterrupted in film reviews and essays, which reached even more readers thanks to his website Rogerebert.com, and he gave voice young critics across the country (and the world) through his "far flung correspondents." More from The New York Times. On a more personal note, his web editor Jim Emerson remembers the Ebert he knew at Scanners while tributes from friends, colleagues, and others are collected at his home paper, Chicago Sun-Times. We leave the last word to Mr. Ebert himself, who penned his own thoughts on his own inevitable (but not necessarily imminent) death for Salon in 2011. "I know it is coming, and I do not fear it, because I believe there is nothing on the other side of death to fear."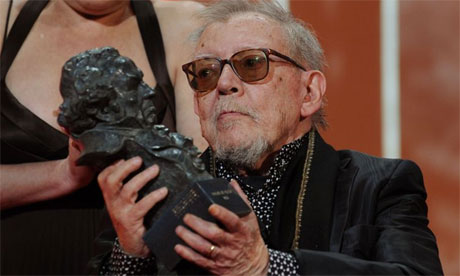 Jesús "Jess" Franco, a filmmaker so prolific that the 199 director credits listed on IMDb is considered incomplete, died in Malaga, Spain, of heart complications, a year after the death of his wife, muse, and love of his life, Lina Romay. He was 82. Franco directed his first feature in 1959 and his last film opened in Spain last month. He was assistant director to Orson Welles on Chimes at Midnight and Juan Antonio Bardem on Death of a Cyclist and as he was as infamous as he was famous for his work as a director in his own right. His output was uneven to say the least, from mad horror masterworks to perverse collisions of eroticism and sadistic horror to utterly mundane and incoherent films. At his best, he was wildly creative, at his worst, slapdash and inattentive, but he never stopped working. Stephen Thrower offers a superb tribute to Franco at The Guardian. Tim Lucas, who has spent decades exploring the work of Franco in his magazine Video Watchdog, remembers the director and his inspiration, and Catherine Grant offers an invaluable list of resources.
Novelist and screenwriter Ruth Prawer Jhabvala, most famous for her long and defining (and virtually exclusive) collaboration with director James Ivory and producer Ismael Merchant, passed away at the age of 85. She adapted two of her own novels for the team, and won two Academy Awards for her adaptation of to E.M. Forrster novels, A Room With a View (1985) and Howards End (1992). More from the Los Angeles Times.
Duublin-born actor Milo O'Shea, a familiar face in movies, on TV, and on stage (where he was nominated for two Tony Awards), passed away at the age of 86 due to complications of Alzheimer's disease. He was Friar Laurence in Zeffirelli's Romeo and Juliet, the villainous Durand Durand in Barbarella, and Leopold Bloom in the 1967 Ulysses, and he appeared on Cheers and Frasier and played the Chief Justice of the Supreme Court on The West Wing among his American TV appearances. More from The Telegraph.
The weekly links page is compiled and curated by Bruce Reid, with obituaries curated by Sean Axmaker.