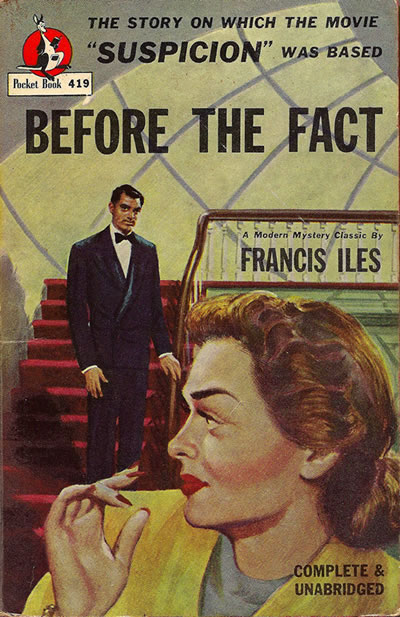 Seattle screenings and cinema events for the week are surveyed at Parallax View here.
David Bordwell's been thinking about the many purposes of murder in 1940s suspense; which means, despite delaying the reveal behind an impressive collection of literary and cinematic antecedents, he's been thinking about Hitchcock. Complete with an introduction cast in genially autobiographical (about his history with the genre, not the practice) mode.
Another fine survey of a movie genre and the literary roots to which it's indebted comes in an excerpt from the late Eric Hobsbawm's final book, tracing how the relatively multicultural, incident-free American West became the mythic stalking ground for that great Aryan loner, the American Cowboy.
Marker X 2 at the LA Review of Books: Jonathan Cushing looks at Marker's changing attitudes towards the Olympic Games, from his first short Olympia 52 to the rather more troubling employ of Riefenstahl in The Owl's Legacy; while Rebecca Ariel Porte reviews Susan Howe's poetic threnody Sorting Facts, or Nineteen Ways of Looking at Chris Marker.
Fast Company's Nicole Laporte introduces the New New Hollywood, profiling the tech-savvy producers and agents and early-adapting stars latching on to online sketches and interactive apps as the town's latest saviors. (The real bosses, as they have for years, remain impatient teenage boys.) Laporte seems more convinced that things are really changing, now and forever, than the industry's history would seem to support; but in fairness she also points out that the building used for YouTube's new creative facility was where Hughes built the Spruce Goose. Via Movie City News.
"There was pre-mediation, lots of bared leg, insinuations of sex, but, according to Code rules, "comeuppance" for both at the end. Which is all to say it was not very Stanwyck. But Billy Wilder, crafty director that he is, asked the hesitant Stanwyck, 'Well, are you a mouse or an actress?' Stanwyck took the part, and the rest is noir history." Anne Helen Petersen on the genius of Barbara Stanwyck, and the slippery way she avoided having one set persona for her fans to nail down.
"At times the very phraseology that marks them as belonging to the same tribe serves to maintain a chilly distance. The Minnesotan phrase "yah, real good," for example, might convey warm approval, angry impatience, or curt dismissal, depending on the speaker." Jed Mayer writes beautifully on the tribal languages—and the bleak, bland snow—of Fargo. Also at Press Play, the supercut finds its apotheosis in Nelson Carvajal's collection of Al Pacino's most delectable onscreen explosions.
Jason Jacobs compares—not at all unfavorably—Ricky Gervais's nursing-home set sitcom with Haneke's Amour. An intriguing reading passed along by John Wyver.
Chris O'Rourke salutes the centenary of London's First International Cinematograph Exhibition, which filled up the Olympia Hall with "the greatest collection of everything appertaining to the Kinematograph Industry under one roof."
"You know, most people take a plane, but you're smart because you'll have all your TV and clocks and stuff." The new issue of Interiors examines Carl and Ellie's home from Up, which like most movie houses is larger on the inside.
"I have made my peace with God, my conflict is with man." For Criterion, Ignatiy Vishnevetsky does a fine job unpacking the savage paradoxes of Monsieur Verdoux; he's especially sharp on Chaplin's body language.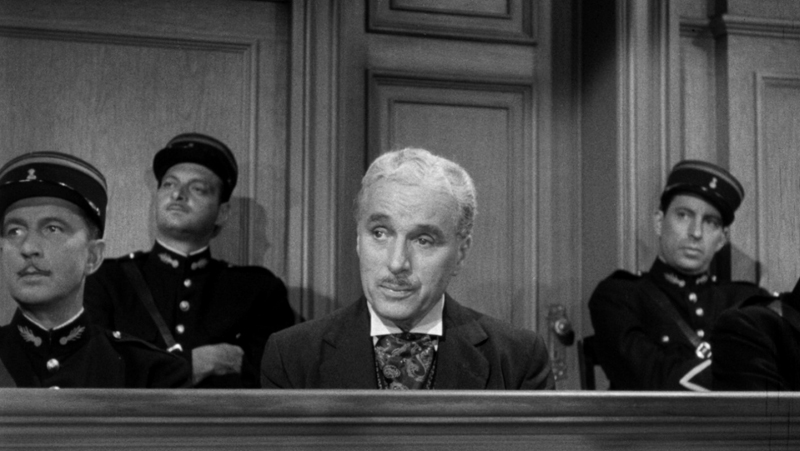 One person who's having none of Room 237's fanciful interpretations of The Shining: Kubrick's long-time assistant (and erstwhile Lord Bullingdon) Leon Vitali, who was on the set and can confirm it's a picture of a skier, not the minotaur.
Behind on the reading for his European Lit course, Edward Jay Epstein padded his essay with descriptions of Duvivier's Anna Karenina. Afterwards, the instructor—Vladimir Nabokov—hired him to go and report on the films playing around town. Epstein's account is amusing, but I can't believe he's never realized that what he considers the odd coincidence of his assignment was Nabokov seeing right through his ruse.
"You get yourself a Burberry coat. If you're gonna be Madison Avenue you have to look it." Chris Laverty does a marvelous job laying out how Kramer vs. Kramer's moral lines are so cleanly (or slovenly, in Hoffman's case) articulated by costume designer Ruth Morley.
The latest essential bit of movie history available at Making Light of It: Film Culture Vol. 1, no. 1, from January 1955. With Hans Richter defining the art of the cinema (still obligatory in those days), William K. Everson on movie monsters, two synopses by von Stroheim, and Orson Welles demanding the UN step in and make his job easier. (Click through for .pdf)
Also worth revisting (or discovering for the first time) is Jonathan Rosenbaum's Moving Places: A Life at the Movies, self-described by Rosenbaum as "my first and most ambitious book," and currently being serialized at his website. A dense collage of memoir, cultural history, film analysis, and metaphorical conquistadors, Moving Places is practically sui generis, and if the reach sometimes overshoots the grasp it's still a fascinating effort. Part 1 is here, followed (so far) by parts 2, 3, 4, 5, 6, 7, and 8 (of, ultimately, 11).
ArtInfo's Scott Indrisek talks to artist Aïda Ruilova about her latest exhibit, which transforms posters for films from the Emmanuelle series, and her latest film project, a profile of Abel Ferrara. When you view the slideshow, be sure to hit pause before the images start cycling annoyingly rapidly.
"My daughter was 13, and she came out of the trailer and went onto the set with me, and she whispered to me, 'Papa, you're the only one who really knows your lines… and you didn't get your lines until midnight! What's with these people?' And I said, 'Well, this is kind of how it works with comedians.'" If Giancarlo Esposito's interview with the AV Club's Will Harris is any indication he is that rarest of combinations for an actor: thoroughly professional and contagiously upbeat.
At MUBI Daniel Kasman deciphers an offhand joke from Ozu's Late Spring as an allusion to King Vidor's Wedding Night. If that seems a stretch check out the comments, where a quote from Ozu and a comparison of the two films' plots make it sound like he's on the right tack. What more could you want?
Adrian Curry's latest poster round-up is inspired by an Anthology Film Archives program in turn based upon directors designated by Andrew Sarris as "Expressive Esoterica." So no design masterpieces this time out—these films didn't have the studio backing to afford top poster artists—but a collection of lurid, pulpy hard sells for some fine, tough pictures by Oswald, de Toth, Tourneur, etc.
David Hudson makes note of a new column dedicated to poster design over at film.com. Brandon Schaefer dedicates his first installment to introductions, including some of his own fine poster work (and, admirably, some more ragged examples from his design school days).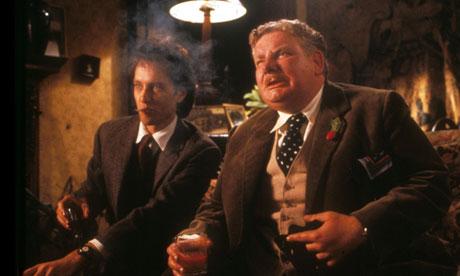 Obituary
Playwright, screenwriter, and producer Fay Kanin passed away at age 95 this week, of natural causes. She was nominated for an Oscar (shared with her husband and writing partner Michael Kanin) for the original screenplay for Teacher's Pet, won Emmy Awards for the TV movies Tell Me Where it Hurts and Friendly Fire, and wrote the Broadway smash Goodbye My Fancy and the American stage adaptation of Rashomon (along with the screenplay to Martin Ritt's screen adaption The Outrage). She also served as President of the Academy of Motion Picture Arts and Sciences from 1979 to 1983. Daniel Miller at Los Angeles Times.
Richard Griffiths, one of the most celebrated British actor of stage and screen, died at the age of 65 from complications following heart surgery. To most Americans, he was the petty, contemptible Uncle Vernon Dursely in the Harry Potter movies, but there is far more to his legacy, from Uncle Monty in Withnail and I to the beloved professor of the stage and screen versions of The History Boys, where he won (among other awards) an Olivier in Britain and Tony in the U.S. More from Michael Billington at The Guardian, which has a put together a gallery of remembrances and tributes.
Don Payne, screenwriter of Thor and Fantastic Four: Rise of the Silver Surfer and a writer and producer on The Simpsons, died of bone cancer at the age of 48. Susan King at Los Angeles Times.
The weekly links page is compiled and curated by Bruce Reid, with obituaries curated by Sean Axmaker, and other contributions from friends of Parallax View.