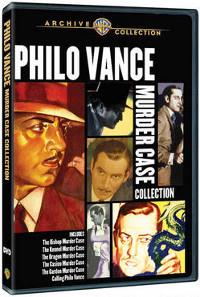 Created by author S.S. Van Dine in 1926, Philo Vance was a gentleman detective, a man of culture and high society manners, and he became one of the most popular screen sleuths of the thirties, before the invasion of the tough guy private eyes and hard boiled cops of novels and film noir. There were a dozen Philo Vance films made between 1929 and 1940, produced by three different studios with eight different actors in the role, the first and most memorable being William Powell, who inaugurated the character in the 1929 The Canary Murder Case.
Philo Vance Murder Case Collection (Warner Archive) collects the six "Philo Vance" films (and as many different actors in the role) made by MGM and Warner Bros. (the other half-dozen, including the initial three films, were Paramount pictures) on a three-disc set. The set highlight is The Kennel Murder Case (1933), with William Powell's fourth and final performance as Vance and Michael Curtiz directing in that rapid-fire pace of Warner Bros. in the early thirties. For a locked room murder mystery that plays out largely at a society dog show and a millionaire's manor, this film charges along with bantering dialogue, montage sequences, split screens, and whip pans that give simple cuts an energized urgency. Powell is all debonair charm, not really a man of action or tart wit like Nick Charles of the "Thin Man" movies, but quite the host for an evening of murder, and Mary Astor, Eugene Palette, and Jack LaRue provide colorful support.
Warren William took over the role in The Dragon Murder Case" an outdoor variation on the locked room mystery involving a cursed swimming hole on a millionaire's property, with Eugene Palette back as the gravel-voiced police detective and Etienne Girardot as Dr. Doremus, the cranky pathologist who is constantly roused from meals and sleep whenever Vance is on a case. William left the series to become the screen's first Perry Mason and then take over the "Lone Wolf" series.
The role call of Philo Vances in this set is filled out with Basil Rathbone in The Bishop Murder Case (1930), Paul Lukas in The Casino Murder Case (1935), Edmund Lowe in The Garden Murder Case (1936), and James Stephenson in Calling Philo Vance (1940). For more on the films and the series, read Lou Lumenick's DVD Extra at The New York Post.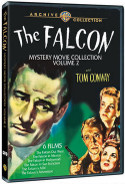 The Falcon Mystery Movie Collection Volume 2 (Warner Archive) completes the run of the Falcon movies with the final six films in the series, all starring Tom Conway in the role of Tom Lawrence, brother of the original Falcon Gay Lawrence (played, fittingly enough by Conway's more famous brother, George Sanders). Conway doesn't have the presence or command of Sanders and he's a little too sedate to be really dashing, but he's perfectly at ease on screen and his voice is just as smooth and distinctive, which gives Tom a cultured bearing and confidence as he tangles with street thugs and society crooks. None of the films run longer than 70 minutes and they get by very nicely on B-movie budgets and modest scripts.
Cult director Joseph H. Lewis (of Gun Crazy fame) directs The Falcon in San Francisco (1945), where he romances Rita Corday, and film noir icons Jane Greer and Elisha Cook Jr. co-star in The Falcon's Alibi (1946). The set is filled out with The Falcon Out West (1944), The Falcon in Mexico (1944), The Falcon in Hollywood (1944), and the final film in the series, The Falcon's Adventure (1946). The first seven "Falcon" films came out in a set in 2011, reviewed on Videodrone here.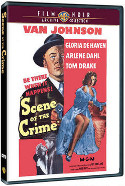 Scene of the Crime (Warner Archive) is a 1949 film noir cop drama with an interesting collision of sensibilities. Scripted and played in the then-new police procedural mode, which shows the gears of police work between the shoot-outs and criminal mayhem, it's like a mix of Naked City and pulp detective drama, shot in the studio rather than on location and filled with stock types and familiar conflicts. Van Johnson, who generally radiates as much hard-boiled grit as a bowl of oatmeal, works hard at playing the tough police detective and married man who always puts the job first, much to the consternation of his former fashion model wife (Arlene Dahl), who wants him to quit and take a safe job in corporate security. Meanwhile Johnson is assigned (no kidding!) to romance a brassy showgirl (Gloria De Haven) as part of his investigation of a cop killing. While his wife becomes increasingly anxious, this showgirl shows a soft, vulnerable side under her cynical front, setting up romantic complications that the film never quite commits to.
John McIntire is the veteran cop whose future is all but spelled out in a story told early in the movie and Leon Ames is the paternal chief who has to calm Johnson when he wants revenge, but the standout here is Norman Lloyd as the twitchy snitch Sleeper, who lets loose a stream of consciousness patter of street slang and wise-guy cracks. Director Roy Rowland doesn't ever really pull the disparate tones together or pull much grit out of Johnson, but for a filmmaker more at home in comedies and musicals, he sure brings a hard edge to a brutal fistfight (which rouses Johnson to furious life) and fierce gunfight in an underground garage.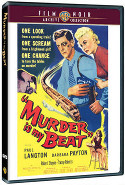 Murder is my Beat (Warner Archive) is the murder mystery procedural on a B-movie budget, with Paul Langton as a nearly expressionless by-the-book cop who tosses away all restraint and runs off with a convicted killer Eden Lane (Barbara Payton), determined to prove her innocence. It's directed by Edgar Ulmer, who spent most of his career making films on starvation budgets and, and this 1955 production from poverty row studio PRC is no different. There are no production values to speak of, the cast is stiff (Payton is better known as a notorious Hollywood "party girl" than an actress), and the dialogue lacks any spark of personality, so Ulmer goes mood, not always successfully. There is a standout scene where Langton tracks Payton to a cabin in the woods during a snowstorm (without any proper gear, mind you), and for a while they feel like the last survivors of an apocalypse, but soon enough their out of the mountains and back in the anonymous sets of PRC. Luckily Robert Shayne takes over the investigation about halfway through, and brings a little life to the film along the way. Otherwise this is a negligible effort from a director who was known for transcending the limitations of his scripts and his budgets, but never quite managed to do so here.
Most of the films reviewed so far are good-looking transfers from archival prints, not restored but is good shape with only minor signs of wear and no significant damage. This too is a good-looking print and it's the only film to be presented widescreen, which should correct for the era. By 1955, reacting to the threat from television, most Hollywood films were shot to be shown in some widescreen ratio. Yet this frame looks crowded, with the characters constantly bumping their heads on the top of the screen. This film might be an exception that is better seen in the squarish Academy ratio of the pre-widescreen era.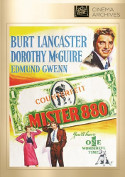 In a much lighter vein is Mister 880 (20th Century Fox Cinema Archives) with Burt Lancaster as a young hotshot of a Treasury agent handed a 20-year-old case (number 880) that has stumped the department. Someone is passing one dollar bills in New York that are almost perfect except for one telling error: the nation's capital is spelled "Wahsington." It's really quite a gentle little movie, with Lancaster romancing Dorothy Maguire (who is an early suspect) and befriending the generous old war vet everyone calls Skipper (Edmund Gwenn), little realizing he's the spelling-challenged counterfeiter. No noir flourishes here, just a lovable old geezer who prints up a couple of bills whenever his pension runs short. The film print and video master are perfectly fine but unexceptional.
Seven Keys to Baldpate Triple Feature (Warner Archive) collects all three sound screen versions of the thriller written by Earl Derr Biggers (creator of Charlie Chan) and turned into a comic-inflected light mystery for the stage by George M. Cohan. Seven Keys to Baldpate isn't technically a detective story, but it does feature a mystery writer, a creaky old inn, and a cast of eccentric suspects who all have a key to the shadowy inn. This is one crazy plot, which you'll discover is whole point of this madhouse of a mystery. Richard Dix stars in the 1929 version, directed by Reginald Barker, while Gene Raymond takes over the investigation in the 1935 version and Philip Terry leads the 1947 remake. Two discs.