The new Senses of Cinema has arrived. Among the highlights are Michael Pattison on the Surrealist bona fides of Lynch's Mulholland Drive and Inland Empire, and Tom Ryan (in what's billed the first of a series) looking at Sirk's employment of and struggles with genre in three of his "lesser" films: Taza, Son of Cochise, Captain Lightfoot, and Battle Hymn. For the journals Great Directors series, Anton Karl Koslovic explores some of the contradictions of Cecil B. DeMille, racing through his filmography with only 15 uses of the phrase "love triangle."
The surrealists also pop up in the new issue of Scope, where Seth Soulstein looks back at the cult they formed around the films of Harry Langdon, and convincingly argues that the Little Elf had a greater influence than has been acknowledged on those seminal masterpieces Un chien andalou and L'age d'or. Elsewhere Sarah Artt makes note of Lynn Ramsey's brilliant silences (timely irony noted) in Morvern Callar, and Peter Lester explores the backlash the IMAX brand suffered after their 2008 announcement that they weren't about big screens, you know, if that was a hindrance to market penetration. Via Film Studies for Free. (Article links are .pdfs)
"'She was still really quite beautiful and, if you could forget her connections, really very charming, and I would think that, to many people, very convincing in her intensity about her art, her love of the mountains, and winter sports,' he said years later. 'She was really quite a—quite an imposing piece of work.'" In Tin House, Bruce Handy has the fascinating story of Budd Schulberg's postwar efforts in Germany to hunt down incriminating film footage, and the assistance he received, in good faith or otherwise, from Leni Riefenstahl.
"I will call to the past, far back to the beginning of time, and beg them to come and help me at the judgment. I will reach back and draw them into me, and they must come, for at this moment, I am the whole reason they have existed at all." Matt Zoller Seitz and Tom Carson debate the methods and merits of Spielberg's historical dramas.
Natalie Elliott has only recently discovered the pleasures (and there are some, she sincerely emphasizes) of the '80s teen genre she charmingly, uneuphemistically dubs boner comedies.
David Bordwell notes that the supposed artlessness of Shirley Clarke's Portrait of Jason was in fact carefully constructed; so much so that the 16mm master was mislabeled for years as outtakes. (He's got the story on that as well.)
"The astonishing and confounding answer is that it's all of these things, incorporating imperceptible shifts in tone whereby dreams and magic, philosophy and satire coexist seamlessly." For Criterion, Molly Haskell writes on the evergreen marvels of The Life and Death of Colonel Blimp.
David Cairns marvels at his first view of Clarence Brown's silent melodrama The Goose Woman, and concludes Kevin Brownlow is right to name it a favorite.
"General Feraud has made occasional attempts to kill me. That does not give him the right to claim my acquaintance." Tim Palen appreciates anew the obsessions—onscreen, driving a decade's worth of conflict; and behind the scenes, as Scott meticulously composed his painterly scenes—of The Duellists.
30 years on, Keith Phipps finds that Videodrome hasn't become less prophetic so much as we've caught up with so much of it. Related Video:  There are very few directors worth listening to for an hour; here's 90 minutes with David Cronenberg worth every word. Via Steve Greene and Criterion, respectively.
Wired's Brian Raftery makes Shane Carruth's progression from military brat to engineer to filmmaker quite logical, with each motivating step along the way easily identifiable. Whereas I'd say the data accumulated suggests more than it pins down, and that Carruth maintains the reticent integrity of his movies. Via Movie City News.
It's taken almost a year for Ray Carney to finally address the ongoing controversy of his holding Mark Rappaport's films; turns out silence was his better option. Filmmaker Magazine has Rappaport's response to Carney's… whatever that was.
Pam Grier's memories of making lunch for Fellini may be embellished (for starters, their meeting is so perfectly Felliniesque), but for a story this good I can't imagine why anyone should care. Flavorwire's Jason Bailey relays.
"This business will knock you down. When it does, try to get up, dust yourself off, and take another step forward." John Hawkes's tips for surviving the film industry are as wry and unadorned as his best performances.
"And you would talk to him and he would say, [in Menello's voice] 'Otto Preminger decided—hold on. Maaa! No! Don't do it! Because it's shiny and it's broken. Hello?' And then he'd come back and you'd think to yourself, what's shiny and broken?" A few weeks after Ric Menello's death, Richard Brody interviews James Gray about his scriptwriting partner, and go-to cinema historian. Brody links to another fond appreciation, Glenn Kenny's interview with Menello's friend Mel Neuhaus, that includes details of the Abbot-and-Costello type romp they wrote for the Beastie Boys; while one of the commentators links to Menello's own words on working with Gray, as provided to Paul Rowlands. The combined portrait is of a one-of-a-kind figure, now lost.
"So the goal is always—in a very serious, methodical, detailed, much more layered way, I suppose, intellectually, than kids use for make-believe—to get to the same place where it's just fun and play. But you have to do your homework first, and that's what I try to do." Viggo Mortensen, interviewed by Bilge Ebiri, becomes the first person to describe his own legendary preparation process as playful.
Adrian Curry's latest discovery is a fine one indeed: the East German poster artist Werner Gottsmann, whose colorful, expressionistic designs make each of the nine posters Curry has dug up a beauty to behold.
Obituary
Henry Bromell's career has been almost completely within the realms of TV and cable, but as a writer and producer, he's worked on for some of the very best shows on TV: I'll Fly Away, Northern Exposure, Chicago Hope, Homicide: Life on the Street, Rubicon, and most recently Homeland. "Look over the man's résumé: It's an embarrassment of riches," proclaims Matt Zoller Seitz, who remembers the man and his career at Vulture.
David Dewaele, a non-actor who Bruno Dumont cast in three films, including the lead in Hors Satan (Outside Satan, 2011), died last month of a heart attack. He was only 37. Details gathered by David Hudson at Keyframe Daily.
British documentary filmmaker Michael Grigsby died at age 76. Ian Christie celebrates the legacy of the filmmaker at The Guardian.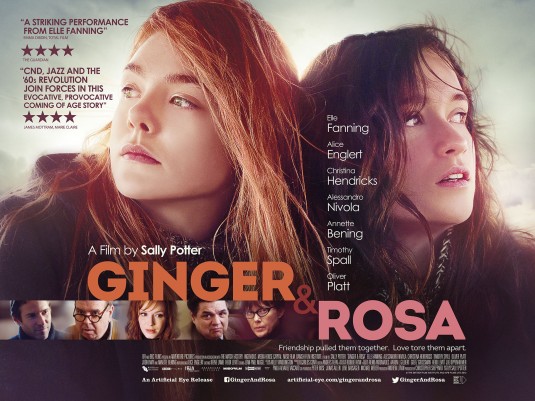 Seattle Screens
By Sean Axmaker
Ginger & Rosa, the latest film from Sally Potter, is her most interesting and engaging film since Orlando. Elle Fanning slips into a British accent to play a teenage girl in 1962 London, trying to move into adulthood while coming to terms with a philandering father (Alessandro Nivola, charming and smug), an unhappy mother (Christina Hendricks), and a best friend (Alice Englert) drifting away into her own world. As she becomes increasingly fragile and anxious, she focuses her volatile emotions into ban-the-bomb activism, which comes to envelope her completely. Robert Horton reviews it for The Herald: "Potter works in a familiar storytelling form, the coming-of-age memoir, but crafts it with enough avant garde touches that the result is moving and engrossing." Multiple theaters
Spring Breakers is poised to become the breakout films for would-be provocateur Harmony Korine, who takes a slash-and-burn approach to the spring break culture and "Girls Gone Wild" fantasies and casts Disney Channel starlets Vanessa Hudgens and Selena Gomez as two of his bikini-clad college girls. They dive headlong into hedonism with alarming eagerness, not just the sex and drugs but the guns and crime too. "Pretend it's a video game," they chant in Korine's self-conscious but continually startling satire of the culture of excess and impulse behavior, but it's James Franco who commits himself entirely to the film as rapper and would-be gangsta Alien. He's at once a complete fraud and utterly authentic and manages to be sleazy and likable at the same time. Brian Miller reviews it for Seattle Weekly: "Hazy, trippy, and impressionistic, Spring Breakers' look transcends its thesis and gossamer story." Multiple theaters
Michel Gondry's The We and the I opens at Seven Gables. I review it for Seattle Weekly: "less a film than a social-studies experiment, an after-school project by a bunch of high-school kids exploring that eternal teen tension between the individual and the group."
The Men of Dodge City, which premiered at the Local Sightings Festival 2012, plays for a week at NWFF with the director, Nandon Rao, in attendance at the Friday screening and conducting a workshop on Saturday afternoon.
Week fourth and final week of NWFF's "L.A. Rebellion" series concludes with screenings of Zeinabu Irene Davis' Compensation (1999) and Haile Gerima's Child of Resistance (1972), plus programs of short films and one last free Cinema Salon, this one held on Saturday, March 23, at The Project Room in Capitol Hill.
Grand Illusion concludes its James Bond series with 35mm prints of The Spy Who Loved Me (1977) and Moonraker (1979), both starring Roger Moore, playing through the week.
Silent Movie Mondays at the Paramount concludes with The Kiss (1929), Greta Garbo's final silent feature, directed by Jacques Feyder. Jim Riggs is at the Mighty Wurlitzer.
Also opening this week: On The Road, the decades-in-the-making adaptation of Jack Kerouac's novel from director Walter Salles and producer Francis Ford Coppola (Egyptian); Admission with Tina Fay and Paul Rudd (multiple theaters); action thriller Olympus Has Fallen with Gerard Butler battling terrorist who hold the American president hostage (multiple theaters); the animated The Croods are not quite a modern stone-age family (multiple theaters); the South Korean gangster film New World (multiple theaters); and the documentary The Waiting Room (Varsity).
For more alternative screenings, read Moira Macdonald's At A Theater Near You roundup at The Seattle Times.
Visit the film review pages at The Seattle Times, Seattle Weekly, and The Stranger for more releases.
View complete screening schedules through IMDb, MSN, Yahoo, or Fandango, pick the interface of your choice.
The weekly links page is compiled and curated by Bruce Reid, with obituaries and Seattle Screens curated by Sean Axmaker, and other contributions from friends of Parallax View.