by Evan Morgan
In Notorious, love is a weapon more corrosive than a heaping pile of uranium ore. And it has a longer half-life. This Nazi spy story slowly reveals the bruised, battered, but still beating heart pumping beneath its surface. As it does, it emerges as the Hitchcock love story par excellence, a bewitched romance wrapped—like Alicia herself—in shimmering black velvet. If Hitchcock's films are often accused of coldness, Notorious proves a useful corrective. In Hitchcock's world, love burns.
But it isn't love that dominates most of the picture. Sex—at its most venal and transactional—is the driving force that moves the film along. Ingrid Bergman's Alicia drowns her moral agony in equal parts cocktails and coitus, a tonic perfectly suited for the job her government offers. But it's not the government that shows up at her home; Cary Grant's smoothly handsome Devlin crashes her party. Alicia and Devlin's initial encounter encapsulates their relationship in a single image. Devlin—an almost too perfect name—sits silently in the corner of the frame, back to the camera, shrouded entirely in shadow. Alicia's drunken come-ons appear to do nothing; he remains an unmovable black monolith. But as the partygoers leave or pass out, the world closes in on Dev and Alicia. Hitchcock swooningly swings his camera around from behind Devlin's head to frame both of them in the shot. It's a brief gesture, but it hints at Devlin's depths. He is already falling in love.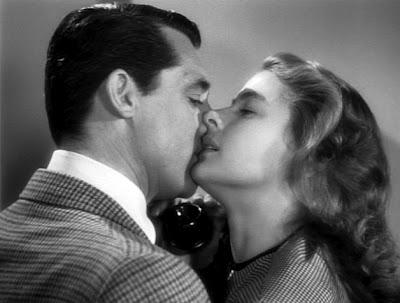 But Devlin has a job to do. Even Alicia's tender embrace cannot break down his stoic resistance. Much has been made about the famous kissing scene, and Hitchcock's clever circumvention of the censors. And yes, there is a playfulness to its kiss-dialogue-kiss structure. But that structure also has a thematic purpose. The scene, as Robin Wood notes, poses a "desperate sensuality, [which] betrays the underlying instability" of their relationship. Devlin continually pulls away from her; it is he who won't utter the word love. He won't—or can't—give her the love they both want. And when duty calls, he runs to his boss and gives her up begrudgingly. Grant plays this scene out subtly, seething at his superiors beneath a cool surface. He leaves the room to sell Alicia's body, but the brief shot of Devlin's forgotten champagne bottle breaks your heart. It's the cinema's most succinct image of love abandoned.
No coincidence, then, that wine bottles come up again. Sebastian's house is overrun with them—an image that becomes more profoundly sad when connected to Dev's forgotten bottle. Years of heartbreak cellared away en masse. But these bottles aren't filled with heartbreak, they're stuffed with radioactive bomb material; it's as disturbing an image of obsessed, curdled love as anything in Hitchcock's filmography.
When Devlin returns to rescue Alicia from Sebastian's jealous poisoning, finally revealing his love to her, she emerges like Sleeping Beauty from her slumber. Prince Charming has returned to claim his bride. But this is no fairytale ending. There is real pain in Sebastian's loss. He has shown Alicia deep kindness and gained nothing in return. In love and in Hitchcock, obsession is a one-way street.
More than any other film—with the possible exception of Vertigo—Notorious most potently distills Hitchcock's singular vision of love. But whereas Vertigo posits love as an ever-ascending staircase of obsession, Notorious inverses that image: love brings us back down to earth, away from notoriousness and Nazis, and envelops us in the warm pleasure of a lover finally returning our embrace. But Notorious's final shot leaves Sebastian out in the cold. As he walks back up his own staircase towards certain death, we realize which weapon has truly killed him. Love burns, indeed.
Copyright © 2013 Evan Morgan