The New Republic's Jason Farago worries that Amour might not just chronicle a death but embody one, if it turns out to be the last, grand gasp of a European cinema whose state subsidies are drying up.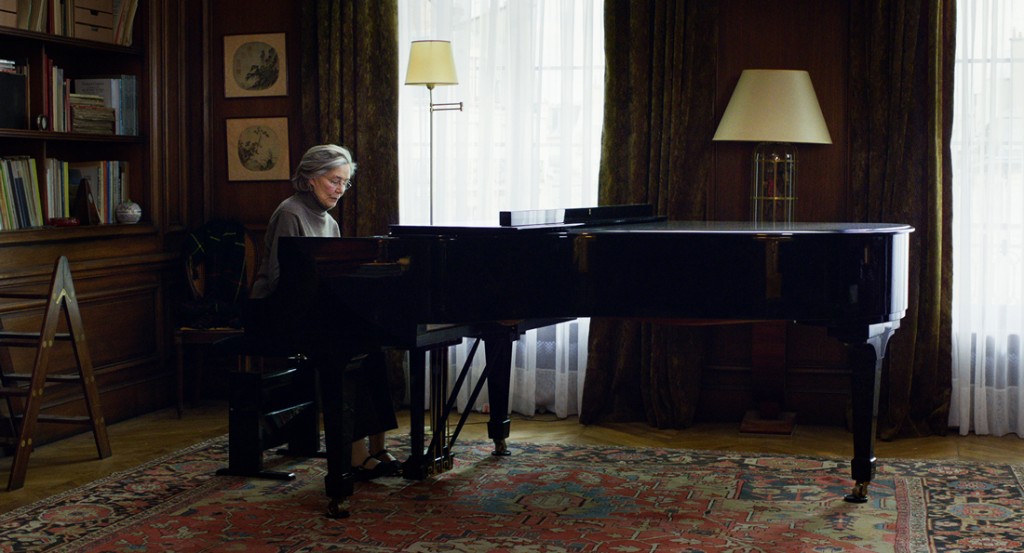 Charles Barr takes the current resurgence in all things Hitchcock as opportunity to argue that the greatest of all cinematic oeuvres is insufficiently recognized as one that's British, born and bred.
The above link comes from John Wyver, who also spots Henry Jenkins's four-part interview with scholar Donald Crafton about how animation evolved from exaggerated lunacy into a "realistic" art of performance, indebted to Stanislavsky more than it ever was to the comics pages. Generously illustrated with cartoon clips. (Parts two, three, and four here.)
Speaking of Disney, Brad Bird and screenwriter Damon Lindelof have kept characteristically tight-lipped on details about their upcoming production Tomorrowland, originally called 1952. Recalling a tall tale about government agents and UFOs that legendary animator Ward Kimball loved to pass along, Disney historian Jim Hill thinks he might have sussed out the plot. Via Drew McWeeny.
"When co-star Walter Brennan saw Mitchum in his elegantly rugged costume, he declared, 'That is the goddamndest realest cowboy I've ever seen!'" Imogen Smith on the dark pleasures of noir western Blood on the Moon, and its inspired use of Robert Mitchum's mesmerizing but untrustworthy rambling spirit.
His review of Glenn Frankel's new book on The Searchers allows J. Hoberman to consider the real-life events, and the national myths they became, that inspired Ford's masterpiece.
"Oh, kicked it. Wanna bet?" "I mean it." "Sure, I'll be around." For Kim Morgan, the lethality and seductiveness of drugs are both displayed in Darren McGavin's marvelous turn as Man with the Golden Arm's pusher.
Raymond De Felitta finds almost too easy a parallel between Lindsay Lohen's travails and the sad crack-up (with redemptive light at the end of the tunnel, however) of Lillian Roth.
"Can a production designer be the auteur of the film?" Looking at a pair of striking silent films who owe their theatrical, deco elegance to Natacha Rambova, David Cairns can't imagine why not.
The standoff between VFX houses and the studios bleeding them dry was mostly behind-the-scenes stuff till the Oscars, when it hit the mainstream thanks to a combination of outdoor protests and the irony of the Academy Award going to a company, Rhythm & Hues, just weeks after it declared bankruptcy and laid off hundreds of employees. For a roundup of articles explaining what's been going on, you of course won't do any better than David Hudson.
Rebekah Rutkoff found the Temenos festival screening of Markopoulos's Eniaios a profoundly magical experience—and Markopoulos's achievement positively Promethean.
"I had the feeling this was the next step in my life because I want to share what I know, and I want to protect young filmmakers, give them the protection to be free." Béla Tarr's film program at the Sarajevo University School—a three-year program with 17 students—has begun; for Reuters, Daria Sito-Sucic has the story.
Brandcameo presents their annual awards for outstanding achievement in product placement. Congratulations, Ted, and good job. Via Movie City News.
Ben Schott provides a handy unpacking of the Billing Block—that chunk of text at the bottom of movie posters listing credits in what turns out to be a very precise and regulated manner.
"Noon's the sacred moment of the aperitif, which I drink very slowly in my study." Presenting Buñuel's personal martini recipe, taste-tested by BFI's Nathalie Morris.
"I'm not the kind of director who aims to send a message out. But if you had to twist my arm, it would be: in knowing yourself, you can liberate yourself." Phil Hoad's profile of Park Chan-wook leaves open the question of whether his foray into Hollywood proved liberating, or a frustrating experience he chooses to greet with fatalistic equanimity. And if you'd like an idea of what to expect from Stoker, BlackBook is streaming Clint Mansell's soundtrack to the film.
Meanwhile at his Guardian movie blog, Hoad finds Turkish films entering an uneven period of gloomy, rural nostalgia.
The Boston Globe presents a well-selected gallery of images of movie lovers around the world, waiting in lines, dressed in zombie costumes, bathed in the glow of New Hampshire drive-ins and Afghan laptops. Via Criterion.
"Does the female form make you uncomfortable, Mr. Lebowski?" "Is that what this is a picture of?" Everyday_i_show offers a collection of Jeff Bridges's deservedly acclaimed set photographs, which nicely capture both the fizz and grind of movie work.
Having read ahead on his subject, photographer John Dominis prepared his introduction to Steve McQueen by renting a racing car and letting him drive it. Perhaps that engendered the trust that makes these 1963 photographs taken for Life so casual and relaxed, even when McQueen is aiming a pistol or having a bloodied hand attended to.
Video: Chelsea Davison offers a tantalizing might-have-been as her pitch-perfect Lena Dunham impersonation goes on an audition for Zero Dark Thirty.

Obituary
Dale Robertson, an actor most famous for his television roles (he starred in Tales of the Wells Fargo and The Iron Horse, among others), made over 60 films in his heyday, most of them westerns, films like Fighting Men of the Plains (1949), Devils Canyon (1953), and Sitting Bull (1954). He passed away at the age of 89 from complications of lung cancer and pneumonia. Douglas Martin at The New York Times.
Film and television screenwriter Gerry Day made his career in episodic television, but he also scripted the off TV movie and one big budget feature: The Black Hole (1979). A remembrance from the Classic TV History Blog.
Australian-born, British-based animator Bob Godfrey won an Academy Award for Best Short film in 1975 for Great. More from BBC.
Seattle Screens
The 2013 Seattle Jewish Film Festival launches on Saturday, March 2 at Pacific Place with opening night film The Day I Saw Your Heart, a French dramatic comedy starring Mélanie Laurent, and continues for ten days at Pacific Place and The Uptown. John Hartl surveys the festival, now in its 18th year in Seattle, at The Seattle Times. The complete schedule of features, documentaries, and special events can be found at the festival website here.
"L.A. Rebellion" profiles the outpouring of independent films made by African-American filmmakers who came out of the UCLA School of Theater, Film and Television over two decades in the 1960s and 1970s. The series, which screens 12 features and numerous shorts over four weekend, kicks off on Friday, March 1 with a new 35mm print of Julie Dash's Daughters of the Dust. Each weekend also presents free events with filmmakers and historians discussing the films and the filmmaking culture of this unique outpouring. Complete schedule at NWFF here.
Noir City is over but murder is still haunting the Uptown this weekend, in 3D even. Alfred Hitchock's Dial M For Murder plays over the weekend in a new 4K DCP presentation. Showtimes here.
If you can't abide the idea of remakes, this might change your mind: the DIY Raiders: The Adaptation, a shot-by-shot remake of Raiders of the Lost Ark by a couple of kids with a video camera and a lot of ingenuity in the 1980s, plays a single showing at The Uptown with the filmmakers (now adults) in attendance. It's a double feature with (what else?) the original Raiders.
Grand Illusion is screening Triple Fisher: The Lethal Lolitas of Long Island, what they describe as a "made-for-TV meta-drama mashup" from director Dan Kapelovitz, who edits three TV movies inspired by the same notorious tabloid story of Amy Fisher and Joey Buttafuoco into a single feature. The director will be in attendance at the Saturday, March 2 screening. Showtimes here.
Bruno Dumont's Hors Satan opens for a week at NWFF. Brian Miller reviews it for Seattle Weeky: "Again a phlegmatic stranger stares intently at the glowing horizon. Again there are sudden episodes of sexual violence. And again we drum our fingers impatiently, wondering where it all will lead."
Playing for three days only at SIFF Film Center is 11 Flowers, a drama set during the Cultural revolution from Chinese filmmaker Wang Xiaoshuai.
Also opening: the big screen fairy tale adventure Jack the Giant Slayer (area theaters), British cop drama The Sweeney with Ray Winstone (area theaters), cold war submarine thriller Phantom (area theaters), teen comedy 21 and Over (area theaters), the horror film The Last Exorcist Part II (area theaters), and the documentaries Beware of Mr. Baker, a portrait of rock and roll drummer Ginger Baker (Grand Illusion), and A Place at the Table, a look at hunger in America (Varsity).
Visit the film review pages at The Seattle Times, Seattle Weekly, and The Stranger for more releases.
View complete screening schedules through IMDb, MSN, Yahoo, or Fandango, pick the interface of your choice.
The weekly links page is compiled and curated by Bruce Reid, with obituaries and Seattle Screens curated by Sean Axmaker, and other contributions from friends of Parallax View.