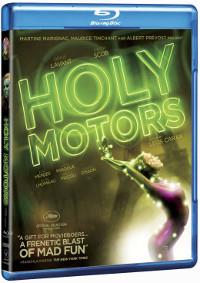 Holy Motors (Vivendi) is a film that almost defies description.
From its enigmatic opening scenes, which sends the viewers into a mysterious voyage a la Alice through the looking glass that ends up in a movie theater, Holy Motors is a celebration of the magic, imagination, and primal power of the movies.
Director Leos Carax celebrates his love (as well as his criticisms) of cinema in the modern world through an imagined culture of interactive theater that recreates moviemaking as private performance art pieces executed by freelance performers / directors for audiences unknown. Denis Lavant, the ugly/beautiful primal force of Les amants du Pont-Neuf and Beau Travail, is the committed actor, delivered from set to set in a long white limousine dressing room, the arts equivalent to the traveling office of Cronenberg's Cosmopolis (I think there is a great double feature to be found here). He transforms from businessman to gnarled old beggar woman to street thug killer to depraved leprechaun troll and beyond, taking on a complete new persona with each costume change.
Behind these unrestrained journeys into all manner of mini-movies is an anxiety over the future of filmmaking and a fear of exhaustion (physical and creative) by the filmmakers, but the determination to keep creating these dreams and the sheer physical commitment to each performance is its own answer. Yet beyond that is the exhilaration of Carax's flights of fantasy, from the visceral beauty of a motion-capture martial arts dance and gymnastic ballet of sexual congress to passionately overwrought melodramas that could have come out of the 1940s (Hollywood or France, take your pick) to hard-edged crime thrillers with wicked twists that call on us to provide our own backstory. There's comedy, music, drama, thrills, tributes to the movies, legendary French actress Edith Scob, American beauty Eva Mendes, and Australian pop star Kylie Minogue, but mostly there is wonder and invention and the sheer thrill of cinematic creation. In the words of Lavant's exhausted creator, it's all about the beauty of the act, and these acts are nothing if not beautiful.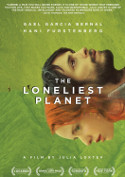 Blu-ray and DVD, in French with English subtitles (and brief sequences in English language). The Blu-ray also features the 47-minute documentary "Drive-In" with interviews and behind-the-scenes footage (in French with English subtitles) and an interview with Kylie Minogue (in English).  Also available On Demand, on digital download, and VOD.
The Loneliest Planet (MPI), an American independent production shot overseas, stars Hani Furstenberg and Gael Garcia Bernal as a couple backpacking through the back country of Georgia in Eastern Europe, always making an effort to take the road less traveled. This road in this meandering, low-key film leads to an unexpected confrontation, and a startling reaction, that changes things irrevocably between them. Don't fret if you don't get any subtitles. We are as much in the dark as to what the locals are saying between themselves as our traveling couple. DVD, with a featurette and stills.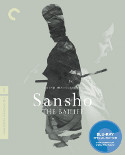 Sansho the Bailiff (Criterion), Kenji Mizoguchi's masterful 1954 film, follows the ordeals of the wife and children of a provincial governor after they are sold into slavery by a vindictive feudal lord. Mizoguchi is the poet laureate of Japanese cinema, gracefully exploring the battered but resilient souls in the cruel worlds of Japan's feudal past and present. His worlds are hard and unforgiving, the societies brutal, and within them he creates characters of tremendous grace. This is one of his greatest films, and it won the Silver Lion at the Venice Film Festival, his third win in three years.
Sansho is not the hero of Sansho the Bailiff, he's a pitiless slave owner who metes out swift, unequivocal punishment to all slaves captured in escape attempts. The brother, Zushio (Yoshiaki Hanayagi) hardens over time, becoming tough and unfeeling as he obeys the hard commands of Sansho, but sister Anju (Kyôko Kagawa) remains kind and generous and sacrifices her freedom to save Zushio, which rekindles his knotty heart and soul and resolve. Kinuyo Tanaka, who plays the mother separated from her children and degraded by a life of prostitution. Mizoguchi was famed for his portraits of women. It's not just about finding the saints among the sinners, but the rich lives of these concubines and wives and actresses and prostitutes, who are supposed to find their identity in the men of their lives and wind up forging their own rich interior lives, even as they wind up discarded by their own society.
Previously released on DVD by Criterion, it debuts on Blu-ray with the same supplements: commentary by Japanese-literature professor Jeffrey Angles, video interviews with critic Tadao Sato, assistant director Tokuzo Tanaka, and legendary actress Kyoko Kagawa, and a booklet with an essay by film writer Mark Le Fanu and two versions of the story on which the film was based: Ogai Mori's 1915 "Sansho Dayu" and a written form of an earlier oral variation.
For reasons that defy rational explanation, a bizarre subgenre of the Euro-zombie craze of the seventies and eighties came up with the ultimate living dead horror: the Nazi zombie. Two of the most notorious arrive this week in newly remastered editions.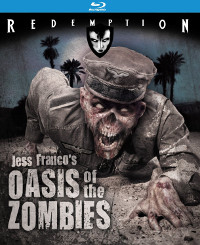 Oasis of the Zombies (Kino), a 1983 French zombie film helmed by Spanish director Jess Franco, is a piece of cheap, gruesome exploitation about Nazi gold buried in the African desert, the college kids that race a ruthless veteran for it, and the undead army that guards it. Franco directed an estimated 200 plus films under a score of aliases in a career that is still active more than 50 years after his debut, so you can assume that more than a few were fairly tossed off. Which is not to say it lacks entertainment value, merely that the distracted, sloppy camerawork, perfunctory scripting, flat dubbing, and ratty make-up make this one for the Franco-philes, and for those who find camp value in clumsy, shamelessly brazen exploitation. Say, just how do those zombies bury themselves back in the sand every sunrise?
Franco is a real cult director and this production has been given more loving attention that it probably received on its first release. It's been newly mastered in HD from the archival negatives for Blu-ray and DVD, which means it's not restored but is quite vivid behind the scuffs and minor wear, and presented with original French and English dub soundtracks. Also features trailers from this and other Jess Franco films.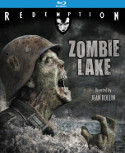 Franco was also supposed to direct the earlier Zombie Lake (Kino), another 1980 French film with Nazi zombies from the same producers, Marius Lesoeur and Daniel Lesoeur. He wrote the script, something about a reporter investigating the secret behind "The Lake of Ghosts" in a small French lakeside town where dead, green-faced zombies are killing the local girls, but Jean Rollin was brought in to direct (under the pseudonym J.A. Laser). The underwater scenes are oddly lovely and the weird reunion between a sentimental zombie soldier and his living French daughter is as tweaky as it gets: the green faced corpse strolls down a country lane hand in hand with the cloying moppet to maudlin music. Wow. But Rollin's dreamy, surreal touch is almost nowhere to be seen throughout the rest of this clumsy, blunt production. The make-up wouldn't pass muster at a pre-school Halloween party, the performances are embarrassingly amateur, and dubbing is so bad it's painful. Which is to say, in some circles, this is considered an exploitation classic.
Blu-ray and DVD, remastered from the original negatives and presented with original French and English dub soundtracks, plus alternate versions of two sequences, an alternate English title sequence, and trailers from this and other Jean Rollin films.