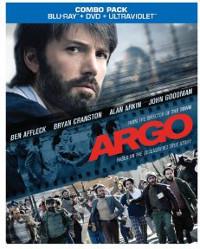 Argo (Warner), the third feature from actor-turned-director Ben Affleck, was released early in October, just before the traditional roll-out of high-toned dramas and Oscar-bait showpieces gets aggressively competitive, and debuted to glowing reviews, enthusiastic audiences, and impressive box-office. Pretty good for a real-life drama about the stranger-than-fiction rescue of the six Americans who escaped capture when Iranians stormed the U.S. Embassy and took American hostages. But then it's a savvy picture that takes a few liberties with the historical record to create a nail-biter of an escape thriller.
It was an early Oscar favorite, then lost momentum as the season rolled ahead and competition heated up. For reasons still not clear, Ben Affleck was passed over as a Best Director nominee and even though the film snagged seven Oscar nominations – an impressive count by anyone's standards – it seemed to have lost its luster. Then it caught its second wind: a Best Director award from the DGA, Best Director and Best Picture Golden Globes, an award for the ensemble cast from the Screen Actors Guild, and BAFTA wins for Best Picture and Best Director. Now, as handicappers tip "Argo" as for the Best Picture Oscar, it arrives on disc and digital delivery less than a week before the Academy Awards.
Awards hype aside, Argo is a terrific piece of filmmaking. Not Zero Dark Thirty brilliance or Life of Pi beauty, mind you, but a solid, well-made film with personality, humor, drama, tension, and a superb sense of time and place. Affleck and screenwriter Chris Terrio establish the era and the complicated history that created the Iranian situation smartly and efficiently, and Affleck seamlessly combines actual news footage with recreations that segue into the story at hand. And while I'm not convinced that the escape-movie contrivances that drive the film's final act necessary to communicate the stakes of this mad plan, there is something oddly appropriate in the way this meeting of Hollywood fakery and true-story spycraft plays out like a movie.
Affleck takes the lead as CIA agent Tony Mendez, the man who concocted a plan that involved creating a fake Hollywood movie production as cover to sneak six Americans, hiding in the Canadian embassy, out of Iran in plain sight. But while Mendez is clearly the fulcrum of the story, Affleck plays the part of the escape mastermind with all the restraint it requires, letting the others showboat in the key scenes while he hangs back, taking stock and holding it all together. Just like a director.
Both the Blu-ray and DVD feature the 16-minute featurette "Rescued From Tehran: We Were There," while the Blu-ray+DVD Combo Pack offers more supplements, the most interesting and enlightening "Picture-in-Picture: Eyewitness Account," a running audio-visual commentary track featuring the real Tony Mendez, President Jimmy Carter, former Canadian Ambassador Ken Taylor, and the "house guests" Mark Lijek, Bob Anders, Cora Lijek, Kathy Stafford, and Lee Schatz who were hidden in the Canadian Embassy, even the housemaid who worked at the embassy and kept the secret, telling the story in their words. It plays a bit like a complimentary documentary, offering a personal perspective to the fictionalized presentation and in some cases correcting the dramatization with the true story.
***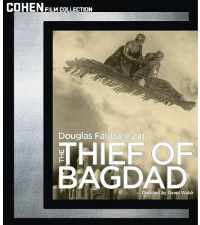 Douglas Fairbanks was the first action hero and The Thief of Bagdad (Cohen), the lavish 1924 adaptation of the Arabian adventure fantasy "A Thousand and One Nights" directed by Raoul Walsh from a script by Fairbanks, is one of the grandest and most glorious spectacles of the silent era.
Fairbanks swaggers through massive marketplace sets and cavernous throne rooms as an incorrigible thief and pickpocket, scaling towering castle walls (with the help of a magic rope) and leading palace guards on a merry chase through crowded bazaars until he falls in love with the beautiful princess and vows to win her heart and her hand. And that's just the first act! Racing three kings to retrieve the rarest treasures known to man, the lovesick thief dashes through caverns of fire, battles a smoke belching dragon, dives for underwater treasure guarded by a spider, rides a flying horse, and creates an army out of nothingness with magic powder.
This is a film of magnificent sets, a cast of thousands, and one magical set piece after another. Ever the canny businessman, Fairbanks bought the American rights to Fritz Lang's dark fantasy Der Mude Tod (aka Destiny) just so he could lay claim to the flying carpet effects showcased in the film. He kept the film off American screens until Thief was released so he could debut the magic carpet ride himself. Toss into this the magic rope, a crystal ball, and sets right out of storybook pages (gorgeously and ornately designed by William Cameron Menzies to the epic scale preferred by Fairbanks), and you have a spectacular fantasy that may show its seams but never loses its sense of wonder. The adventure concludes in a torrent of movie magic that cascades nonstop through the breathless final hour. Through it all, Fairbanks commands the screen with a hearty laugh, a graceful athleticism, and jaunty joy of life.
It looks superb Blu-ray and DVD, a beautifully mastered presentation with color tints and a big orchestral score composed and conducted by Carl Davis. Features commentary by Fairbanks biographer Jeffrey Vance and a 17-minute video essay featured promotional and production stills and brief explanatory notes by Vance, set to an excerpt from the film's score.