Down-and-out actors lured to the desert for $75 a day and the promise they'd qualify for SAG cards, on a set so chaotic and unorganized they started taking the piss, playing their Arab warrior parts as growling, scimitar-waving pirates. Michael Joseph Gross describes the making of The Innocence of Muslims.
An annual highlight of David Bordwell and Kristin Thompson's blog (and that's saying something for such a consistently rewarding site) is their Best-of lists looking back 90 years. Lest you think nearly a century is enough to set such things in amber, Thompson's write-ups for the best films of 1922 includes commentary on some surprising omissions as well.
A wealth of links passed along by Film Studies for Free, or a "Stocking Full" as they seasonally put it. All I've been able to read (and enjoy) so far are some pieces from the new Alphaville: Melissa DeAnn Seifert's look at the way homophobia was employed to keep women divided in female-oriented blaxploitation and Dina Mansour charting the anti-colonial sentiments underlying Egypt's censorship laws. But there's so many articles something's bound to catch your interest.
"The frames of Pasolini's films combine the language of the cinema with the figural traditions of painting; his images are often equal parts Rossellini and Giotto, Mizoguchi and Bosch, Chaplin and Pontormo, Dreyer and Brueghel." Prompted by MoMA's retrospective, Patrick Rumble revisits the clashes—of class, religion, sexuality, even language (as Rumble reminds non-Italian speakers, thick dialects rendered his films effectively bilingual)—that comprise Pasolini's endlessly eclectic cinema.
"We're both stumbling around together in this unformed world, whose rules and objectives are largely unknown, seemingly indecipherable, or even possibly nonexistent, always on the verge of being killed by forces that we don't understand." "That sounds like my game, all right." Mark Fisher offers his philosophical exegesis on eXistenZ, originally published in Film Quarterly. Via Girish Shambu.
Even the head of the Tyrolean film commission says the remote Austrian village of Obergurgl was a "god-forsaken place" when Alfred Hitchcock went there to shot his second, lost, feature, The Mountain Eagle. The Guardian's Kate Connolly tells the story.
Not Coming to a Theater near You offers their second collection of "Rock Follies," movies made, for better or worse, around or even by rock stars. If Cool as Ice or Harry Nilsson and Ringo Starr's Son of Dracula get the expected takedowns, and Masked & Anonymous the rambling hipster word salad, Prince's three narrative features (Purple Rain, Under the Cherry Moon, Graffiti Bridge) all receive the bemused, grudgingly admiring appreciations such slapdash, ego-driven, but fundamentally, deep-down weird movies deserve.
"I've received  a lot of criticism over the years for the violence in my films, but I'm happy to receive it on behalf of the characters who I represent. I'm taking the blame on their behalf." Takashi Miike talks with MovieScope.
Video: The above was spotted by Mubi's Adam Cook, who, in the midst of several links of note, embeds a six minute video of Abel Ferrara discussing some upcoming projects: Biopics of Dominique Strauss-Kahn and Pasolini, with Ferrara's take on each unique as you'd expect, and dependably profane.
A pair of interesting interviews with costume designers: Django Unchained's Sharen Davis describes to Clothes on Film's Chris Laverty the anxieties of working with Tarantino ("But the hardest thing was the blood splatter. It was all about the blood splatter. You really have no idea how far it's going to spray. Your heart just races…."); while Deborah Nadoolman Landis shares with Booth Moore the lessons from a career just peaked with the curation of the celebrated "Hollywood Costume" exhibition in London ("[Judy Garland's Wizard of Oz pinafore] was made on a treadle sewing machine, as Auntie Em would have done it, out of the cheapest Dust Bowl general store cotton. He didn't mix fashion and costume… And everything I put my heart and soul and intellect behind was validated when I saw it.")
"And after the steak, do we send sister to the movies? Turn mama's picture to the wall?" Roland-François Lack thought he'd possibly contributed a small but original bit of Psycho scholarship by identifying the source of the Susannah and the Elders painting behind which Norman keeps his peephole. It turns out it had been previously identified, but it's an intriguing bit of trivia nonetheless.
Adrian Curry lists his favorite movie posters of 2012, from "a wittily simple 8-bit pixellated key-stroke of genius" on down.
Video:  Indiewire's Keven Jagernauth posts "Lick the Star," Sofia Coppola's 14-minute debut that, unlike so many debuts, is pretty instantly recognizable as it's creator's.
Obituary
Screen legend Harry Carey Jr., son of silent film stars Harry Carey and Olive Carey, had a legacy stretching back to Howard Hawks' Red River (where he appeared with his father) and the glory days of the John Ford Stock company (where he played leads in Three Godfathers and Wagonmaster and appeared with his mother in The Searchers). "My journey has been that of a character actor," he wrote in his autobiography. "I've worked with the great and the not-so-great. But mostly I've worked with men and women who loved their profession, and who like me, had kids to raise and houses to pay for." He passed away at the age of 91, of natural causes, according to his daughter, Melinda Carey. More from Dennis McLelland at the Los Angeles Times and Ronald Bergan at The Guardian.
Jean-Henri Roger—director, actor, educator—was a member of Godard and Gorin's Dziga Vertov Group (working on British Sounds and Pravda), co-directed two films with Juliette Berto, and appeared in Godard's In Praise of Love and Robert Guédiguian's The Snows of Kilimanjaro. He died at the age of 63. David Hudson collects the notices at Fandor Daily.
Paulo Rocha, an influential director of Portugal's Novo Cinema, trained as an assistant to Jean Renoir (The Elusive Corporal, 1962) and Manoel de Oliveira (Rite of Spring, 1963) and made his mark with Change of Life (1966). He was 77. Again, more from David Hudson at Fandor Daily.
Romanian director Sergiu Nicolaescu, whose career began in the 1960s and specialized in historical epics, action cinema and war films, both flourished under the Communist era and weathered the break-up of the Soviet bloc. More from the AP, via Boston Globe.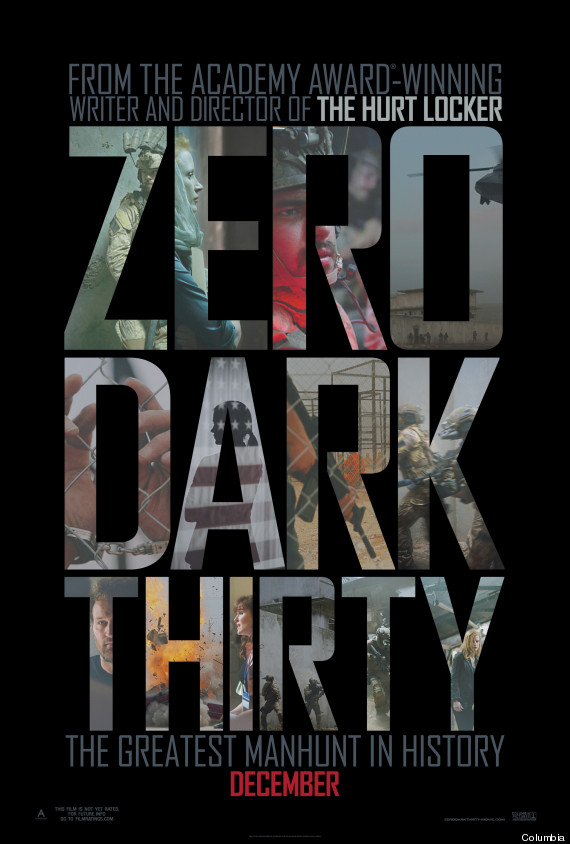 Seattle Screens
Kathryn Bigelow's Zero Dark Thirty, arguably the most talked-about film of the end of 2012, finally opens in Seattle. The bad news: it's only in two theaters, Regal Meridian 16 downtown and Lincoln Square Cinemas in Bellevue. Don't let that stop you from seeing it.
Northwest Film Forum is back from their Christmas break with Francine, starring Oscar winner Melissa Leo. NWFF page here.
Also opening this week: The Impossible with Naomi Watts and Ewan McGregor as tourists in Thailand caught in the 2004 tsunami, and Texas Chainsaw 3D, because nothing spices up a chainsaw massacre better than an extra dimension of blood and body part spatter.
The Seattle Art Museum winter film series "Viva Italia: Italian Film from Fellini to Commedia All'Italiana" begins Thursday, January 10 with Federico Fellini's Nights of Cabiria. You can still get series tickets but a limited number of single-film tickets may be available on a first come, first served basis the day of the show. Schedule and other details at SAM website.
Grand Illusion continues their series "Woody Allen in the 70s" with runs of Bananas (Jan 4-6) and Everything You Wanted to Know About Sex (Jan 6-10) in 35mm prints. Showtimes here.
On Thursday, January 10, NWFF presents "Search and Rescue" with selections from their own 16mm collection in the film vault. Program is listed here.
Visit the film review pages at The Seattle Times, Seattle Weekly, and The Stranger for more releases.
View complete screening schedules through IMDb, MSN, Yahoo, or Fandango, pick the interface of your choice.
The weekly links page is compiled and curated by Bruce Reid, with obituaries and Seattle Screens curated by Sean Axmaker, and other contributions from friends of Parallax View.