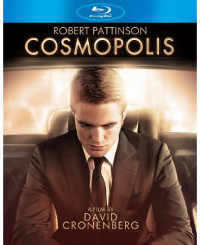 Cosmopolis (eOne) is a microcosm of a disconnected existence, life lived in a bubble in financial dealings and digital communications and brief face-to-face conversations and sexual intermissions in a space shuttle of a limousine creeping through the gridlock of an anonymous New York City.
David Cronenberg adapts Don Delillo's massive novel, distilling it down to a two-hour odyssey through a long day of digressive debates and ruminations as the grand gamble by financial kingpin Eric Packer (Robert Pattinson, perfectly disaffected in a mix of boredom and anxiety) turns against him, pulling down his empire with it. But inside the bubble, the ruin is no more real than the words swapped in dialogues the devolve into parallel monologues and indecipherable symbols flashing across the screens of his moving office.
Cronenberg is in fact the perfect director to bring this book to the screen. He turns this day in the urban jungle into an unreal window on an alienated world, where civilization pitches on the verge of ruin and Packer, dissatisfied with its pace, nudges it along, taking the motto "destruction is a creative act" to heart.
The limo itself is like a character in its own right, a vehicle as an artificial ecosystem in its own right. Equal parts urban tank and media center, it's the throne from which the corporate dauphin looks out on a world either indifferent or hostile to its presence, watching the carnage without like a movie on simply another screen. He's not phased by any of it, and that's his weakness. His motivation, ultimately, is to feel something, anything, and he transgresses boundaries to jolt some sensation into his dead soul. Cronenberg's cold, exacting precision and emotionally removed observation may not grab all viewers, but under those perfect surfaces is a raw horror trying to claw out of the denial.
Sarah Gadon is Eric's unfulfilled wife and Kevin Durand his chief of security, and Juliette Binoche, Samantha Morton, Jay Baruchel, Mathieu Amalric, and Paul Giamatti play the characters who share his bubble or collide with it.
Blu-ray and DVD, with commentary, interviews, and a feature-length behind-the-scenes documentary. The 110-minute "The Citizens of Cosmopolis" was shot largely on the set of the film. It reveals equally the mechanics of the production (so much green-screen work recreating New York City around the limo and thebrilliantly-designed? limo itself, part set and part prop) and the approach of the actors (with interviews with all the major cast members) and filmmakers. And of course it features plenty of conversations with Cronenberg, a man who is thoughtful about his work and open to discussing his ideas and inspirations.
Also features a typically dense commentary track by Cronenberg and a 27-minute featurette with additional interview clips with Cronenberg, producers Paulo Branco and Martin Katz, and all of the featured actors in the film.