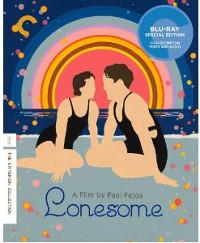 For a dying medium, the disc market continues to release a robust slate of superb DVDs and Blu-rays, classic and contemporary both.
Here is my annual round-up of the Best of 2012, a small compendium of lists: for disc debuts, Blu-ray releases, TV on disc and manufacture on demand. There is a lot of good stuff out there. Here's my perfectly subjective picks for the great stuff, with points for heroic efforts and creative archival additions.
Disc Debuts
1. "Lonesome" (Criterion), completed just as sound technology came to the movies, is one of the last great silent films. Or should I say, mostly silent. Finished just as "The Jazz Singer" kicked off the rush to talkies, it was revised just before release with the addition of three sound dialogue sequences. While these soundie sequences tend to stick out, being static and somewhat awkward, they are brief and a little endearing, a unique gimmick in the midst of a turbulent changeover. "Lonesome" is much more than a gimmick, however. It's a gem of an intimate romance right out of the late-silent film culture of "Sunrise," "The Crowd," "People on Sunday" and others. Directed by Hungarian émigré Paul Fejos, it is delicate and sweet, playful and creative, and cinematically inventive without showboating.
If you've never heard of Paul Fejos, that's likely because his films simply haven't been available in any form in the home video era. Which makes Criterion's release not just a debut but a rescue. In addition to a beautifully mastered edition of "Lonesome" from the restored duplicate negative, the set presents two bonus Fejos classics from the same era: his 1927 "The Last Performance" with Conrad Veidt and Mary Philbin (with a new score by Donald Sosin) and a reconstructed sound version of Fejos' 1929 musical "Broadway," for which Fejos had a massive camera crane built. That's in addition to archival interviews and other superb supplements. This is 2012's true gift of cinema, presented on Blu-ray and DVD by Criterion. (Full review here)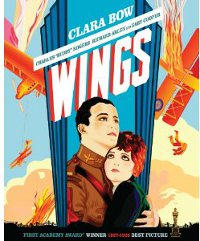 2. "Wings" (Paramount) – Clara Bow took top billing in the 1927 film that won the very first Academy Award for Best Picture, but the real star of this World War I drama is the amazing aerial spectacle: the dogfights in the sky over the battlefields. Paramount's restoration of the film (for the studio's 100th anniversary) is more lavish and extensive than I have ever seen for a silent film, a sharp, shimmering digital master of a landmark done out of respect for film history more than any hope of profit. Damaged sequences were repaired or replaced and missing shots and scenes restored from prints culled from archives around the world, and then repaired and corrected with months of digital restoration, and set of a new recording of the original score with sound effects created the old fashioned way by Oscar-winner Ben Burtt. It's the kind of thing studios routinely do for commercial classics like "Casablanca" or "The Wizard of Oz," but rarely for something like this. Blu-ray and DVD. (Full review here)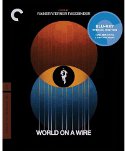 3. "World on a Wire" (Criterion), made by Rainer Werner Fassbinder in 1973 for German television, was for years one of the only films by the director that simply didn't get screened or made available on home video. We just assumed that it was a lesser production, as suggested by the little attention it received in English language studies of Fassbinder. We assumed wrong. The first film to explore virtual reality, with no special effects to speak of mind you (you might say that Fassbinder suggests his levels of reality and identity with mirrors), it creates a near future out of modern architecture (some of it still under construction), gangster-movie fashions, futuristic bric-a-brac, and more glass and mirrors than a carnival funhouse, giving it the visual density of Fassbinder's theatrical films. And even at 3 ½ hours, this film races with action, ideas, and a paranoid anxiety that nothing is as it seems. Blu-ray and DVD. (Full review here)

4. "Margaret" (Fox), the much delayed and debated second feature from director / screenwriter / playwright Kenneth Lonergan, was shot in 2005. After six years of legal wrangles and creative fights, a 150-minute cut was released in a few cities in 2011, and then it practically disappeared. Even after a brief return in 2012, most people didn't have a chance to see the film until its home video release. A powerful, provocative, ambitious drama set in the shadow of September 11, 2001, it's a marvelously messy film about the messiness of emotions and people and relationships. An even messier version can be found in the "Extended Cut," the version that Lonergan originally fought to get released and is available as a bonus DVD on the Blu-ray release of the 150-minute theatrical cut. (Full review here)

5. "David Lean Directs Noël Coward" (Criterion) features beautifully mastered editions of the first four features directed by David Lean — "In Which We Serve" (1942), "This Happy Breed" (1944), "Blithe Spirit" (1945), and "Brief Encounter" (1945) — all of them made in partnership with author/producer Noël Coward. Officially, David Lean is second-billed to Coward in the director credit for "In Which We Serve" and takes solo credit for the subsequent films, but is clearly the man behind the camera in all of them. Lean is clearly a talent to be reckoned with from the first film, but seeing him develop over the four films, find his strengths, and then produce his first genuine masterpiece ("Brief Encounter") is quite an experience. Blu-ray and DVD. (Full review here)