Barbara, from director Christian Petzold, is a fiercely directed character piece set in rural East Germany long before the fall of The Wall. According to the program notes, it's 1980 in the GDR, but you have to piece together the era and the situation from the clues on screen: talk of hopes of going to the West, a radio broadcast of GDR athletes at the Olympics, the harassment of secret police who conduct almost daily searches of the run-down apartment assigned to Barbara (Nina Hoss, in one of the most searing performances of 2012), a doctor from East Berlin who has been banished to this nowhere village for carrying on an affair with a man from West Germany.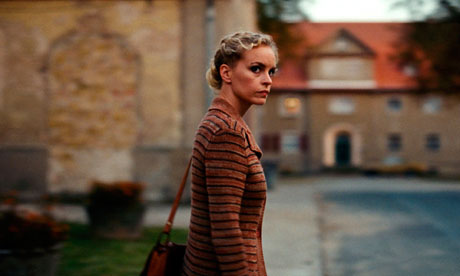 Next to the sea and surrounded by forest, it's a stormy paradise; on her bike rides along the forest trail, the trees rage in the constant windstorms of a world percolating in distrust and sublimated fury. Is there anyone here by choice, or is this simply a prison without walls for unruly citizens? Hoss is all wrapped up anger and emotional distance as Barbara, which the others in the hospital take as urban arrogance except for the teddy bear-ish doctor (Ronald Zehrfeld) who has accepted his exile with something approaching peace. And when she plots her escape, the plan is complicated when she puts herself on the line to protect a teenage girl who constantly breaks out of a local work camp. The critique of the GRD culture committed to breaking the spirits of mavericks and rebels and would-be dissidents is secondary to the human story of Barbara's quiet revolution, a fight against a dehumanizing system that takes a not-unexpected turn and yet is still so satisfying.
At SIFF Cinema Uptown. Showtimes here
Quentin Tarantino's Django Unchained opens on Christmas Day in multiple theaters. Expect Tarantino to once again push boundaries and use genre conventions to explode expectations on how to approach a "serious" subject. What a double it would made with Steven Spielberg's Lincoln: the studious, low-key drama of the political deal-making to pass the Thirteenth Amendment and ban slavery forever, and the furious, violent, audacious revenge fantasy driven not by history but anger and righteous vengeance against a culture of dehumanization. At area theaters.
Openings
Already opened this week is The Guilt Trip with Barbra Streisand and Seth Rogen and the revised Monsters Inc. 3D from Pixar.
Opening Friday, December 21: Jack Reacher with Tom Cruise (area theaters), Judd Apatow's This Is 40 with Paul Rudd and Leslie Mann, and Cirque du Soleil: Worlds Away 3D (in area theaters),
And opening Christmas Day is the musical Les Misérables with Hugh Jackman and Russell Crowe, Parental Guidance with Billy Crystal and Bette Midler,
Visit the film review pages at The Seattle Times, Seattle Weekly, and The Stranger for more releases.
Repertory / Revival
The classic White Christmas with Bing Crosby, Danny Kaye, Rosemary Clooney, and Vera-Ellen, plays through Christmas Eve at SIFF Cinema Uptown day. Details here. Plus three days of "Christmas in Acidland" presented by Johnny Legend and "The Christmas Specials Special" on Christmas Eve, both at SIFF Film Center.
And for those of a different holiday persuasion, SIFF is presenting a Fiddler on the Roof Sing-Along at The Uptown on Christmas Day. This one is a catered event. Details here.
And don't forget the Grand Illusion's traditional showing of It's a Wonderful Life (on 35mm, of course) continues through Thursday, December 27.
Schedules and Showtimes
View complete screening schedules through IMDb, MSN, Yahoo, or Fandango, pick the interface of your choice.
You can check your favorite independent cinemas, neighborhood theaters and multiplexes here.
Independent theaters:
SIFF Cinema
Northwest Film Forum
Grand Illusion
Majestic Bay Theatres
Cinerama
Central Cinema
The Big Picture
Seattle Art Museum
Multiplexes and Chains
Sundance Cinema
Cinebarre
Landmark Theatres (Egyptian, Guild 45, Harvard Exit, Metro, Varsity and others)
Regal Cinemas (Meridian 16, Thornton Place and others)
AMC Cinemas (Pacific Place, Oak Tree, Alderwood and others)
Kirland Park Place
Lincoln Square Cinemas
Village Roadshow Gold Class Cinemas