I came across the new Senses of Cinema too recently to have sampled much beyond their "Special Dossier" on the cinematic history of Tasmania, but even that's provided several articles of interest, including Jeannette Delamoir's history of the now mostly-lost silent Jewelled Nights (whose star and chief creative force, Louise Lovely, claimed she here innovated the shortcut of using shots of ship's funnels and locomotive wheels to stand in for long voyages); director John Honey on the making of the state's first self-produced feature, 1980's Manganinnie; and two looks at the island's most famous son: Robert de Young on how Tasmania's wildlife and raging seas formed Errol Flynn, and Adrian Danks on the star's superb collaboration with Raoul Walsh. Elsewhere in the issue, Shirley Clarke is added to the site's Great Directors ranks, Angelos Koutsourakis capably handling the honors.
Mark Harris describes the rapid rethink and restructuring Kathryn Bigelow and Mark Boal had to do when their planned Hunt-for-bin-Laden movie rushed up against his real-life assassination. And while we're on the subject, Dexter Filkins's short New Yorker profile reminds you that our best action director used to hang out with Susan Sontag and Philip Glass and has no problem dropping "Lacanian" into a conversation.
"The characters in Xenogenesis also visit a world called "Techno-Planet." On this world, our main characters discover an advanced civilization that has collapsed because the people withdraw into highly realistic fantasy worlds generated by computers." To fight off some seemingly frivolous lawsuits over Avatar, James Cameron has tracked his influences and inspirations (beginning with a sketch doodled in his 11th-grade homeroom) in a 45-page legal document, available at the Hollywood Reporter. It's as meticulous as you'd expect, and in its endless conflations of technocrat idealism and hippie ethics, probably as close as Cameron will ever get to a Declaration of Principles.
Sadly noting that even its latter-day status as a parking garage has ended with its tearing down, Charles Simic recalls New York's Comique Film Studio, and the day Buster Keaton showed up to do a bit in one of his pal Fatty Arbuckle's movies.
Also at the New York Review of Books, an excerpt from Alexander Kluge and Gerhard Richter's forthcoming literary/photography collaboration December, chronicling three brutal winter days in 1940's Germany.
"Sometimes they ask your name./You hope they don't ask for your number./Usually they don't." More literature from film directors with Julia Loktev's lovely poem Notes on Dancing with Strangers, at This Long Century.
"Fred, when you say by the book, what book would that be?" Michael Korseky's latest Here & Now & Then column shows the hazards of political filmmaking Hollywood-style, with a trio of embarrassingly outdated, strained efforts from the bad old days of 1998.
"So if that man, with that face, could hoist that much blubber skywards in the name of expressing happiness, what excuse have we?" David Cairns on the magnificent jowls and career of Walter Connolly.
Fandor's tumblr has posted The Brakhage Lectures—featuring his thoughts on Méliès, Griffith, Dreyer, and Eisenstein—as a downloadable .pdf.
The American Reader presents Alfred Hitchcock's letter to Vladimir Nabokov suggesting that they work together, and the novelist's reply containing two movie ideas of his own (one of which seems to have been lifted by the writers of  The Astronaut's Wife).
Ted Fendt translates and prints Jean Renoir's brief but glowing tribute to the recently deceased Andre Bazin, from the January 1959 Cahiers du cinéma.
"And then [Canet] said, 'Come meet my girlfriend' and I met this woman who looked like a silent film actress like Pola Negri or something. And I said, 'Who's your girlfriend?' and he said, 'You don't know my girlfriend? She won an Oscar, are you stupide?'" One of the as-yet-unread Senses of Cinema articles mentioned above that I'm looking forward to is about the Old Testament stylings in the films of James Gray. Though in this interview with Indiewire's Jessica Kiang the influences seem much more secular and familiar—everybody you'd think from the '70s, plus Fellini.
And I wondered how I would make a political film which would be attractive. I thought: do a comic-strip film. In those days, it was a put-down to say a film looked like a comic-strip; nowadays it's a guarantee of authenticity and invention." William Klein looks over his career interviewed by Sight & Sound's Brian Dillon.
Roland-François Lack hunts down the locations for Holy Motors, incidentally revealing without comment what's likely another of the film's intertextual links:  The home Lavant emerges from to start his day is the Villa Paul Poiret, built for the early 20th-century fashion designer who, Wikipedia informs, required guests at his parties to dress in costume and himself went from riches to an impoverished street artist. Enforced dress-up and rough rides on Fortune's wheel; two elements that seem right at home among Carax's endless transformations.
Bobby Solomon posts some of Saul Bass's preliminary design sketches for The Shining's poster, complete with dissatisfied mark-ups from guess who. Link via TOH! at IndieWire.
"Were you interested in Mr. Steele because he's a celebrity?" "No, not at all. I noticed him because he looked interesting—I like his face." Adrian Curry rounds up some of his favorite international posters for In a Lonely Place; which however beautifully illustrated all do confirm his point that drawing Gloria Grahame just seems to be impossible.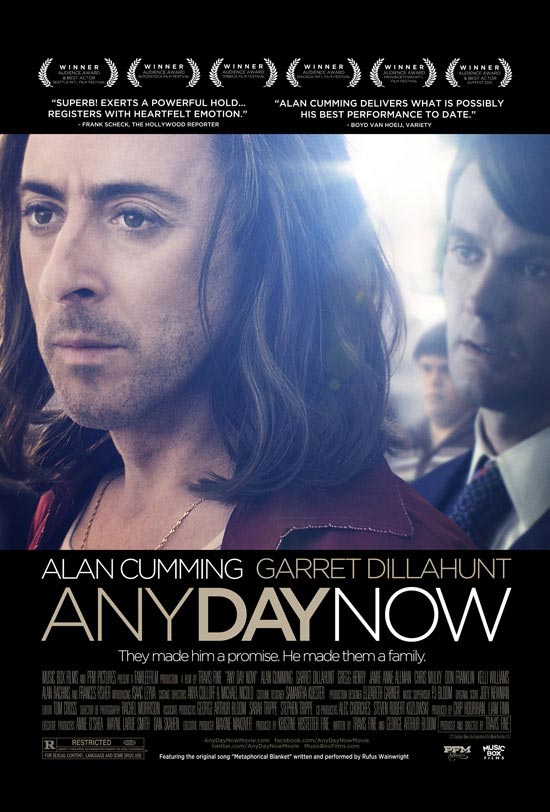 Seattle Screens
By Sean Axmaker
The final Framing Pictures discussion of the year is Friday, December 14 at NWFF. The conversation begins at 5pm and it is free (libations also available for purchase). The theme for this discussion: the things we're grateful for in 2012 cinema. Let co-host Richard Jameson tell you about it.
Okay, yes, The Hobbit: An Unexpected Journey opens this weekend, on both standard and 48fps presentations (and, for that matter, in 3D and standard modes – so many options!), and that's what everyone seems to be talking about. I'll hand off the opening comments to A.O. Scott at The New York Times: "In "The Hobbit: An Unexpected Journey," Peter Jackson's adaptation of J. R. R. Tolkien's first Middle-earth fantasy novel, Bilbo Baggins (Martin Freeman) sets out with the wizard Gandalf (Ian McKellen) and a posse of dwarfs to battle a fearsome dragon. [Spoiler alert] they do not kill the dragon, although [spoiler alert] they eventually will, within the next 18 months or so, because [spoiler alert] this "Hobbit," which is [migraine alert] 170 minutes, is the first installment in [film critic suicide-watch alert] a trilogy." You don't need my help to find other reviews. You can't open a web-page without running into one.
With that out of the way, let me draw your attention to Leos Carax's Holy Motors, which comes back for an open run at SIFF Film Center. If you missed it in its brief Varsity run (where, I'm told, the print had a severe scratch running through the entire film), you owe it to yourself to see this celebration of cinema on the big screen. I reviewed it for Fandor here and it topped at least one of my "Top Ten" lists for the year.
Any Day Now, which won the Golden Space Needle for both Best Picture and Best Actor (Alan Cumming) just a few months ago, finally arrives for a theatrical run at the Harvard Exit. Don't let this small moving drama get lost in the big holiday releases. I reviewed it here in my SIFF 2012 wrap for Parallax View.
Also opening this week: Hyde Park on Hudson with Bill Murray as FDR (Egyptian and Lincoln Square) and the snow-covered crime thriller Deadfall (Varsity, reviewed by Kathleen Murphy here).
The Landmark Theatres annual poster sale takes place on Saturday, December 15th from 10:00 AM to 2:00 PM at Landmark's Seven Gables Theatre in the U-District.
Visit the film review pages at The Seattle Times, Seattle Weekly, and The Stranger for more releases.
View complete screening schedules through IMDb, MSN, Yahoo, or Fandango, pick the interface of your choice.
The weekly links page is compiled and curated by Bruce Reid, with obituaries and Seattle Screens curated by Sean Axmaker, and other contributions from friends of Parallax View.