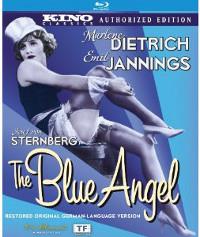 The Blue Angel (Kino) – American director Josef von Sternberg went to Germany to direct Emil Jannings in his transition from silent to sound cinema and returned to Hollywood with an international hit and a new star: Marlene Dietrich. Not exactly what Jannings had in mind, but then how could he know that the theatrical thickness of his gesture-laden theatrics would come across as simply old-fashioned next to the brash, lazy, sensual quality of Dietrich's easy screen presence and modern performance.
It's a perfect pairing in this case: the repressed petty provincial schoolteacher Rath, so obsessed by appearance and authority, and the happy-go-lucky showgirl Lola-Lola more concerned with his pleasure and freedom. With such a strong tale (adapted from Heinrich Mann's novel "Professor Unrat") behind Sternberg's layered visual style, it becomes his most dramatically driven sound film, and his most tragic. (The story of a man's ego destroyed by his social descent also echoes an earlier Jannings classic: F.W. Murnau's The Last Laugh.) The luscious spray of nets and scrims and artful clutter is on gorgeous display in the nightclub scenes, which are simultaneously cheap and exotic, tawdry, and enticing: A marvelous, messy contrast to the neat regimentation of Rath's everyday life.
The UFA/Paramount co-production was shot simultaneously in German and English versions, but the English version (shot for the American market) is shorter and clumsier, with the two stars performing in a language that they are clearly not fluent in. Kino's earlier DVD release features both versions but the Blu-ray includes only the longer, original German-language, newly restored from archival 35mm film elements by the Friedrich Wilhelm Murnau Stiftung, with optional English subtitles. It does not port over any of the supplements from the previous DVD release.