Tony Scott's critical standing among the MUBI cohorts is so strong that when Gina Telaroli and Daniel Kasman called for a series of essays, each to analyze one scene from any of his films, they were forced to split the results over two weeks time. The first ten are up now, mostly (but not exclusively) rapturous celebrations of light, sound, and restless motion, with enough film stills that this might be the most colorfully expressionistic page in the history of the Internet.
So apparently this time of year academic film journals flower no less than colorful displays and mall-wide sales. I wouldn't have known had not all these been highlighted by Film Studies for Free. The new issue of the European Journal of Media Studies tackles the subject of "tangibility," which brings a welcome sensuousness to such engaging but theory-heavy articles as Barbara Flueckiger's beautifully illustrated disquisition on whether films can any longer be considered historical documents in the pristine digital age or Wanda Strauven's tracing the early movie trope of the "rube," tempted to tactile interaction with the movie screen, back to a long, mostly forgotten history of art presentation. In Issue 3 of Screen Machine, James R. Douglas lays out a measured respect for Christopher Nolan's reassertion of Einsteinian montage over Bazinian imagery, while Robbie Fordyce's attempt to rehabilitate Southland Tales is less successful. Finally, the latest Frames has Hannah Mowat on the differing juxtapositions of architecture and natural space in L'Année dernière à Marienbad, The Shining, and Hausner's Hotel; John Trafton showing how Apocalypse Now and The Hurt Locker expand on different 19th-century influences (theatrical phatasmagoria and the battlefield panorama, respectively) to view war through fresh eyes; and Amy Sargeant on Britain's aviatrix movies from the '20s and '30s.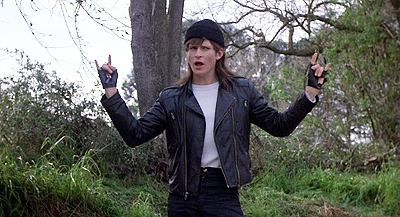 "In observation, I don't know where this is headed, but the only one of us with the coordinates for this destination in his hardware is you. Go on whatever vision quest you require." David Bordwell breaks down the decisions and intelligence behind some scenes directed by Tim Hunter, for large screen (River's Edge) and small (Twin Peaks, Revenge).
"As she lies dying, the woman asks the cop who has hounded but reluctantly admires her to 'come down to my level, just once'; then as he finally succumbs and leans in for a kiss, she laughs in his face." Imogen Smith's appreciation of Decoy is as brisk and blunt as the Poverty Row noir itself.
"I'm an egghead. I'm not only an egghead, I'm a premeditated egghead. I set out to become an egghead and at this moment I'm in full flower of eggheadedness, and I hope to spread the spores of egghead everywhere I go." Serge Daney in English posts one of Daney's first published works: a defense of Advise & Consent, and Preminger, that's just the blend of striking insights (he's marvelous on Preminger's "coldness") and overreaches you'd expect from a 19-year-old genius.
Alex Pasternack charts the history of the most influential 26.6 seconds of film ever captured, from Abraham Zapruder being cajoled into bringing his camera to view the President's motorcade, to the tangled publication history that fueled conspiracy theories of its own and the lawsuits over copyright only settled in 1999.
The new Offscreen gathers a round of tributes to Concordia Universities' part-time Film Studies Professor Louis Goyette, who died this past April, and an essay he wrote on Gilles Groulx's Où êtes-vous donc? I'd never heard of him either, but the salute is curated for the best of reasons—to memorialize a friend—and convinces me I'd have been better for it if I had. Also in the issue, David Hanley explores the influence the theater had on Mizoguchi's cinema.
"Unlike most historical films, which rely on a rhetoric of transparency so as to make the tale they are constructing seem both inevitable and unquestionable, Wakamatsu's film lays history before us like an argument." Michael Sicinski on the uniquely bracing United Red Army. Also at Fandor, Kevin B. Lee's video essay shows the necessary padding John Carpenter and Monte Hellman had to add to their first features, and how each man's method of filling time hinted at their future careers.
Not Coming to a Theater Near You celebrates Sam Fuller's centennial with a look at what they call his "deep cuts": Leo Goldsmith on Verboten!, and Cullen Gallagher on Park Row and Fuller's Highsmith adaptation The Day of Reckoning.
Director Andrew Dominik and sound mixer Leslie Shatz discuss with Mekado Murphy the sound design secrets behind a crucial scene in Killing Them Softly—including the audio cameo made by Norman Mailer.
The BFI's Richard Daniels reveals some highlights of the Stanley Kubrick Archive's Shining collection, most tantalizingly a page of Kubrick's annotated copy of King's manuscript.
"You want to really understand what things would smell like in this world, what things would taste like, when bones start being crunched or cars start pancaking. You feel these things in a way because the world isn't intensely artificial and created by computer graphics, which result in an anodyne, sterile quality that's not as exciting." Chris Nolan's interview with Film Comment's Scott Foundas won't turn anybody around on the director, I'm sure, but his most committed detractors have to admit the man talks a good talk.
In a review of Richard Burton's diaries, Fintan O'Toole locates the actor's genius within the very contempt he had for such a silly profession.
A pictorial timeline of editing technology, from scissors to the latest software, courtesy of Art of the Guillotine. Spotted by Matt Zoller Seitz.
Yul Brynner's set photography—in a selection presented by Kimberly Lindbergs—has a light, unforced intimacy, with Brynner showing off a particular touch at getting female costars to smile naturally. In contrast Mary Ellen Mark's photos have more of the air of the photojournalist, playful but composed; hardly a complaint, especially considering the gallery at everyday_i_show has her on the sets of Mississippi Mermaid, Tristana, Tootsie, and Apocalypse Now, just for starters.
Obituary
Larry Hagman, famed as the villainous J.R. Ewing on the TV nighttime soap Dallas and the astronaut with a genie in a harem outfit in the sixties sitcom I Dream of Jeannie, died after his second bout with cancer. His roles on the big screen were less prominent but no less prolific, including Art Carney's son in Harry and Tonto, a military officer tricked by Lex Luthor in Superman, and a state governor in the political satire Primary Colors. More from Valerie Nelson at the L.A. Times.
Spanish director Jose Luis Borau, whose career began in the 1960s and despite directing only nine features is considered the godfather of modern Spanish cinema, passed away this week at the age of 83. He made his fame with the 1975 film Poachers, "widely considered a masterpiece and a pioneering work of post-Franco Spanish cinema," says Juan Sarda at Screen Daily.
Dinah Sheridan, the British actress who starred in the lighthearted Genevieve (1953) and The Railway Children (1970), passed away this week at the age of 92. More from BBC News.
Deborah Raffin, who retired from acting and created a hugely successful books-on-tape company in the 1980s, passed away at the age of 59 after a battle with leukemia. More at The New York Times.
Seattle Screens
The Festival of the Archives is a four-day festival presented by SIFF in collaboration with The Association of Moving Image Archivists, which is holding its annual conference in Seattle this week. The conference itself, which begins on Monday, December 3, is an professional event filled with panels and presentations and workshops exploring issues of film preservation, restoration, and curating. You can browse the program here, but you have to register to attend.
The series officially kicks off on Thursday, December 6 with a screening of the new 4K restoration of Lawrence of Arabia at The Uptown and a special Stan Brakhage Showcase at Northwest Film Forum (with Marilyn Brakhage and preservationist Mark Toscano in attendance), with more screenings running through Sunday, December 10 at The Uptown. But for festival passholders, the festivities begin one night early with a special "AMIA Archival Screening Night," a cavalcade of preservation and acquisition highlights chosen by members of the AMIA. Complete Uptown schedule here.
Dennis Nyback is back at Grand Illusion and this he's brought 16mm films prints of 21 episodes from the legendary TV series The Twilight Zone (complete with commercial breaks). They're screening three episodes a night through Thursday, December 6.
Opening this week: Anthony Hopkins is Hitchcock in a film ostensibly based on the book "Alfred Hitchcock and the Making of Psycho" but really a fanciful drama that plays fast and loose to historical accuracy (in other words, it makes a whole lot of things up for effect, including completely ignoring the fact that Saul Bass actually designed and shot the shower murder) and offers very little insight on the production reality or Hitchcock's creative process and practical application. Mostly it's about Hitchcock's personal and professional relationship with his wife and (usually uncredited) collaborator Alma Reville, played by Helen Mirren. Scarlett Johansson, by the way, makes a very credible Janet Leigh. Playing in area theaters.
Also opening: Brad Pitt is a mob hit-man in Killing Them Softly, directed by Andrew Dominik (multiple theaters); the French psychological thriller The Big Picture with Romain Duris and Marina Fois (Varsity); Irish drama Citadel (SIFF Cinema Film Center); the indie drama Now, Forager (NWFF); the sadistic horror film The Collection (multiple theaters and overwhelmingly negative reviews), and the documentaries Radio Unnameable (at NWFF) and Addicted to Fame (Sundance Cinemas)
Visit the film review pages at The Seattle Times, Seattle Weekly, and The Stranger for more releases.
View complete screening schedules through IMDb, MSN, Yahoo, or Fandango, pick the interface of your choice.
The weekly links page is compiled and curated by Bruce Reid, with obituaries and Seattle Screens curated by Sean Axmaker, and other contributions from friends of Parallax View.